FROM

"

BUSH

BUNNY

BRENDA

"
DATE: AUGUST 11, 2018
NO SALT!
With Food Dis­tri­b­u­tions start­ing last week, we had a MAJOR PROBLEM, for there is no bulk salt for sale in our area.
WHY?
Our salt comes from evap­o­rat­ed sea water. SUPER HIGH TIDES have pre­vent­ed the evap­o­ra­tion process for the last sev­er­al months, thus shut­ting down pro­duc­tion. Last Tues­day, I announced to our Pas­tors that there would be NO SALT dis­trib­uted at our first Fri­day give out at the Man­go Tree Church.
Thurs­day, 3pm
Just 14 hours before the trucks would roll out, in comes a van with Car­l­i­tos Jorge (BBC leader) and 800 kg (1,760 lbs.) of SALT!!!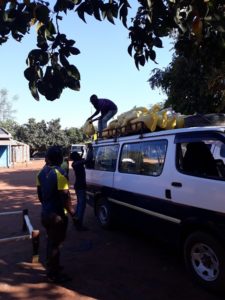 40 Bags of Sea Salt a Nutri­tion­al Boost to the Orphans
I could not believe my eyes! Where did he get it?
He bought it before the short­age to trade in the vil­lages for corn. Once I had bought up most of the corn for the orphans, there was lit­tle left in the vil­lages for trad­ing. So C.J. sold his 40 sacks of salt to me so the orphans could have it, and at a low­er price than he paid for it.
NOTHING LIKE GOD MAKING SURE HIS CHILDREN'S NEEDS ARE MET.
BAWANA GAMES MEETING AUG. 13 TO 18
Our local Pastors/Youth Lead­ers will be blessed with a 5 day train­ing pro­gram next week to learn bet­ter sto­ry telling for use in their Bawana Games Devo­tion­al Time.
Every­one of all ages loves a good sto­ry, so my friend Lar­ry will share that, plus many hours of Bible the way Jesus did for his dis­ci­ples. More on that in next week's blog.
TOGETHER, THESE MEN ARE NOW REACHING ALMOST 18,000 CHILDREN A WEEK WITH THE GOSPEL!
WE PLAN TO MAKE THAT AT LEAST 20,000 BY THE END OF SEPTEMBER!
BED WEAVING PARTY
Bed Weav­ing is a skill that almost every­one knows in Bala­ma, for rope beds are the "norm" for most people.
Our Pas­tors with no place to stay next week will be host­ed by our church mem­bers, but they need­ed to bring their own bed and blanket.
I held a bed weav­ing par­ty last week­end so that most of the men would not have to sleep on a dirt floor. Two good weavers can com­plete a bed in an hour!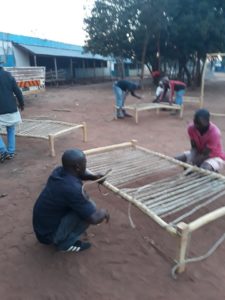 Bed Weavers Done in 1 Hour
We are still short 4 beds as I write this, but I feel sure God will pro­vide by the end of the week.
Five Beds Done and Wait­ing for the Final Four
BLESSINGS,
BUSH BUNNY BRENDA LANGE
AND THE BALAMA STAFF