FROM

"

BUSH

BUNNY

BRENDA

"

DATE

:

MARCH

22, 2014
MULTITASKING

AT

IT

'S

BEST

!
African ver­sion of "Bar­rell Riding"
Just proves there is always a way to car­ry some­thing if you think it through. This is what I'd call a prop­er "Big Head­ed Idea"!
AUSSIES KEEP THE POOR IN SCHOOL
After last week's blog about Felizan­do being dis­missed from 6th grade because his fam­i­ly was too poor to afford a uni­form, I received a let­ter from one of our part­ners in Aus­tralia. Frances want­ed to help, and got her 3 Uni­ver­si­ty aged chil­dren involved also. Togeth­er, they orga­nized enough funds to buy the mate­ri­als and pay 3 men to sew 150 uni­forms for the chil­dren that were expelled from the school. Cape­na, my office Admin­is­tra­tor, spoke to the School Prin­ci­ple on Mon­day, who was ECSTATIC that we could help. It is LAW in Moz. that the chil­dren in the main Dis­trict school wear prop­er uni­forms. The first 14 chil­dren were mea­sured the next day and uni­form mak­ing began.
But we were unable to find enough of the maroon mate­r­i­al in the Bala­ma mar­ket to meet the need. The man­ag­er of the local graphite mine came by that evening to bring us a suit­case of cloth­ing he wished to donate from clos­et in Aus­tralia. I told him of the prob­lem, and he said "give me a swatch of what you need". His truck was going to Pem­ba the next day and he DONATED 150 meters of the mate­ri­als which he deliv­ered to us last night.
When God moves, HE MOVES, and let no man get in His way! So our Uni­form Fab­ri­ca­tion Shop is work­ing at full capac­i­ty, as now we have all we need to do the job.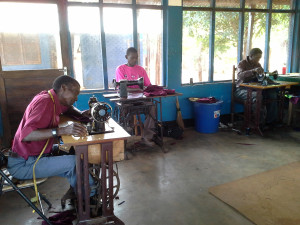 THE

UNIFORM

FABRICATION

SHOP

SHOWING

US

THEIR

VERSION

OF

THE

PARABLE

, "

THREE

SEWERS

WENT

OUT

TO

SEW

"

It will take sev­er­al weeks of "Ped­al Pow­er" to get all 150 done, but the school has agreed to let the chil­dren stay while the uni­forms are being made. I love it when God puts a plan into motion! THANK YOU to our Aus­tralian friends who saw a need and stepped for­ward in faith to make it happen.

P.S. Felizan­do is now sleep­ing at the home of Youth Leader, Daude, dur­ing the week so he doesn't have to walk 12 miles (20km) each day to get to school. His father came in Wed. to check on him. He told his Dad that he'd nev­er eat­en so well, and was super hap­py! This young man has nev­er tast­ed 3 meals a day. Sad, but true, for many chil­dren all across Africa. What we take for grant­ed, is not the norm for many.
PRESIDENT
OF
MOZAMBIQUE
VISITING
TODAY
Hear­ing the whop, whop, whop of heli­copters over­head is not a nor­mal sound for Bala­ma. But it sure lets every­one know that he has arrived. For the next 2 days there will be speech­es and many activ­i­ties as over 50,000 locals could flow into the area to hear what he has to say. When some­thing like this hap­pens, the whole town does a major clean up, includ­ing us. Our part was to use our trac­tor to fill in some mud holes in the speak­ing area park­ing lot, and fetch the African dance teams from 2 of the vil­lages. The roads all around get grad­ed for a less bumpy ride for these gov­ern­ment offi­cials, and for that we are tru­ly grate­ful. Bounc­ing Bun­ny is not just a joke around here, it's reality!
Until next week! Keep your eyes on the Lord and your heart free of sin, for His return is very near. First Blood Moon is April 15th.
Bless­ings, Bush Bun­ny Bren­da Eric Dry Elz­abe Barnard Bala­ma staff