FROM

"

BUSH

BUNNY

BRENDA

"


DATE

:

FEBRUARY

25, 2023



BABY

#19

AN

URGENT

RESCUE





FELICIO

(Fe-lee-cee‑o), now 11 months old, lost his moth­er back in April 2022, cause unknown. The only female in the fam­i­ly was his elder­ly grand­moth­er, so she took over his care. All was going well until Feli­cio had fre­quent ill­ness­es, and began los­ing weight in late Jan­u­ary. His fam­i­ly claimed he was not digest­ing his food well, and was treat­ed for his con­stant diar­rhea. I sus­pect­ed, but couldn't prove, that his grand­moth­er wasn't feed­ing him prop­er­ly, as our infants

EXCEL

when giv­en this same diet.


11-month-old Fele­cio with Fos­ter Moth­er Marceli­na
at the Lion House.
On Feb. 16th, when the fam­i­ly brought Feli­cio for his weigh-in, he had lost weight even after the diar­rhea had stopped. I imme­di­ate­ly took them for a con­sult with our Mal­nu­tri­tion Spe­cial­ist at the Bala­ma Hos­pi­tal. After his exam­i­na­tion, the Doc­tor demand­ed the fam­i­ly bring this mal­nour­ished baby in for a 2nd con­sult the fol­low­ing week. He sus­pect­ed the family's sto­ry wasn't total­ly true.

On Feb. 23rd, the infant had lost 400 gms/0.7 lbs.

IN

THE

PAST

7

DAYS

! That now put him in a

CRITICAL

STATE

as his 4.4 kg/ 9.7 lbs weight was just bare­ly above his 3.16kg/7 lb. birth weight!

REMEMBER

, he is 11 months old! A nor­mal weight for an 11-month-old is around 11kgs/24 lbs. The Doc­tor stat­ed that the baby should be removed from this fam­i­ly imme­di­ate­ly, and Social Ser­vices was called in. All were in total agree­ment that if the baby wasn't removed from the cur­rent care­tak­er that day, there was lit­tle hope for his sur­vival. After a long talk, the fam­i­ly agreed to release the infant into our care, so Feli­cio became urgent baby res­cue # 19.

Our 2 baby homes are too full of infants and under 3‑year-old tod­dlers to receive anoth­er crit­i­cal infant.

THANKFULLY

, Fos­ter moth­er Marceli­na, who lives across the street from House #7, opened her arms and eager­ly accept­ed Feli­cio since her 2 youngest orphans are now 4 and 5 years of age. These moth­ers do love to cud­dle babies!

There was no truth to the infant's inabil­i­ty to digest food, as Feli­cio ate, drank, and soaked in all the love that the moth­ers of the

LION

HOUSE

could show­er on him. He was sim­ply hun­gry and love-starved.

RESCUE

#19

WAS

POSSIBLE

BECAUSE

YOU

CARE

.

IF

FELICIO

COULD

TALK

, I

KNOW

HE

WOULD

TELL

YOU

HOW

GRATEFUL

HE

IS

TO

HAVE

A

SAFE

HAVEN

WITH

ALL

THE

NUTRITION

AND

LOVE

HIS

BODY

DESIRES

.




ANNUAL

PHYSICALS

FOR

OUR

CHILDREN



Each year, an annu­al phys­i­cal by a Bala­ma Doc­tor is required for all res­i­dents of any orphan­age. It took about 5 hours to accom­plish the task for all 51 of our chil­dren, but it is great to know that they are all healthy. Enter­tain­ing the tod­dlers was a blast, as some of the chil­dren expe­ri­enced the swing sets for the first time!


Cape­na hold­ing baby Joao just after his phys­i­cal.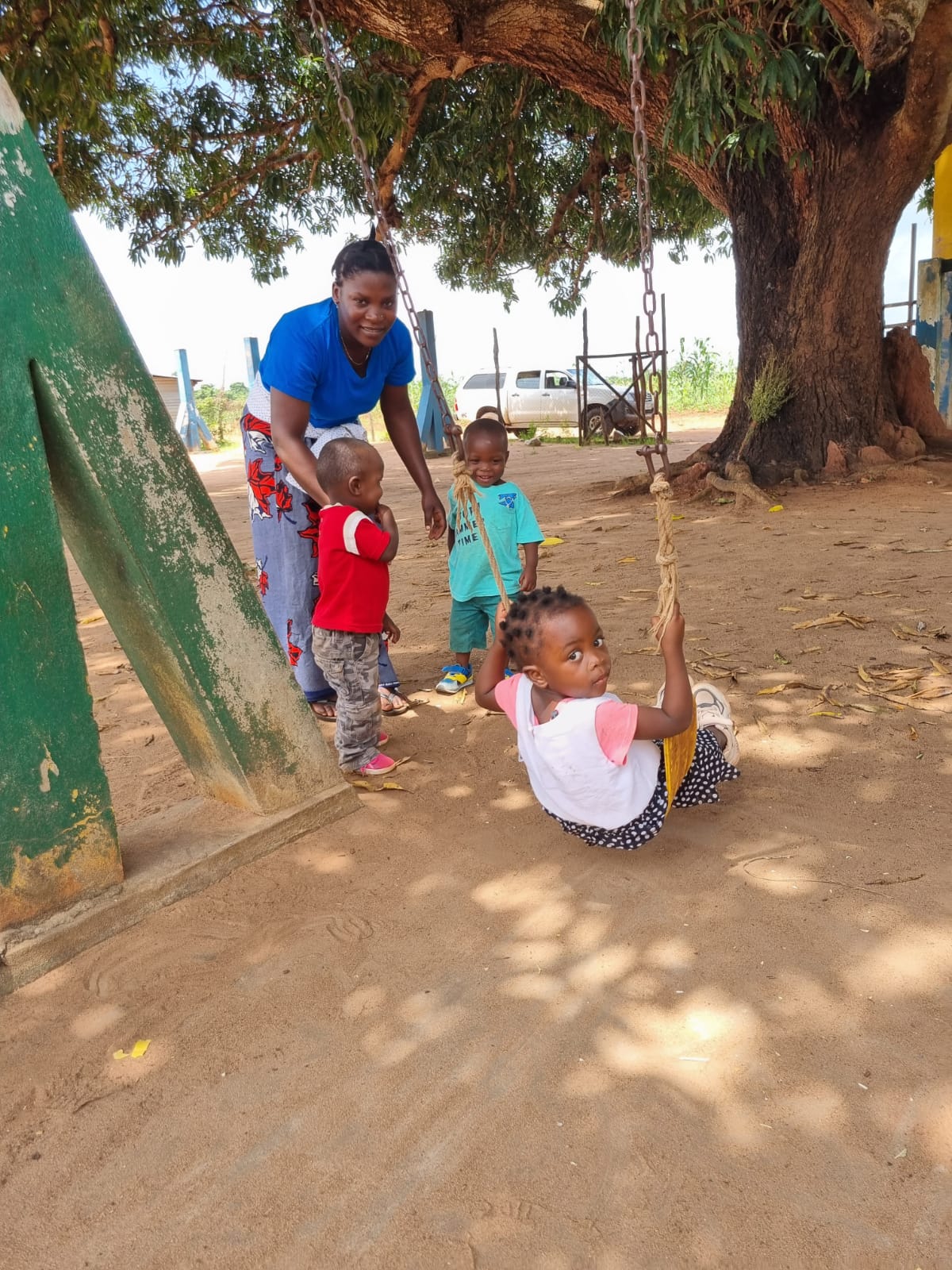 Three-year-old Adelide, an expe­ri­enced swinger, shows Chebany and Sal­vador how it's done.
Sal­vador takes his first swing with Chebany look­ing on.
Chebany's first time in a swing!
https://youtube.com/shorts/GcMDkYIUU1s

Me doing self­ies with the tod­dlers.



THANK

YOU

FOR

LOVING

OUR

CHILDREN

THROUGH

YOUR

LOVE

GIFTS

,

AND

FOR

PRAYING

FOR

THESE

PRECIOUS

LITTLE

ONES

.



BLESSINGS

,


BUSH

BUNNY

BRENDA

LANGE




AND

THE

BALAMA

STAFF