FROM

"

BUSH

BUNNY

BRENDA

"


DATE

:

JUNE

17, 2023




NEW

HOME

FOR

TODDLERS



Our 2 baby homes are bust­ing at the seams as they host 18 of our 24 toddler/infants in res­i­dence. Time to get seri­ous about build­ing more bed­rooms. The area next to our Ostrich House was vacat­ed by a wid­ow who moved in with her son, so we tore down that mud house. That gives us room to build on a 3

BEDROOM

HOME

ADDITION

to the Ostrich House Com­plex. We are now busy putting in the required con­crete cor­ner posts for the chain link fenc­ing that will close off this area from the pub­lic. Sand must be stock­piled inside the fenced area

BEFORE

we can com­plete the front fenc­ing. The 3 bed­rooms will close off the entire entry area into the land once con­struc­tion begins as this build­ing is 20 meters/65 feet long.


Just an emp­ty piece of ground now but it will soon host our lit­tle ones!

Putting in the required cor­ner posts at the Ostrich House.

It will take us 4 to 5 months to build, which means com­ple­tion will be just in time to move many of the 3‑year-old tod­dlers and their Fos­ter Moth­ers into their new home before the rainy sea­son begins in Novem­ber. Our fam­i­ly is 54 chil­dren strong, and is expect­ed to grow. With only 1 boy grad­u­at­ing in Novem­ber, it is a must that we build on.



THE

LORD

HAS

PROVIDED

FOR

THIS

PROJECT

,

AS

HE

KNEW

WE

NEEDED

IT

BEFORE

I

DID

!




WEE

WITTLE

ONES

ALWAYS

EAGER

FOR

PHOTO

TAKING



Each time I vis­it the Zebra and Leop­ard homes, I am sur­round­ed by lit­tle ones want­i­ng my hugs and atten­tion. That is great until I want to take a pho­to, which is impos­si­ble with them all crowd­ing around me. With help from the moth­ers, I was able to snap this group shot of some of the tod­dlers.



Some of our ever-grow­ing lit­tle ones at Zebra House.

They are a live­ly bunch for sure! (left to right in the pho­to)

BACK

ROW

:

JULIO

, 3 years;

MAEZINHA

, 3 years;

ADELIDE

5 years;

SALVADOR

, 2.5 years;

SUSANNA

(red sweater), 2 years.


FRONT

ROW

: (Left to right)

TWIN

CRECENCIA

, 18 months; and

ABROSIO

, 15 months. The bare bot­tom one in the fos­ter mother's arms in the back­ground is the twin broth­er to Cre­cen­cia,

CRECENCIO

, 18 months. He is much small­er than his sis­ter, and is just get­ting over malar­ia. He was just com­ing from tak­ing a bath, so for­give his bare bot­tom.




BABY

JOAO

SITTING

UP

AT

6

MONTHS



Couldn't believe my eyes when I saw baby Joao already sit­ting up inde­pen­dent­ly in the play area! He is grow­ing fast, and could eas­i­ly be a very strong boy if he con­tin­ues at his present weight gain pace. I take my eyes off these lit­tle ones for a week, and they are no longer lit­tle!


Baby Joao wants in on the fun with his new fam­i­ly.
FOOD
BUYING
CONTINUES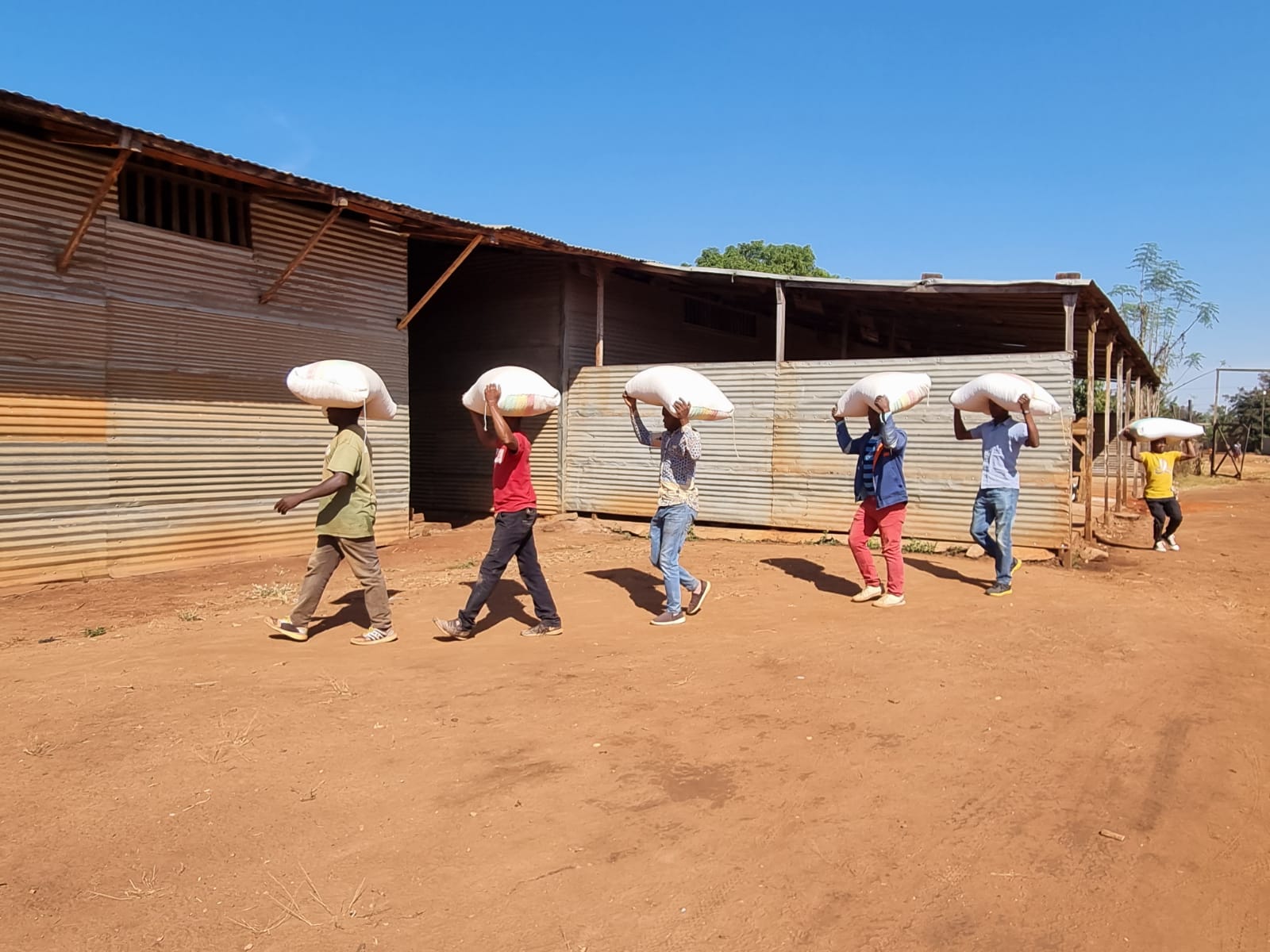 A train of Mon­te­ga Beans head­ed for the bean barn. Also com­plet­ed receiv­ing the Juko Beans today. God has Blessed our chil­dren with a vari­ety of healthy food.



MONTEGA

AND

JUKO

BEANS

are now in the barn, so our food buy­ing is on sched­ule. Now we wait for the peanuts. The corn and rice will be bought in July, as it is not total­ly dry yet.



KEEP

YOUR

PRAYERS

COMING

,

AS

WE

MARCH

AHEAD

AT

A

FAST

PACE

WHILE

THE

LAND

IS

DRY

AND

MANY

PROJECTS

ARE

POSSIBLE

.



BLESSINGS

,


BUSH

BUNNY

BRENDA

LANGE




AND

THE

BALAMA

STAFF