From: Bush Bun­ny Brenda
Date: March 10, 2012 12:50:33 PM CST
Sub­ject: Re: BUSH BUNNY BRENDA BLOG, MARCH 10, 2012
Bush Beat Blog
BALAMA UPDATE FROM ERIC DRY AND LINDA STANLEY IN MOZAMBIQUE
While I've been shar­ing God's vision with all of you in the USA, Eric, Lin­da, Mon­i­ca and Joy were work­ing faith­ful­ly to man­age our min­istry and orphan pro­grams in Mozambique.
This is the lat­est news sent this week.
CHRISTIAN RADIO EXPANDS TO A 3RD LANGUAGE!
ERIC SAYS:
You can tell the Evans Bap­tist Church, LA, that the Maconde lan­guage pro­grams began broad­cast­ing today (March 9) at 3pm. Please thank them from all the Maconde speak­ing peo­ple in the Bala­ma dis­trict. This is the first time EVER that MANY of them will hear the TRUTH about JESUS. These pro­grams are in the form of sto­ries act­ed out by sev­er­al per­sons, it sounds real­ly good.
Radio Mpakhi­ra Onhupi (Eric's radio name) is now broad­cast­ing sev­en (thir­ty minute) pro­grams a week in THREE lan­guages in two coun­ties. God is mov­ing in amaz­ing way's! ($10/30 minute pro­gram is all it costs to get the truth about Jesus to over 230,000 people.)
BELOW IS LINDA'S LATEST NEWSLETTER A LATEST PHOTO OF DIXON (the mal­nour­ished baby fea­tured in our 2012 DVD disk).

He is now healthy at 7 months of age.
When we res­cued Dixon in Novem­ber, 2011, he weighed only 7 lbs. at 4 months of age (ema­ci­at­ed and near death).
Thanks to your love gifts, we can buy life sav­ing baby for­mu­la and food so that Dixon as well as 100's of oth­er mal­nour­ished babies are saved each year.
Bless­ings and great THANKS from our Bala­ma team,
Bush Bun­ny Brenda
Dear Broth­ers and sis­ters in Christ
Mozam­bique is con­tin­u­ing to have rain and will have for anoth­er month. It breaks my heart to see so many babies sick from Malar­ia and so many oth­er dis­eases which seem to mul­ti­ply in the rainy sea­son. We loose more babies to Malar­ia and diar­rhea than any­thing else and it seems like it is more this year. Per­haps it's the same but it seems to be more to me.
Baby Dixon came to us short­ly before I arrived and Bren­da fought to keep him alive. He is now in our baby pro­gram and is a hap­py and healthy baby.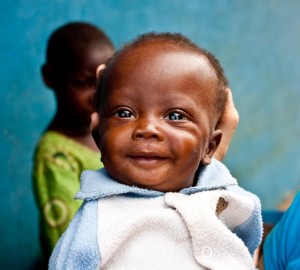 Look at that smil­ing lit­tle face!
Praise God for the lit­tle Dixons that are all helped through our Baby project.
We have been able to vis­it a few of the vil­lage church­es since I returned. I love going to the out­er vil­lages to preach the word and see God mov­ing among the people.
Two girls from South Africa named Mon­i­ca and Joy have been here help­ing us with many things and have been a bless­ing to the peo­ple. They both sing so they have been help­ing to record the radio pro­grams as well.
As of this week Eric has expand­ed the radio min­istry from 3 times a week in Bala­ma to include anoth­er 3 times in the larg­er town of Mon­te­peuz. The gospel is now broad­cast 6 times a week in Por­tuguese and Makua on 6 dif­fer­ent days.
Today is prayer walk day. Once a week I go with the ladies prayer walk from the church and we walk to homes in the vil­lage to pray for peo­ple who are sick. Today we also will vis­it a fam­i­ly who had a death in the fam­i­ly to pray with them.
Every­day comes with new oppor­tu­ni­ties to show the love of God around us. One of my Favorite songs is "Wont you be my love" by Mer­cy me. It speaks to my heart about the love we are sup­posed to take to a bro­ken world.
All we have to do is look around us to see hurt­ing peo­ple no mat­ter where we are.
Your mis­sion field may be next door or where you work. Don't miss the oppor­tu­ni­ty God has placed in your life to min­is­ter to others.
Love in Christ
Lin­da Stanley
Again, our most heart­felt THANK YOU from all our Bala­ma Team,
Dou­ble Blessings,
Bush Bun­ny Brenda
"Bush Bun­ny" Bren­da Lange
LOVE GIFTS TO:
ORPHANS UNLIMITED, INC.
11152 WESTHEIMER RD., PMB 391
HOUSTON, TX 77042
LOVE GIFT TO: ORPHANS UNLIMITED in RSA
Stan­dard Bank-Hatfield
(branch code) 011–54515
Name: Orphans Unlimited
Acct. # 017743036
PERSONAL NOTES TO BRENDA
brenda@orphansunlimited.org
ALL OTHER INQUIRIES:
LINDA FERGUSON
linda@orphansunlimited.org
phone: 979–234-3422 or 713–854-9197
Brenda's Blog is Post­ed at:
www.orphansunlimited.org/blog
or SUBSCRIBE to receive the blog by e‑mail.