AND

THE

LAME

SHALL

WALK

!

Rabia (Rah-bee-ah) is 8 years old and had not walked for 5 years due to some kind of ill­ness that affect­ed both her legs. Severe­ly mal­nour­ished and very frail, both her low­er legs were cov­ered with open, infect­ed ulcers. Rabia and her grand­moth­er came to our church last week for the first time. We prayed for her com­plete heal­ing and com­mand­ed life back into her legs. I treat­ed her ulcers with Melaleu­ca oil (which has 5 times the heal­ing pow­er of the Alav­era cac­tus) and gave her antibi­otics as well as a week's worth of the high pro­tein cere­al, Hypo Pop, for mal­nour­ished children.

TODAY, RABIA SHOCKED ALL OF US BY WALKING TO THE CHURCH AND SHOWING EVERYONE THAT JESUS HAD HEALED HER!!!!!

It was amaz­ing to see her WALKING on legs that were no more than tooth­picks with skin cov­er­ing them. The smile on her face said much more than words ever could. Her grand­moth­er said that 5 days after we prayed for her, she just got up and start­ed walk­ing. Before this, Rabia had to be car­ried everywhere.
BACKPACK
CLINIC
BRINGING
MANY
TO
CHRIST
I spent over an hour treat­ing the sick after church today, as many are com­ing to seek prayer and med­ical help from the "back­pack clin­ic" that I hold right after the Nama­ra church ser­vice. A teenage boy brought his lit­tle 4 year old broth­er because his moth­er had neglect­ed the lit­tle boys' severe­ly injured foot for 7 days. A met­al rod had punc­tured the top of his left foot, caus­ing an open wound that was bad­ly infect­ed. How the lit­tle one tol­er­at­ed the pain, was amaz­ing to me. The moth­er couldn't be found, so the aunt agreed to come with us so the child could be attend­ed at the Bala­ma hos­pi­tal. The lit­tle one needs 7 days of Peni­cillin injec­tions and fre­quent ban­dage changes, so he will be liv­ing with his friend Veron­i­ca (the woman who was healed of the severe­ly burnt foot). These 2 fam­i­lies know each oth­er well, and Veron­i­ca was glad to have them stay with her while the lit­tle one gets the prop­er treatment.
My Christ­mas Wish List includes med­i­cines for my "BACKPACK CLINIC". This clin­ic is sav­ing many lives each week with med­i­cines that costs pen­nies per treat­ment. A child's life can be saved for ONE DOLLAR. That is all it cost to treat a child with an infect­ed wound, diarhea, res­pi­ra­to­ry infec­tion, or an ear ache. $60 buys 1000 tablets of antibi­otics that can save the lives of 65 children.
ROCKET STOVES BLASTING A REPUTATION IN BALAMA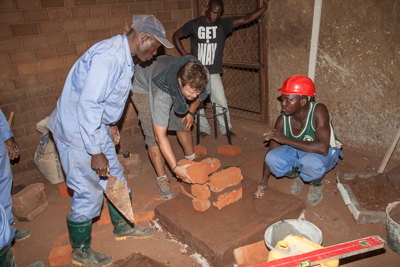 FIVE HOUSES received the Rock­et Stoves last week and more will be built this week. As you read this, Engi­neer Michael Lowe, will be land­ing in Atlanta, after work­ing with our brick lay­ers for the last 3 weeks to deter­mine the best stoves for our needs. He built 2 dif­fer­ent types: large stove for the huge pots need­ed for large groups, and the small­er house­hold stove for families.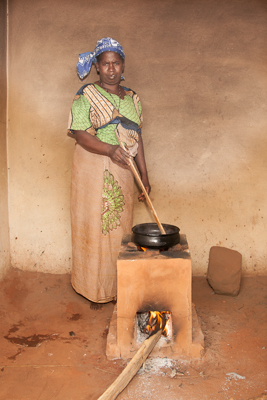 Rock­et stoves use less fire­wood and put out very lit­tle smoke in com­par­i­son to nor­mal open fire cook­ing (which is all we could do before learn­ing to build the Rock­et Stoves). The moth­ers LOVE THE STOVES as the food cooks so much faster, mak­ing it eas­i­er to pre­pare and eat a meal with­out hav­ing to wait 2 hours for the beans to cook.
THANK YOU MICHAEL LOWE FOR YOUR HELPING HAND IN BRINGING EFFICIENT COOKING TO OUR WIDOW'S HOMES.
We'd also like to thank our Texas donor who blessed Michael with the funds for this trip. God used Michael in many ways. He told me before he left that he real­ly learned a lot from us too. It was a great learn­ing expe­ri­ence for all of us.
Food Dis­tri­b­u­tions are now com­plet­ed for 2012 and it has rained 2 days this last week. We are hus­tling to com­plete all the con­struc­tion as oil paint doesn't dry well in damp weath­er. More to come next week, so stay tuned to the Bush Bun­ny Blog for fur­ther development.
FYI: due to a slight­ly faster inter­net ser­vice now in our area, I can now down­load Face­book. I have reac­ti­vat­ed my per­son­al page, so look me up if you want to be friends. Search for bren­da­sue­lange and you will find me.
PRAY FOR SAMANTHA BARNHART, as she will fly out this Wed. and be back in But­ler, PA by Fri­day. SAM has been an awe­some helper over the last 90 days as she assist­ed in the Sept. corn buy­ing as well as coor­di­nat­ed the load­ing of all the truck loads of food that was dis­trib­uted in the last 3 months. Sam assist­ed Leona with the woman's pro­grams, and helped with many children's and sports evan­ge­lism pro­grams. We wish her well, and hope God will call her back to us very soon.
Bless­ings, Bush Bun­ny Bren­da and the Bala­ma gang
P.S. Per­son­al thanks and bless­ings to all our read­ers who have sent get well mes­sages and prayer sup­port for me while I have been mend­ing from my alter­ca­tion with the rogue vac­u­um clean­er. The road to heal­ing con­tin­ues and God is faith­ful teach­ing us new things dai­ly. Con­tin­ued prayers are appreciated.