From: "Brenda Lange" Subject: Blog, July 13, 2013
MAVALA

BAPTISM

SEES

23

DIPPED

IN

COOOLD

WATER

!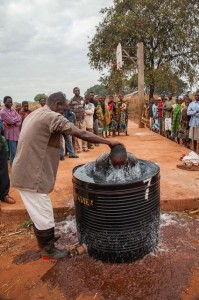 The pho­to shows Pas­tor Alber­to (in the rub­ber boots) using our new­ly made inven­tion by Eric Dry, O.U.'s Asso­ciate Direc­tor in Mozam­bique. His portable Bap­tismal tank pro­vides us a way to do Bap­tisms through­out the dry sea­son. Eric puts one of our 750 liter water stor­age tanks on the back of our 1 ton Land Cruis­er, fills it with water, and away they go. This small­er, 500 liter tank with the top cut (rein­forced with a rebar ring at the top) pro­vides the dip­ping sta­tion. Before this, we were restrict­ed to hav­ing bap­tisms ONLY at the end of the rainy sea­son while water still exist­ed in the local rivers. Eric's inven­tion now makes it pos­si­ble all year round. THANKS ERIC for your Bush Engineering!
SOCCER
PLAYING
ORPHANS
GET
FIRST
UNIFORMS
Our teenage orphans have had a great soc­cer team for 2 years, but we nev­er had uni­forms before. Thanks to the MCMI STAFF in San Anto­nio, our kids are now out­fit­ted in prop­er soc­cer uni­forms! I just drove them to their first game as they proud­ly wore their new uni­forms. It's a BIG THING in this town to have a uni­form, as the only oth­ers who have them are the city's men's team. They are play­ing the Sun­day School chil­dren from our Rovu­ma church, just 5 km from our base. I'll let you know the out­come in next week's blog. THANKS MCMI STAFF!SECOND CORN BUYING STARTS MONDAY, JULY 15TH
For the rainy sea­son, we need super dry corn that can han­dle the damper weath­er. Our final 105 TONS will be trucked in this week, processed, and sacked for long term stor­age. So back to the corn chutes we go! If we can move 20+ tons a day, we'll be fin­ished by Fri­day, PTL!
THE
NEW
MOZAMBICAN
FAMILY
TRANSPORT
If you count close­ly, you will see EIGHT peo­ple on this 50 cc motor­bike. This pho­to has NOT been pho­to-shopped. We com­mon­ly see up to 5 peo­ple on motor­bikes around our area, but this one beats all!
Last week, some­one asked me if the goat pho­to had been pho­to-shopped. NOPE, that was the real thing. Goats are nor­mal­ly car­ried tied up in a large bas­ket on the back of a bicy­cle, so the Goat BAAACK PACK was a first for all of us!
Keep those prayers com­ing! We show the Jesus Film in 2 dif­fer­ent vil­lages next week­end and old "Smut­ty Face", the dev­il is going to be a bit riled over that. We pray many will see the truth and come to Christ.
Bless­ings from the Bala­ma Gang,
Bush Bun­ny Bren­da Lange
Eric Dry
Lin­da Stanley
Emma Clif­ford
Danielle Van Zyl