FROM

"

BUSH

BUNNY

BRENDA

"

DATE

:

MARCH

1, 2014
NEVER

UNDERESTIMATE

IMAGINATION

!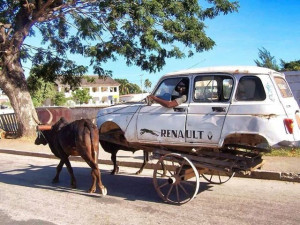 Most cars have "horse pow­er", and then there is the dou­ble OXEN POWER! (A/C costs extra!) Keeps the dri­ver dry in the rain and out of the sun in the dry season.
HOSPITAL
RUNS
KEEP
BUNNY
HOPPING
ALL
WEEK
Eva, our 14 year old with mild men­tal chal­lenges, came down with severe malar­ia (vom­it­ing and inabil­i­ty to walk) late last Sun­day after­noon. So off to the hos­pi­tal we went (Domini­ca our Woman's Pas­tor gave me a hand with trans­lat­ing) to get her admit­ted and on an IV drip as she was severe­ly dehy­drat­ed. It is our pol­i­cy that when one of our chil­dren is in the hos­pi­tal, we ask anoth­er church woman to help out with their care. Chil­dren can­not be left alone even one moment for fear they will tear out their IV, or try to leave their bed to go sit out­side. Our cul­ture is total­ly out­doors so being inside seems like a prison to these chil­dren. Our church mem­bers vis­it our sick chil­dren through­out the day, but each evening I take plates of hot food to the 2 women and cookies/candy for Eva. In our hos­pi­tals the patient usu­al­ly receives food, but there are time the hos­pi­tal doesn't have (so we have donat­ed dur­ing these lean times). But there is no "hos­pi­tal cafe", so each fam­i­ly is respon­si­ble for pro­vid­ing food to those car­ing for the sick. We pro­vide mon­ey so they can buy what they want at the mar­ket next door to the hos­pi­tal for break­fast and lunch. Their all-time favourite, Nse­ma (stiff corn meal mush) and sar­dines is what we take them for sup­per. This is a real treat to them and it puts a smile on their faces.
QUICK
HOSPITAL
SWAP
On Thurs­day, the triplets all had upper res­pi­ra­to­ry infec­tions giv­en to them by their 7 year old broth­er who coughed on them. I pile the whole fam­i­ly into my King­Cab and off we go to see the Doc­tor. They are treat­ed and I take them home (but the Doc did lab smears for malar­ia as triplet #2 has a high fever). I arrive at 2pm to take Eva home as she has been released. She was so eager to get out of there that as soon as she saw me, she made a bee-line for the car! The Doc sees me and tells me to go fetch Triplet #2 (Janee­ta) for she has malar­ia and needs imme­di­ate hos­pi­tal­iza­tion (since she has a res­pi­ra­to­ry infec­tion also). So off we go, drop­ping off Eva at her home, and then pick­ing up Triplet #2. Thank the Lord that the grand­moth­er was vis­it­ing, so she could pro­vide sup­port for the moth­er at the hos­pi­tal. Janee­ta should com­plete her med­ica­tions by Sun­day and hope­ful­ly be released by Mon­day. In the mean­time, Bun­ny keeps hop­ping along with hot Nse­ma and fish for the caretakers.
WADING

A

RIVER

TO

WORSHIP

JESUS

Salazar lives in the vil­lage of Nacala, 3 miles (5 km) from our near­est church in Rovu­ma. To get to Rovu­ma church he has to wade a riv­er that can be waist deep at times. Salazar stud­ies the Bible intense­ly, and loves to lead the singing at church. At last week's ser­vice, I notice his shoes were in tat­ters, lit­er­al­ly falling apart. When I noticed the shoes, I also received a "silent mes­sage" from the Holy Spir­it, say­ing get him new shoes. I see peo­ple with no shoes and old shoes all the time, so this is not my own head doing this, but the Lord. After church I tell him what the Lord says and he gets VERY excit­ed. Since our mar­ket nev­er clos­es, he was able to get him shoes that same day. JESUS SAW HIS HEART AS WELL AS HIS SACREFICE AND BLESSED HIM. He's the ONLY Chris­t­ian in that village.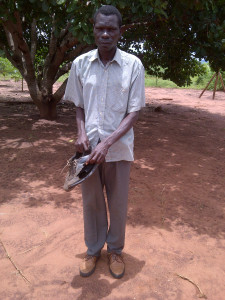 SALAZAR
SHOWS
US
HIS
BEAUTIFUL
NEW
SHOES
BALAMA

BRIDGE

FIXED

IN

1

DAY

—a true miracle!

On Mon­day, I post­ed pho­tos of the road/bridge that washed away. 30 DUMP TRUCK LOADS OF HUGE ROCKS lat­er (9 hours of fast work), and the road was again pass­able. The aver­age road fix around here is 5 days, so all of us were total­ly amazed. Seems the road crew has a new leader who is a real "doer". Eric has talked with him and says this man knows how to get a job done quick! A nice change.

INSPECTORS DUE AGAIN THIS WEEK, so prayers for favor are appre­ci­at­ed. Not sure what date yet, but they say they are com­ing now that the bridge is fixed.
Bless­ings, Bren­da Lange Eric Dry Bala­ma Staff