FROM

"

BUSH

BUNNY

BRENDA

"

DATE

:

MARCH

15, 2014
SALAZAR

AND

SON

(Reality in the Bush on Education)

On March 1st, I told you about Salazar, a mem­ber of our Rovu­ma church, and how the Lord told me to get him new shoes. Salazar walks 5km (3 miles) from his vil­lage, Nacala, to the Rovu­ma church each Sun­day. Nacala is DEEP in the bush with only a foot path con­nect­ing it to the Rovu­ma vil­lage. Well, the sto­ry con­tin­ues, as I found out this week that Salazar had to loan his new shoes to his son, Felizan­do, so he could go to school in Bala­ma. In the vil­lage schools (1–5 grades only), no shoes are required. I found out yes­ter­day that the shoes were way too big for his son, so he only wore them into the class­room for "show".
FATHER

AND

SON

,

SALAZAR

AND

FELIZANDO

Twelve year old Felizan­do, is the FIRST AND ONLY STUDENT FROM HIS VILLAGE to enrol in the 6th grade in the Bala­ma school, which is 10 km (6 miles) from his home. After 6 weeks of walk­ing the 12 miles to and from school each day, this young man, who is recov­er­ing from mal­nu­tri­tion, is exhaust­ed. We've been sup­port­ing his fam­i­ly with food for the last 30 days, as they are all sick due to mal­nu­tri­tion. Thus, these dai­ly long walks have been too much for Felizan­do at this time.
ANOTHER

HEAVY

BLOW

:

On Fri­day, Felizan­do was DISMISSED from school along with 150 oth­er stu­dents who couldn't afford uni­forms. Super upset, he left for home, know­ing that this end­ed his edu­ca­tion since his Father could nev­er afford $20 for a uni­form. Lit­tle did Felizan­do know that his "FATHER IN HEAVEN" knew otherwise.

Salazar came to me Fri­day after­noon to beg help, ask­ing if we had a uni­form his son could use. We had none, so, Bun­ny Brain goes into high gear and makes a plan. Our seam­stress had left for the week­end, so I sent our guard via bicy­cle to his home to tell him that I need­ed his help on Sat­ur­day to make this young man's uni­form. He agreed, and is mak­ing it as I write this sto­ry to you. I then found a pair of ten­nis shoes left by a vis­i­tor that just fit this young man. Searched the school box and found left over school sup­plies from our stu­dents, so I out­fit­ted him with a math set, back pack, note­books, and pen and pen­cil, since he only had a note­book and pen.

I asked Salazar if he'd allow his son to sleep at one of our Pastor's homes dur­ing the week, so he'd only had to walk to his vil­lage on week­ends. Both he and Felizan­do read­i­ly agreed this was a won­der­ful solu­tion as they have no fam­i­ly in the area who could help out. Where he will sleep is still being orga­nized, but I will find a place for him near­by where he will be well supervised.

I knew when I met Salazar, that there was some­thing "spe­cial" about him. He loves the Lord, is edu­cat­ed, and eager to do what­ev­er it takes to pro­tect his fam­i­ly. He will now be our "evan­ge­list" in Nacala, and receive spe­cial train­ing to work as Pas­tor Joaquim's assis­tant in the church. I sense in my spir­it that God has BIG PLANS for his man. It will be won­der­ful to watch his sto­ry unfold as he takes the Gospel to the deep­er parts of the bush where JESUS has nev­er been preached.
NAMARA

MIRACLE

MAKING

WAVES

!

Pas­tor Ramadan of Nama­ra Vil­lage came to tell me yes­ter­day that JONAL, (sto­ry in March 8th blog) has been spread­ing the word about how JESUS saved his baby and wife with the mir­a­cle birth. Since the hos­pi­tal vis­it, all 4 fam­i­ly mem­bers are now healthy and many are lis­ten­ing to their sto­ry. Pas­tor Ramadan has been swamped with requests to come talk to fam­i­ly groups about Jesus! Looks to me like REVIVAL may be break­ing out in Namara!
ELZABE

THE

"

BUSY

BEE

"

STOREROOM

KEEPER

!
Elz­abe spends 8–9 hours a day work­ing in our 3 major store­rooms, get­ting things sort­ed and reor­ga­nized for more effi­cient use.
I'm very, very, very hap­py to have her on board, as this is a job that was beyond what I could han­dle with all the day to day respon­si­bil­i­ties here.
We are also thrilled that Elz­abe would like to come back and help run the mis­sion sta­tion dur­ing food buy­ing (May/June). Since it looks like there will be no vis­i­tors to help us at the barns this year, that makes for a heavy load for Bun­ny and her staff.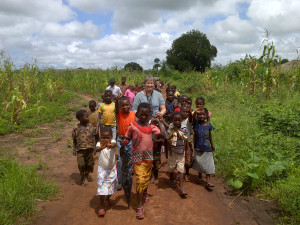 Elzabe's help to keep us fed, and the mis­sion run­ning smooth­ly, will be most welcome!
Bless­ings to all of you and THANKS for help­ing us to spread God's love to the chil­dren in Mozambique.
Bush Bun­ny Bren­da Lange Eric Dry Elz­abe Barnard Bala­ma Staff