FROM

"

BUSH

BUNNY

BRENDA

"

DATE

:

JUNE

14, 2014
URGENT
PRAYER
NEEDED
AS
MOTHER
FORCES
RELEASE
OF
CHILDREN
REMOVED
FROM
HER
HOME
On Fri­day after­noon, we received word that the men­tal­ly defi­cient moth­er of the 2 lit­tle boys, Lin­do and Cane­to, showed up at the orphan­age in Pem­ba with her broth­er, demand­ing the chil­dren. Since they are not orphans, the boys could not be held if the fam­i­ly want­ed to care for them. Once the boys were released to the broth­er, no one knows where they were tak­en, nor has any­one seen them since. ONLY GOD can pro­tect and get those boys released from this sit­u­a­tion. We ask that every­one KEEP THEM COVERED IN PRAYER, join­ing us in a prayer of agree­ment to get them into a lov­ing envi­ron­ment. Both boys were com­ing from the hos­pi­tal for treat­ment for their ane­mia prob­lems just before their release was demand­ed. The fam­i­ly was very clear that they didn't want to care for the chil­dren when we spoke to them in Bala­ma. So we know the moth­er is decid­ing how they will be treat­ed. Both boys are still ane­mic and need­ing prop­er nutri­tion, vs only "cook­ies" that they were con­stant­ly fed while in their mother's care. Our God can move moun­tains, and NOTHING is too big for Him to deal with. I don't know how God will do it, but I know that He dear­ly loves those 2 lit­tle boys, and wants them set free from the way they are being forced to live. Please join us dai­ly in pray­ing for them to be locat­ed and released. My heart's desire is to raise the boys here if giv­en the chance. You only have to know them for a few moments before falling in love with their pre­cious "Jew­els of Jesus".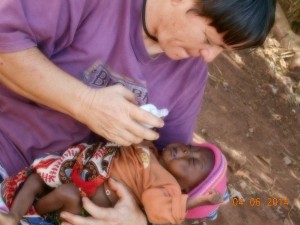 CORN
BUYING
COMPLETE
AND
BEING
DISTRIBUTED
TO
THE
HUNGRY
On Wed. we com­plet­ed the corn buying/processing for JUNE with 190 TONS stacked into our largest barn. The fol­low­ing day, the first ton of the new corn was dis­trib­uted to over 200 orphans and wid­ows in our Thurs­day give out here in Bala­ma. We now pre­pare the barns for receiv­ing the RICE, PEANUTS, and SUPER DRY CORN that comes in July. This will com­plete our year­ly food buy­ing, so that the mas­sive dis­tri­b­u­tions to over 2,500 orphans can begin in August.
BRIDGE
TO
MELUCO
ORPHANAGE
TO
BE
REPLACED
Dur­ing the rainy sea­son, the 80 yard/meter long bridge over a major fast flow­ing riv­er in Melu­co Dis­trict had its sup­port pil­lars bad­ly dam­aged from high water, caus­ing the bridge to lean bad­ly to one side. This blocked ALL TRUCK TRAFFIC to this Dis­trict forc­ing every­one to use the "back road" through the game reserve, which is a nar­row dirt path and includ­ed sev­er­al deep riv­er cross­ings where no bridges exist. In May these rivers begin to dry up. Only strong 4 wheel dri­ve trucks like our Land Cruis­ers could get through. Our orphan­age man­ag­er in Melu­co was able to buy about 40 tons of corn in that area to help keep the orphans in food, but there were NO BEANS. Manuel, our most expe­ri­enced dri­ver, was able to get through using a Land Cruis­er pulling a small, "bush tough" trail­er through this road in order to haul in the 17 sacks of beans they need­ed for 1st of June. He's prepar­ing to leave with anoth­er load this Mon­day, June 16th. Offi­cials tell us the major bridge will hope­ful­ly be repaired by August. The orphans have enough corn to last them till Novem­ber, and our Land Cruis­er will con­tin­ue to make a month­ly drop to keep them in beans until that time.
Car­ing for kids is not always easy, but we are cer­tain­ly hap­py that our FATHER always MAKES A WAY!
Bless­ings, Bush Bun­ny Bren­da Lange and the won­der­ful vol­un­teers who make this work pos­si­ble. Eric Dry George Barkes Katie Pol­cyn Han­na Gilman