FROM

"

BUSH

BUNNY

BRENDA

"

DATE

:

JANUARY

18, 2014
7
NEW
ORPH
ANS
JOIN
US
FOR
ADVANCED
SCHOOLING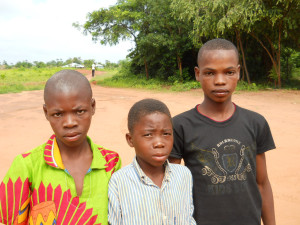 The Mavala boys were ear­ly arrivals, as they were super eager to join our family.
Sev­en young men, ages 11 to 15, will join our Jr. High/High School dorm this week since they have com­plet­ed their local vil­lage schools. All are real­ly won­der­ful young men, and ALL want to know more about Jesus! Only 1 boy has ever attend­ed a church.
Our biggest chal­lenge is that NONE of them speak Por­tuguese! So Pas­tor Jose will begin a giv­ing them a crash course this week. School starts Feb. 3rd, so we only have a short time to get them ready. You'll hear more about these 7 HONOR Stu­dents in the com­ing weeks, as I will get all their pho­tographs and names for you. Each will need a $30/month spon­sor, so here's your chance to help a young man receive both Jesus AND a great education.
NTELE
FAMILY
WALKS
IN
WITH
SEVERELY
ANEMIC
ORPHAN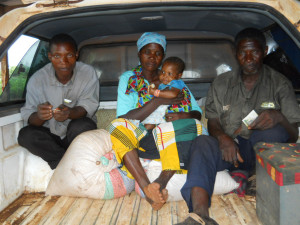 The Ntele fam­i­ly in the back of my pick-up receive life sav­ing food and seed dur­ing a heavy rain storm.
It was rain­ing buck­ets when these grand­par­ents arrived at the Bala­ma hos­pi­tal (20 mile trip) with ANGELINA, their 18 month old severe­ly ane­mic grand­daugh­ter. Fear­ful that lit­tle Angeli­na would die with the same dis­ease that killed her moth­er (ane­mia post malar­ia), they braved the heavy rains and mud to beg help from Social Ser­vices. (We have a church in Ntele, where they heard of our food program).
They'd heard we give out food on Thurs­days, so they left their vil­lage at 4a.m., but only arrived at our mis­sion at 3pm in a hard rain after see­ing the hos­pi­tal Doc­tor. We didn't dis­ap­point them, and they eager­ly accept­ed a bag of corn with a por­tion of beans and spe­cial Hypo Pop (baby cere­al for mal­nour­ished infants). They'd left their 2 bicy­cles with a friends, so I gave them a ride to fetch their bikes. That's why you see them hud­dled in the back of my canopied pick up. (beats get­ting wet).
Sleep­ing over with friends, they would return to their vil­lage the next morn­ing. THANKS TO YOUR LOVE GIFTS, Lit­tle Angeli­na will receive life chang­ing high pro­tein food and vit­a­mins week­ly until her ane­mia is gone. The corn and beans not only pro­vid­ed this fam­i­ly with food, but with SEED, as they had noth­ing to plant in their field. No har­vest equals star­va­tion time for those grand­par­ents lat­er this year.
BALAMA

IS

A

MUD

PIT

IN

JANUARY
Rain­ing almost dai­ly, our area has become a slop­py, mud­dy mess to dri­ve or walk in.
Pho­tos show the park­ing area out­side our office, and our kitchen side­walk with 2 chan­nels for the water to pass through this down­hill area. That side­walk is a life saver, as this red clay mix­ture is more slip­pery than ice! With­out the walk­way, we'd risk bro­ken bones every time we went out to cook a meal.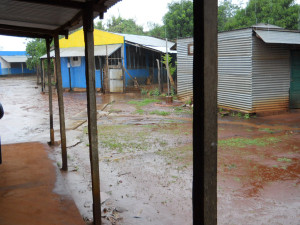 Sor­ry my friends, but it won't be pos­si­ble to have a Feb/March 2014 speak­ing tour. BBB has to remain in Mozam­bique for sev­er­al reasons.
1. ORPHANAGE LICENSE RENEWAL Social Ser­vice INSPECTORS will be com­ing dur­ing Feb. to ver­i­fy that we qual­i­fy for RENEWAL of our Orphan­age Per­mit to house the 100+ orphans in our direct care. This is VERY IMPORTANT and I must per­son­al­ly be here, as no license means the chil­dren would be returned to their vil­lages if some­thing was not up to stan­dards. Some of these chil­dren have no extend­ed family.
2. LACK OF A 3RD MISSIONARY to help out while I'm gone. The pro­gram has become too large and com­plex for 1 per­son to han­dle for more than a week or 2. For the last 3 years we have had a staff of 3 which kept things run­ning smooth­ly. Yes, I did it alone over Christ­mas while Eric was in South Africa, but that was because all the pro­grams were shut down for the hol­i­days (and the respon­si­bil­i­ties still kept me hop­ping). With school start­ing in 2 weeks, we have our hands full get­ting 70+ stu­dents reg­is­tered for school and out­fit­ted with uni­forms, shoes, books, and backpacks.
I know this dis­ap­points many of you, but I have to do what­ev­er is need­ed to keep our chil­dren safe. I am most grate­ful to all of you for your faith­ful giv­ing in 2013, and hope you will con­tin­ue to see us as good ground for 2014. Any­one with a SKYPE account who desires to speak direct­ly to me CAN for pen­nies a minute. Please e‑mail me or con­tact Lin­da at our TX office, and we will explain how you can call me direct­ly via your skype account. (Sor­ry, we don't have web­cam capa­bil­i­ty here in Mozam­bique) ONLY VOICE.
I look for­ward to hear­ing from many of you!
Bless­ings in the Lord,
Bush Bun­ny Brenda
Eric Dry
Bala­ma Staff