From: Bush Bunny Brenda Lange October 26, 2013
ALL

IS

QUIET

AT

THE

MOMENT

,

PRAISE

THE

LORD

!

After our lit­tle scare ear­li­er this week, we are glad for the present peace, even though it may not last. Seems every­one is re-group­ing at the moment, so I want you to know we need your con­tin­ued prayers for our safe­ty, as it is hard to deter­mine what is real­ly going on "behind the scenes in the bush". Lar­ry Friend from AWANA is safe­ly back in the USA as of today, and we are so thank­ful for the pro­gram he left with us.

THE KIDS ARE BEGGING to get start­ed with the AWANA Pro­gram, so I have ATOOMANY, our mas­ter seam­stress, busy mak­ing bean bags in the 4 need­ed col­ors. Eric bought plas­tic pipe that we can paint and cut to make the relay batons. All is in progress and we hope to orga­nize the first Awana Club meet­ings once we jump into Novem­ber. Our kids are just fin­ish­ing their school finals this week, so that clears the way for new things to happen.

The BBC, look­ing great in their new BUSH BIKERS FOR CHRIST shirts. On your mark, get set, GO with AWANA style games.
At first we will be set­ting up 4 teams as the BBC (Bush Bik­ers for Christ) will be tak­ing mod­i­fied games that can be played with­out a games court and the scrip­ture lessons to 15 vil­lages. This will take some orga­ni­za­tion, but once all the kinks are worked out, the pro­gram will ben­e­fit the 1000+ chil­dren they min­is­ter to each week.
GOATS

GALORE

!!!!

Our 50 moth­er goats are about to BINGO, and we expect a busy November/December birthing sea­son. I just got in from the barns as our 35 young­sters need­ed to be dewormed to keep them healthy. It looks like the rains will come ear­li­er than the Nov. 15th date, so it is time to buy the new breed­ers with the funds giv­en to us by sev­er­al dif­fer­ent donors. With 50 new ones on the way, our barns are going to lit­er­al­ly be "hop­ping" with lit­tle ones. Noth­ing cuter than a baby goat as they bounce around on their springy lit­tle legs, super excit­ed as they play and butt each other.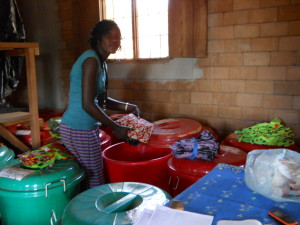 Nilza, orga­niz­ing children's cloth­ing for over 2000 orphans. A big job and a super bless­ing to see the smiles on the children's faces when they receive their packet.
Keep your prayers com­ing. I'm off to Pem­ba tomor­row for a need­ed sup­ply trip. I'll be return­ing with 3 "teach­ers" from Social Ser­vice who will hold a 3 day "REQUIRED" sem­i­nar on prop­er child care for our fos­ter moth­ers. So back to the class­room for most of my staff this week.
Bless­ings, Bush Bun­ny Bren­da Eric Dry Melis­sa Olmesdahl