From: "Brenda Lange" Subject: Blog, Oct. 19, 2013
YOUTH
NIGHT
DRAWING
TEENS
TO
CHRIST
Melis­sa Olmes­dahl and Car­l­i­tos Jorge, our 2 Youth Lead­ers, pro­vide a great Fri­day night pro­gram to an ever grow­ing crowd of over 80 youth. Eric wired 12 volt lights into our Bala­ma church so the town's teens can have a fun, Christ cen­tered educational/games pro­gram instead of walk­ing the streets.
Carlito Jorge leads Youth Night program: He and Nito, the lifesize puppet, have a chat.

Bertino hides behind the suitcase.He is having fun performing the voice of Nito, the puppet.
Last night, NITO, my life-size pup­pet, per­formed a pro­gram to explain how Christ is the LIVING WATER. Sports Direc­tor, Berti­no, hid behind the suit­case, pro­ject­ing his voice so the kids thought Nito was real­ly speak­ing Makua! All the teens were total­ly focused on the puppet's sto­ry as they were fas­ci­nat­ed with the pre­sen­ta­tion. Our Youth Pas­tors are becom­ing much bet­ter at "flow­ing with the Holy Spir­it" as they reach out to cap­ture the hearts of these young folks. Four young ladies came to Christ last week, and Praise the Lord for the many new faces seen this week.
AWANA

"

TRUTH

SEEKERS

"

PROGRAM

COMES

TO

MOZAMBIQUE

Lar­ry Friend teach­es our BBC Pas­tors with the help of Bush Bun­ny Bren­da pro­vid­ing translation.
Thanks to Lar­ry Friend from Awana Inter­na­tion­al, USA, the Bala­ma kids will now increase their Bible knowl­edge through this AMAZING Bible pro­gram for kids who can't read. TRUTH SEEKERS com­bines lots of visual/verbal Bible lessons with the famous AWANA games, played on the AWANA games court that we hand paint­ed onto our bas­ket­ball court.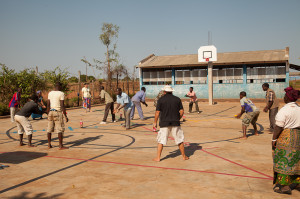 Lar­ry's stu­dents have a great time learn­ing the games they will be teach­ing as they deve­l­ope the AWANA BIBLE CLUBS in the vil­lages they serve.
Larry's "stu­dents" this week (seen enjoy­ing the games as they learned to play them) are the mem­bers of our Bush Bik­ers for Christ, preschool teach­ers, and Youth Lead­ers. These 13 stu­dents will be our core group who will train oth­ers to help them devel­op AWANA BIBLE CLUBS in the 34 vil­lages where we have church­es and youth pro­grams. It will take a few months to get more lead­ers trained and the pro­gram going well, but we know beyond a doubt that ABUNDANT FRUIT will come from teach­ing the chil­dren the Bible from GENESIS to REVELATIONS in an order­ly fash­ion. At the same time, they will be learn­ing respect, dis­ci­pline, obe­di­ence, and hand/eye coor­di­na­tion via the AWANA GAMES.
A SPECIAL THANKS TO LARRY AND ALL THE AWANA INTERNATIONAL STAFF WHO HAVE MADE THIS POSSIBLE.
FYI: This pro­gram has been 3 years in the mak­ing for Mozam­bique, as Truth Seek­ers is a very new part of AWANA Inter­na­tion­al. We are super grate­ful to be the first to try it in Mozambique!
Bless­ings, Bush Bun­ny Bren­da and the Bala­ma Staff Eric Dry Melis­sa Olmsesdahl