From: "Brenda Lange" Subject:
BLOG

, Sept. 28, 2013
AUSTRALIAN
GRAPHITE
MINERS
IN
BALAMA
ENCOURGE
OPHAN
BASKETBALL
TEAM
Wed. this week was a hol­i­day, and our bas­ket­ball team was chal­lenged to play the Hos­pi­tal team at the city court in the mid­dle of Bala­ma. Near half­time, Berti­no, our team cap­tain, wore through the bot­toms of his ten­nis shoes, and had no choice but to play in his socks on hot cement. This is the out­door court we repaired in July, and there is very lit­tle shade in the area. A few min­utes lat­er, two Pick-up trucks stopped near the court, and out popped 6 tall, mus­cu­lar Aus­tralian men from the near­by graphite mine. The men sat in the stands on the far end of the court from me, and seemed to thor­ough­ly enjoy the intense­ly com­pet­i­tive game.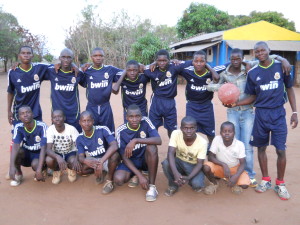 A hearty "Thank You" to the gen­tle­man from Aus­trail­ia who showed us such kind­ness. Every­one was blessed to see such a beau­ti­ful gift.
The ref­er­ee called a time out, and a hush fell over the crowd as 1 of the min­ers stepped out onto the court with a pair of shoes in his hands. He motioned to the ref­er­ee that he want­ed to give them to Berti­no, the boy play­ing bare­foot. Every­one con­tin­ued to watch in silence as this very touch­ing scene unfold­ed. Berti­no slipped his foot into one of the shoes AND IT FIT! As a big smile spread over his face, the crowd went WILD!!!
I intro­duced myself to the min­ers dur­ing half­time, and we all had a great time as they shot bas­kets with our boys. Even the ref­er­ee thanked them for what they had done. We were sad to hear they would only be in town 2 days. It all hap­pened so fast (and I didn't have my cam­era), that it seemed like a dream. Drop in, donate shoes, and move out a few min­utes lat­er. It was a fun­ny site see­ing one of the men leav­ing in his socks, but the smile on that man's face showed that he was thor­ough­ly pleased that his gift was just what was needed.
God pro­vides in mys­te­ri­ous ways, and the pack­age it comes in, nev­er ceas­es to amaze me!

The teams are real­ly enjoy­ing the new­ly sur­faced bas­ket­ball court. For those of you who are keep­ing score — we won 26 to 21.
ERIC

'S

RETURN

TO

BALAMA

DELAYED

1

WEEK

Eric will return in mid-Octo­ber due to a fam­i­ly emer­gency that required his assis­tance this week. It takes 6 days to dri­ve from Johan­nes­burg, RSA to Bala­ma with a loaded truck and trail­er. Pas­tor Fred, will ren­dezvous with Eric in Maputo city by tak­ing a taxi to Mon­tepuez, a bus to Nam­pu­la (7 hrs away), then hop a plane to Maputo, the nation­al cap­i­tal of Mozam­bique. It is nei­ther wise, nor prac­ti­cal to dri­ve ALONE in Mozam­bique, so a 2nd trav­eller is a must!

On his way down to RSA in July, Eric was delayed a whole day as a 150 km (75 mile) sec­tion had to be trav­elled by armed mil­i­tary con­voy. Unrest by mil­i­tants want­i­ng changes in the gov­ern­ment, made the con­voy the only safe way to trav­el through the mid­dle of Mozam­bique. The only thing for cer­tain these days is that JESUS is LORD! You nev­er know what awaits you around the next corner.

TODAY IS NATIONAL SPORTS DAY IN MOZAMBIQUE As I write this, our Bas­ket­ball team is suit­ing up so I can haul them in my Land Cruis­er for a rematch with the Hos­pi­tal team. A major exhi­bi­tion of soc­cer, vol­ley­ball, and bas­ket­ball are being played in the town square in hon­or of this holiday.

Our team lost by 7 bas­kets at last Wednesday's game, bring­ing the sea­son tal­ly to 2 to 1 in the Hospital's favor. They boys are pret­ty fired up and plan to change that today.

Bless­ings Bush Bun­ny Bren­da and her Bas­ket­ball Mobile off to the town square!