From: "Brenda Lange" Date: October 3, 2013
NEWEST

ORPHANS

BLESSED

BY

AMERICAN

GIRL

'S

GIFT

Late yes­ter­day after­noon, Felic­i­na, a grand­moth­er with 5 orphaned grand­chil­dren, walked in with 5 chil­dren dressed in rags. She was des­per­ate as she had no more food in her house. I was alone at our mis­sion base, but with our guard's help, we man­aged to orga­nized emer­gency food, clothes, plates, cups, deworm­ing pills, and baby food for 7 month old, Celesti­no. (We feed chil­dren, not worms, so this is pro­to­col upon entry to our food pro­gram.) The moth­er of these chil­dren had died last week from heart prob­lems. The father of all 5 chil­dren had aban­doned them while the moth­er was preg­nant with Celesti­no. So Grand­ma was in a fix and couldn't thank us enough when she left with her arms full, and 5 smil­ing chil­dren! They came back today to receive a week's worth of food, and are now offi­cial­ly part of our family.
Left to right: Grand­ma Felic­i­na (Fell-i-CEE- na) is hold­ing Baby Celesti­no. Broth­ers: Jac­in­to, 11, and Almei­do, 5. Sis­ters: Delosa, 8, and Deolin­da, 2.
When I opened my e‑mails at 4a.m. this morn­ing, I had a let­ter from a father named Tom, who's young daugh­ter had sav­ing her tithe mon­ey to send to an orphan. He researched online for orphans, found us, and watched our video on our web­site. His let­ter was to inform me that he was send­ing his daughter's gift to bless an orphan. Her $31 gift has now blessed these 5 orphans with our "start up kit", and will also pro­vide them with anoth­er set of clothes lat­er this year.
I am so, so blessed when chil­dren of this world show true com­pas­sion for those chil­dren who don't even have the basics. GOD IS NEVER LATE, AS HE KNEW THE NEED AND SENT THE SEED JUST AS WE NEEDED IT.
GIRL'S DORM RECEIVES TOY DOLLS MADE IN OUR OWN SEWING SHOP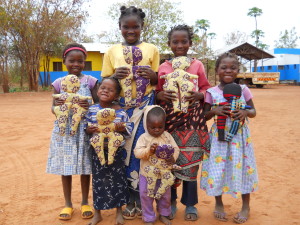 Have you ever seen more joy on sweet lit­tle faces? Lit­tle girls and dolls — a nat­ur­al combination !
Our girls were in need of toys, so I asked Atu­many (Ah-too-mah-nee), head of our clothes mak­ing project, if he could make dolls for our girls. The pho­to says it all, as those girls were ear to ear smiles as they hugged their new toys. He made the dolls for $3 each, and we can make more if any­one wants to give dolls to our oth­er 40 girls who live in our church housing.
CONSTRUCTION
IS
MOVING
QUICKLY
Con­struc­tion on our 3rd orphan com­plex is mov­ing along swift­ly. Our con­struc­tion crew is "The Best".
Last week I showed you the begin­nings of the fos­ter mother's house at our 3rd orphan com­plex. As you can see, our men work quick, as we start­ed the roof today.
BUSH

BUNNY

OFFLINE

FOR

A

DAY

I'll be head­ing out to do a sup­ply run tomor­row and won't be back till late. Time to restock baby for­mu­la and bolts of mate­r­i­al so we can start mak­ing the 98 school uni­forms for our orphans to wear in 2014. Our schools run Feb. to Octo­ber, and because we use FOOT PEDAL Singer Sewing machines to make all our clothes, we have to get a head start. Will answer e‑mails on Sat­ur­day for sure. Have a great weekend.

Bless­ings from Bala­ma Bush Bun­ny Brenda