From: "Brenda Lange" Subject:
BLOG

Aug. 17, 2013
DISTRICT

BASKETBALL

COURT

GETS

A

WORK

OUT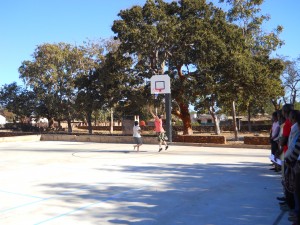 The local Admin­is­tra­tor and I made the first run at the new bas­ket­ball goal as I pre­sent­ed the rebuilt half court with 2 new goals to the County.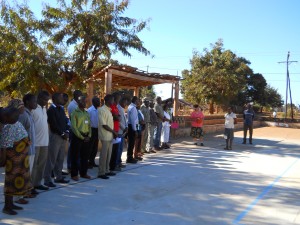 Our bud­get would not allow us to com­plete the court, as rebuild­ing half the court cost $4,500, using 170 bags of cement. Cement and all col­ors of paints are in short sup­ply in north­ern Moz. right now due to the tremen­dous amount of new con­struc­tion going on in Pem­ba because of the nat­ur­al gas boom. The new road that will run through Bala­ma (some­day) is being built across the bush to the west of us and is eat­ing cement by the truck load.
GOOD

SAMARATAN

TAKEN

TO

A

NEW

LEVEL

A delayed ship­ment of med­ica­tions caused many Dis­trict Hos­pi­tals in our Province to oper­ate for the last 3 weeks with lim­it­ed life-sav­ing treat­ments for malar­ia or advanced infec­tions need­ing Injectable Peni­cillin. ZITO, in Nama­ra, devel­oped a staff infec­tion after a boil left an open wound over his spine. Thanks to a quick think­ing nurse who knew of a place we could get Peni­cillin, Cape­na was giv­en per­mis­sion to obtain Zito's med­ica­tions at a remote clin­ic about 16 miles (30 km) into the bush. Zito has received his much need­ed injec­tions since Mon­day and is doing very well now.

Zito is feel­ing much bet­ter thanks to a quick think­ing nurse.
EGIDIO, one of the dorm boys, stuck some­thing in his hand on Tues­day caus­ing an infec­tion that also need­ed Injectable Peni­cillin. God gave us favor, as we once again drove to this remote clin­ic and were giv­en the last 4 vials they had. Now NO ONE in Bala­ma Dis­trict had any Peni­cillin, but God made a way! Cape­na was in Pem­ba yes­ter­day, when the MEDICATIONS ARRIVED at the state hos­pi­tal. The Pem­ba hos­pi­tal staff saw Cape­na at Social Ser­vices (next door) and imme­di­ate­ly asked him to truck the sup­plies to Bala­ma. HE HAPPILY COMPLIED. The drugs are now safe­ly in the phar­ma­cy and avail­able for imme­di­ate use. GOD SUPPLIES ALL OUR NEEDS ACCORDING TO HIS RICHES IN GLORY!
GOD

'S

SUN

IS

A

FREE

GIFT

For 30 days now, we have been unable to buy bot­tled propane for our cook stove. This caused us to go into "God's mode", which means we turned to God's SUN for help. Heat­ing bath water by using solar show­er bags or thin met­al pots paint­ed black is very easy (if you use met­al pots, the water MUST TOUCH THE LID or the water won't heat). Mak­ing SUN TEA is as sim­ple as putting a tea bag in a clean jar and plac­ing it in the sunshine.
Why waste cook­ing fuel when the need­ed ener­gy is FREE!
God's Favor is with us as 1 truck of propane came in last week, and Cape­na hap­pened to see it when it entered Pem­ba. He fol­lowed it to the company's load­ing dock and was able to buy 1 bot­tle direct­ly off the truck. The entire truck load was gone in a mat­ter of min­utes! His "crafti­ness" was a huge bless­ing to us. STAY ALERT! AS YOU NEVER KNOW WHEN GOD MAY SEND A BLESSING ACROSS YOUR PATH.
BUSH

BUNNY

SNAKE

STORY

!!!!

A true "bush per­son" is like the old cow­boys who read the ground instead of a news­pa­per. If you want to stay alive you have to know what "crit­ter" is slith­er­ing or walk­ing around in your area. As I walked to Eric's house, my mind was on many things, when my eyes spot­ted a super FRESH snake trail that crossed his dri­ve­way. I froze. Scanned the area, and spot­ted the 1.2 meter (4 foot) spit­ting cobra lying about 30 feet (10 m) away under a man­go tree. (Immo­bil­i­ty is a defense mech­a­nism as it makes them hard­er to see.) I remained frozen but called for our guard, Rachide. The snake didn't move. Rachide brought his 12 ft. (4 meter) bam­boo snake killing pole, but the tree's branch­es were too low to use it. A spit­ting cobra can spit it's poi­son into your eyes eas­i­ly from a 10 ft. (3 meter ) dis­tance. He said ROCKS and put his back-up plan into action. Call­ing for the man who makes our children's cloth­ing, both men picked up 3 hand size rocks. They eased up to with­in 12 feet (4 m) of the snake, and on the count of 3, they did jus­tice to the best pitch­ers on any base­ball team, hit­ting the snake with 6 pow­er­ful­ly thrown rocks. Every rock hit the snake, caus­ing it to launch itself straight UP into the air as if strik­ing at an invis­i­ble ene­my. As the wound­ed snake flopped out from under the tree, Rachide fin­ished it off with his long bam­boo rod.

Moral of the sto­ry: Always, always be on the alert for "signs of your ene­mies", (spir­i­tu­al and phys­i­cal), as they are usu­al­ly lurk­ing near­by, ready to strike if giv­en the oppor­tu­ni­ty. ASK in the name of JESUS and you shall RECEIVE HIS unfail­ing protection.
BLESSINGS FROM THE BALAMA TEAM BUSH BUNNY BRENDA MELISSA OLMSDAHL AND THE BALAMA STAFF