FROM

BRENDA

LANGE

aka. "The Bush Bunny" Date: August 14, 2013

Melis­sa Olms­dahl is the newest mem­ber of our Moz. staff. She comes to us from George, South Africa, where she was the Youth Leader for that town's CMA church. (Chris­t­ian Motor­cy­cle Association)

Melis­sa is a true bless­ing to our kids and to our staff. She picked up Linda's respon­si­bil­i­ties of cook­ing, as well as the Women's Bible Study and Prayer Walks and much, much more. She's a nat­ur­al with the children.

Melis­sa doesn't sit still, and I great­ly appre­ci­ate her cheer­ful atti­tude, even when the going gets tough. Her vocab­u­lary is grow­ing dai­ly, as is her cul­tur­al understanding.

So enjoy her let­ter and photos.

Bless­ings, Bush Bun­ny Brenda

Foot­prints under the man­go tree
Hi everyone,

If you go to our recre­ation cen­tre, you will find thou­sands of lit­tle foot prints all over the show. When I look at these prints, dur­ing a qui­et time, I always smile as I think of the kid's joy­ful play in this area. The kids can be so sil­ly, it's so cute. There are so many activ­i­ties that we have run­ning up at the cen­tre. We do sports pro­grams for the big­ger kids, dur­ing which, the lit­tle munchkins will often come and mis­chie­vous­ly snatch the bas­ket ball away. I'll admit, most of the time I will hand the ball over to them, I can't help myself some­times Its get­ting it back that's the chal­lenge, some of these lit­tle guys know how to run, good golly!

We have the bas­ket ball court and the soc­cer field up there, and at 8am and 3pm every day, our youth direc­tor, Berti­no, runs the sports pro­gram. He is real­ly reli­able. When­ev­er I get a chance, I go up and play with them. I'm not the best ath­lete, but sur­pris­ing­ly, the boys let me in their games. It makes me feel real­ly special.

I real­ly love those boys! They have all crept into my heart. They are the teenage orphans that are part of our orphan­age. They are real teenagers, take chances, get into trou­ble, but they all are so special.
There are eight of them, they are all super dif­fer­ent, but each of them have a spe­cial some­thing love­ly. They all help out with our Sun­day school pro­grams each week. They help with the lessons, and with con­trol­ling the kid­dies. This week that passed they did a pup­pet show to tell the sto­ry of Jesus and Zac­cha­es in the tree. The lit­tle kids real­ly love the pup­pets; they real­ly get involved in what the "pup­pets" are saying.
Our Sun­day school is always packed on a Sun­day morn­ing. Actu­al­ly our church­es are filled with most­ly chil­dren. But a wise man once taught me that the kids are Jesus's lit­tle evan­ge­lists. A child on fire is the best cat­a­lyst. If you could only hear the vibra­tion in that lit­tle room when these kids sing, when they scream hal­lelu­jah! It's intense­ly mov­ing. Now imag­ine with me, all these chil­dren scat­ter­ing after Sun­day school, as lit­tle feet do, and go and play out­side their huts, out­side their friend's huts, singing the prais­es to Jesus that they learned, all over the village…
These lit­tle foot prints in the sand are the foot prints of our lit­tle evan­ge­lists. When­ev­er I see these lit­tle foot prints, I feel the face of God smil­ing down, as a proud father, recount­ing the steps of His lit­tle chil­dren… Thanks you Jesus for these lit­tle babes.
So anoth­er one of the things I get to do, is take part in Pre School, which we have every Mon­day Tues­day and Wednes­day. It is so much fun. The teach­ers teach them num­bers, and Por­tuguese words, as they only speak the trib­al lan­guage, Macua. I actu­al­ly ben­e­fit from these Por­tuguese lessons. Who knew that I would have to go back to Pre School to learn stuff.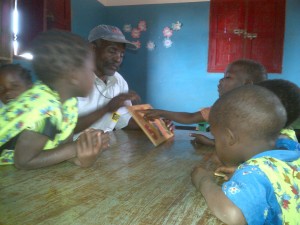 I real­ly admire the teach­ers we have, they real­ly do an awe­some job with the kids. They might not real­ize it, but God is using them to enrich these babies lives.

I have start­ed teach­ing them Eng­lish words as well. Only three a day, I real­ly love to watch their lit­tle brains soak up all they can. I have been teach­ing them body parts, and they real­ly get a kick out of watch­ing me use my body to show them the parts. I real­ly enjoy spend­ing time with them. And of course, play time under the man­go tree is very action packed. I've been tak­en down and tick­led, had ten lit­tle girls play with my hair, at the same time… and played horsy. As I said, it's a dream come true.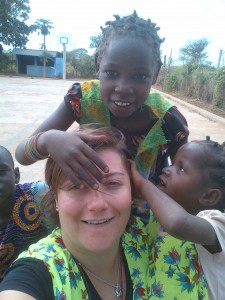 Last­ley, I want to say good­bye to my spe­cial friend Lin­da, she left us last week Sat­ur­day. Her time here in Bala­ma came to an end, and she has gone home to be with her many, many grand­chil­dren. Enjoy them Lin­da, your amaz­ing love will be missed around here. Thank you for being such an amaz­ing ves­sel for Jesus to work through. Love you so much, you are amazing!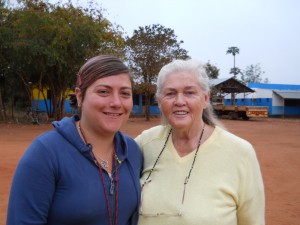 It has been so good to share again. Love you all so much Be super blessed, and may the Lord Jesus real­ly touch you deeply each and everyday
xox­ox­oxo