From: "Bren­da Lange"
Sub­ject: Blog, Sept. 22, 2012
BEEN A CORNY WEEK!
Our team of mis­sion­ar­ies and local helpers weighed, hauled, process, sacked, and stacked over 43.5 TONS (621 sacks) of corn this last week. Thurs­day and Fri­day, our 2 trucks, 2 land cruis­ers, and trac­tor hauled anoth­er 641 sacks of corn (49 tons worth) that we will sacked and stacked start­ing Mon­day. Tues­day is a hol­i­day for Mozam­bique, so we hope to have the corn job fin­ished by Thurs­day if all goes as planned. This will fill our barns with what is need­ed to feed the 1,450+ chil­dren in Namuno, PLUS give us what we need to feed the Bala­ma and Melu­co orphans from Feb­ru­ary to May.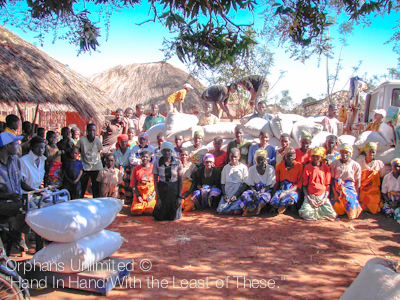 SEPTEMBER CORN is much dri­er than the June corn, and stores bet­ter through the rainy sea­son. We start­ed a new pro­gram this year where we buy June corn to meet our orphan's food needs through Jan­u­ary. We then fetch "super dry corn" in Sept. to feed the orphans dur­ing the rainy sea­son. Twelve Pas­tors were spe­cial­ly con­tract­ed in May to leave their corn to dry in their fields until August. That way we are guar­an­teed that the corn we need will be there in August and not sold for export. We are VERY GRATEFUL to the Pas­tors and fam­i­lies from oth­er church­es who came for­ward with Sept. corn for the Namuno orphans. With­out their help, the 1000 sacks of extra corn need­ed at this time might not have been available.
YOUR LOVE GIFTS OPENED THE DOOR FOR THE PURCHASE OF THIS LIFE SAVING CORN.
THANK YOU TO ALL WHO GAVE SO THAT THESE KIDS MIGHT LIVE.
BUSH BUNNY WAS DOWN WITH MALARIA LAST 2 DAYS
Thurs­day after­noon, de Bun­ny began to feel weak and nau­se­at­ed. Think­ing I was just super tired after the heavy work of bring­ing in the corn, I told the team that I was real­ly tired and hit the bed ear­li­er than usu­al. About dark, I real­ized it was malar­ia and start­ed the 3 day treat­ment. I had to call off the corn pro­cess­ing for Fri­day, as the work load is very heavy for all the mis­sion­ar­ies since we are work­ing with only 4 lead­ers instead of 7 as in June. But after 36 hours of rest, my strength is return­ing, and I expect to be at full speed for Monday's work day. Some of you knew of my ill­ness and I thank you for your prayers. God is AWESOME and I'm always amazed at how fast I get over the malaria.
PASTOR FRANCOIS ESTERHUIZEN VISITS FROM SOUTH AFRICA
Eric's church allowed Pas­tor Fran­cois to accom­pa­ny Eric on the 5 day dri­ve from South Africa to our base this last week. They arrived on Mon­day (17th) at 1pm, with plen­ty of time to unload the major items from the trail­er that same day. It takes 2 days to get the trail­er items unloaded, sort­ed, and stored, so thanks to the help of the 5 mis­sion­ar­ies present­ly with us, most of the sup­plies were orga­nized by Tues­day after­noon. Pas­tor Fran­cois encour­aged our men with short Bible lessons at sev­er­al of our morn­ing devo­tions, as well as assist in weigh­ing the corn sacks. He won the respect of the men as he assist­ed in unload­ing one of the trucks, car­ry­ing bags of corn to the weight scales. After sup­per each evening, Pas­tor Fran­cois closed our day by encour­ag­ing us with words of wis­dom from God's word. It is always nice when vis­i­tors feed us spir­i­tu­al­ly as well as help out phys­i­cal­ly. Pas­tor Fran­cois is fly­ing out of Pem­ba today as I write this. This is his 2nd vis­it to us, and we hope he will return again very soon.
God's Bless­ings to all of you!
Bush Bun­ny Bren­da and the Bala­ma gang