FROM

"

BUSH

BUNNY

BRENDA

"


DATE

:

JANUARY

9, 2021



SOW

AND

YOU

SHALL

REAP



Our 12 high school boys know very well the Bible sto­ry of sow­ing and reap­ing. After a short morn­ing rain, Zito and Alferes quick­ly shelled their much loved Juko Beans which our 11 teens then plant­ed.



Teenage boys plant­i­ng Juko Beans​.

Juko grows under­ground in a shell like a peanut. Can be eat­en raw or cooked, and has a nut­ty flavour. It's very rich, so a lit­tle bit on top of rice is enough for most.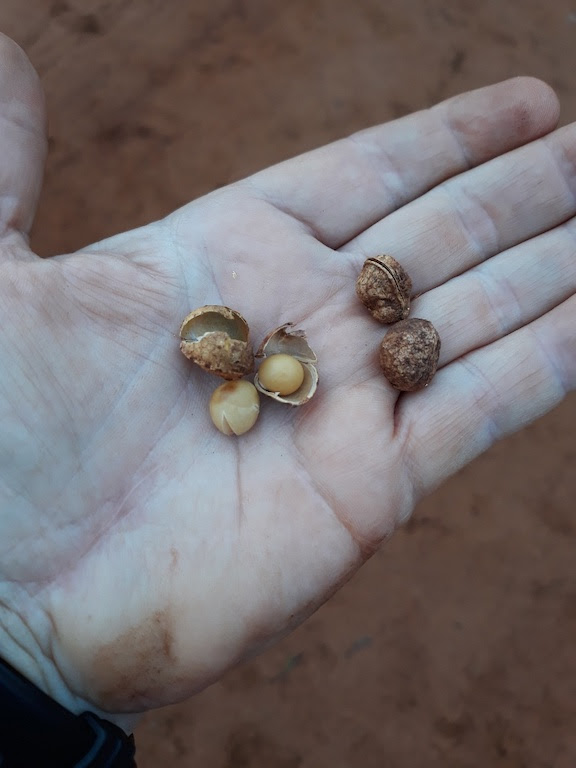 Juko Beans, in and out of the shell.​

Your Love Gifts have pro­vid­ed these young men with the advan­tages of high­er edu­ca­tion, yet they are hum­ble, know­ing that no mat­ter the future,

ALL

must learn the art of good farm­ing in order to live well.




RAINY

SEASON

ACTIVITIES



From man­ag­ing the food barns to hand made car­pen­try items, our well-trained teams help us to pro­vide the needs of over 1,700 vul­ner­a­ble chil­dren in 2 counties/districts. Each corn sack weighs 132 lbs./60kg. Get­ting a sack down from the tall stacks must be done with cau­tion and with strong men.



Food Team mov­ing corn sacks for dis­tri­b­u­tion.​

Work­ing with only hand tools, I watch (see video, below) the car­pen­ters use the same sim­ple tools that Jesus used. These young men, under the super­vi­sion of a Mas­ter Car­pen­ter, learn as they work. All the doors and win­dows for our chil­dren's homes, and almost all the chil­dren's fur­ni­ture is cus­tom made by this 4‑man-team. Widnes (Wit­ness), on the left, is an orphan who grew up in our pro­gram. He became an intern upon grad­u­at­ing 12th grade, and is now 2nd only to our Mas­ter Car­pen­ter in tal­ent.


Video Link —> https://youtu.be/Oo9kpAgnmbM
Car­pen­ters mak­ing a door with hand tools.




FOOD

FESTIVAL

DELAYED

AGAIN



Our head cook for the fes­ti­val had a death in his fam­i­ly on Tues­day this week. Because it is a big job to cook food for such a large fam­i­ly, our staff decid­ed to delay till next week. No mat­ter, for these rainy day pho­tos were tak­en 5a.m. Fri­day morn­ing.

Fri­day is our most "free" day as we have food give-out prepa­ra­tion and dis­tri­b­u­tion on Tues­days through Thurs­day each week.
Jan­u­ary and Feb­ru­ary are our wettest months, so we will keep try­ing.


6 a.m. Fri­day, Jan. 8th. "Duck Day", because only the ducks are hap­py.​

The road from our food barns to church and Chil­dren's Cen­ter on Fri­day.


QUISTON'S

SMILE

WINS

MANY

HEARTS



No mat­ter what chal­lenges you face in 2021, keep your eyes on Jesus.

Let

NO

ONE

steal your joy, for it is our strength in times of trou­ble.
Keep this cute lit­tle boy's smile in mind when times get tough. May his inno­cence bring joy to your heart, put a smile on your lips, and a twin­kle in your eyes.


Baby Quis­ton and Fos­ter Moth­er, Angeli­na.​
BLESSINGS
BUSH
BUNNY
BRENDA
LANGE
AND
THE
BALAMA
STAFF