FROM

"

BUSH

BUNNY

BRENDA

"


DATE

:

JANUARY

2, 2021



HEAVY

RAINS

WRAP

UP

2020

Rain means our corn/bean fields will grow,

PTL

, but it also crushed our hopes for the chil­dren's feast on Dec. 31st. So Bush Bun­ny and staff pulled out the reserve plan by load­ing the toys, cook­ies, and indi­vid­ual koolade bot­tles into my ful­ly cov­ered King Cab.

When the rain paused at 7 a.m., off we went to deliv­er the good­ies house to house. Sun­shine fil­tered through the clouds just long enough to get fam­i­ly pho­tos of all 6 chil­dren's homes. Each house with small chil­dren received a minia­ture soc­cer ball so the under 3‑year-olds can have fun at home.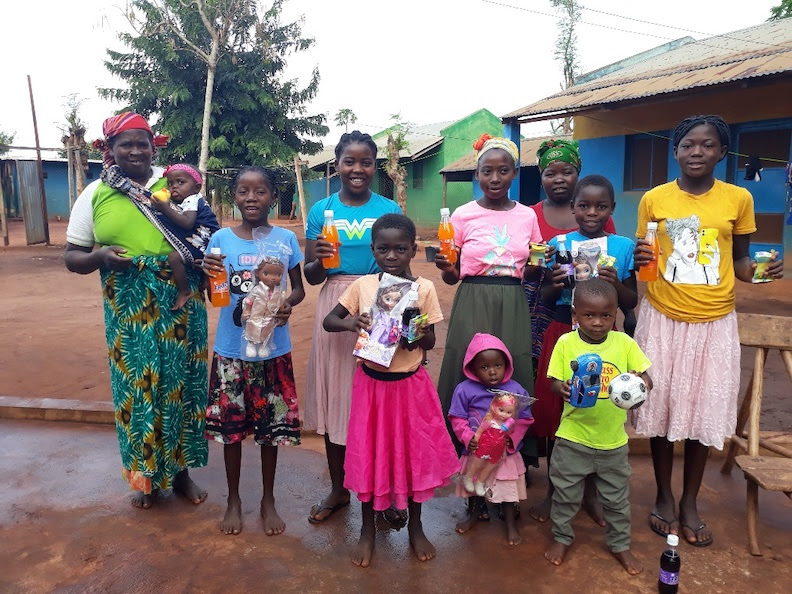 Beau­ti­ful "Gazelle House" with their gifts.

Our pre­cious Ostrich House fam­i­ly.

As I was get­ting the "Rab­bit" fam­i­ly of Vic­to­ry House lined up for their pho­to, the chil­dren's hands were full hold­ing their presents (and they weren't let­ting go). Thir­ty-month-old Jesuino tried to hold his gifts

AND

THE

NEW

BALL

, but could­n't man­age it. The ball fell to the ground, so I placed it at his feet and stepped back­wards to take the pho­to. Next sec­ond, I was hit full body with that ball as Jesuino rared back with all his might, kick­ing the ball per­fect­ly to his "goal".



THE

KIDS

ROARED

WITH

LAUGHTER

, for Mama Bren­da for­got that this lit­tle one can't resist kick­ing

ANY

BALL

with­in his reach.
Solu­tion: remove his koolade bot­tle so he could hold the ball. His face is one of total deter­mi­na­tion, dar­ing any­one to take the ball away. Our future soc­cer star for sure!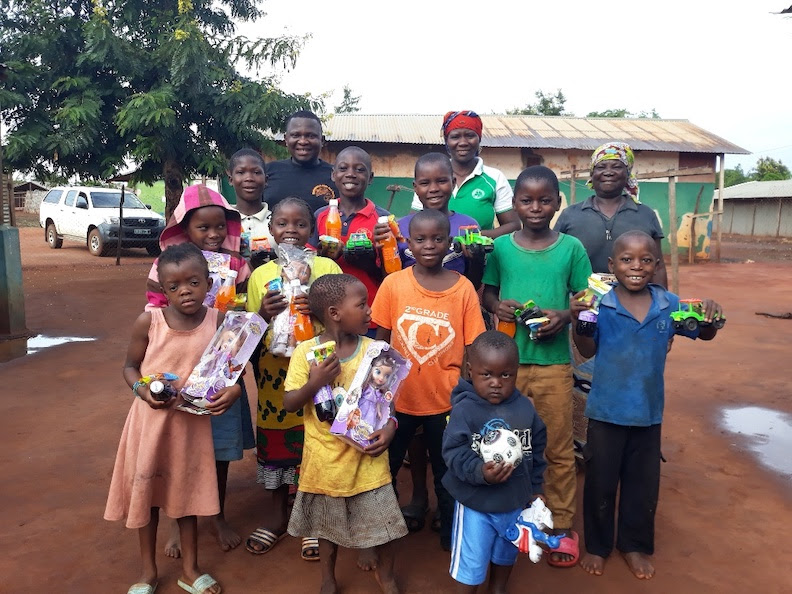 Vic­to­ry House Rab­bits and their 3 Fos­ter Par­ents

The Lion House kids!

See­ing the smil­ing faces of our chil­dren as we gave out gifts house to house, brought great joy to all of of our staff. Next week, we hope to have our "pic­nic" with the kids. Just need a morn­ing of sun­shine and dry ground as it is total­ly an out­door affair.


Buf­fa­lo Boys with pock­et mon­ey for shop­ping, treats and a new Soc­cer Ball.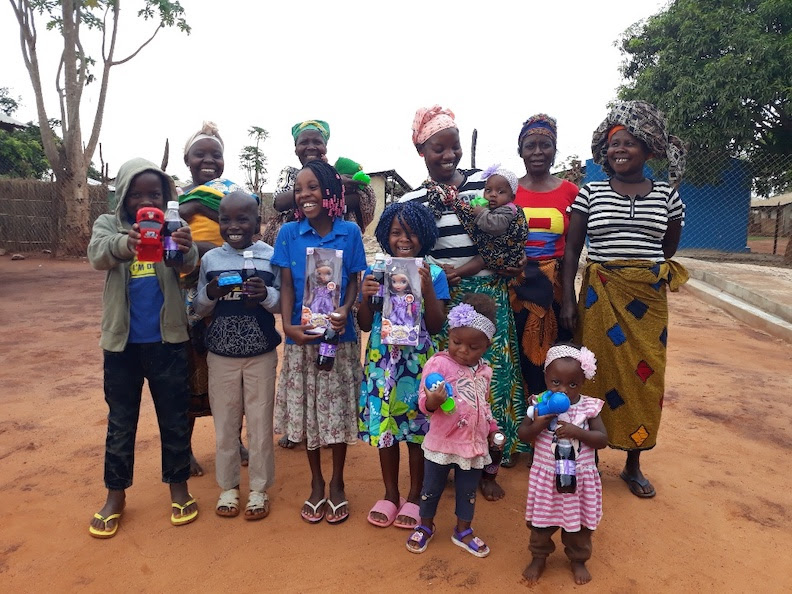 For some of our Zebra House kids it was their 1st toy ever!



THANK

YOU

TO

ALL

OF

YOU

WHO

GAVE

SPECIAL

LOVE

GIFTS

SO

OUR

CHILDREN

COULD

HAVE

SPECIAL

TREATS

THIS

YEAR

.



HAPPY

2021

TO

YOU

ALL

!



STAY

CLOSE

TO

THE

LORD

,

AND

NEVER

DOUBT

HIS

WORD

.

IT

IS

FOOD

FOR

YOUR

SPIRIT

AND

ENCOURAGMENT

TO

YOUR

MIND

.

HE

TRULY

IS

COMING

SOON

.



BLESSINGS

,


BUSH

BUNNY

BRENDA

LANGE




AND

THE

BALAMA

STAFF