FROM

"

BUSH

BUNNY

BRENDA

"


DATE

:

NOVEMBER

28, 2020



MURALS

BRIGHTEN

BEDROOMS

TOO

!

Your lov­ing response to our mur­al project was won­der­ful!

THANK

YOU

FOR

BRINGING

JOY

TO

OUR

CHILDREN'S

FACES

! Your gifts cov­ered the cost of the large lunch­room murals of Noah with the Ark, and Adam in Cre­ation.



Daniel in Lions room in boys' room House #6.​

Murals for House 7 will be done as soon as paint­ing can begin. Our builders are in the final stages of com­ple­tion for this chil­dren's home.

The extra gifts are being used to dec­o­rate the chil­dren's bed­room walls. Due to the bunk beds in the bed­rooms, small­er, kid activ­i­ty designs were cho­sen. Each girl's bed­room received a young girl jump­ing rope, (their favourite), while the boys all around fun thing is play­ing soc­cer.


Girls' bed­room mur­al.​
Boys' bed­room mural​.

Cre­ation almost com­plet­ed in Study Room for boys' dorm​

Marceli­na, house moth­er for "The Lion House", told me that after their lunch room mur­al was com­plete, all 11 chil­dren bunched onto the lunch­room bench fac­ing their Cre­ation mur­al, and began nam­ing the ani­mals. So now we can say the murals are a teach­ing tool also.

Again, thank you! This is a love gift that will keep on giv­ing all year long.




BABY

SALVADOR

JOINS

OUR

FAMILY





SALVADOR

, 6 lbs (2.8kg), was orphaned at 2 days of age, for his moth­er had seri­ous post­par­tum com­pli­ca­tions after his birth. Sad­ly, she pass­ing away in our local hos­pi­tal. His elder­ly grand­moth­er is not well her­self, so relin­quished him into our care last Thurs­day.





SALVADOR

, 2 days old, in arms of elder­ly grand­moth­er.​

At just 4 days of age as of today, he is respond­ing well to baby for­mu­la, and is now well hydrat­ed. Pray for his immune sys­tem to strength­en, as he did not receive the first 3 days of spe­cial, immune-build­ing milk that only his moth­er could give.



SALVADOR

NEEDS

A $30/

MONTH

SPONSOR

. Please email me if you are led to pray and sup­port lit­tle Sal­vador.




BUSH

BUNNY

TIDBITS



1. Vaneza, who received the mir­a­cle heal­ing last week has been per­form­ing her nor­mal child­care duties with

NO

RESIDUAL

AFFECTS

from her head injury. We con­tin­ue to praise the

LORD

JESUS

for His heal­ing touch.

2. Many have asked about Mon­i­ca. Thanks to your prayers, she is now stronger than I have ever seen her and

DEMANDED

to help with house­hold chores. One chore is fetch­ing water from our well that is only 50 yards/meters from her house.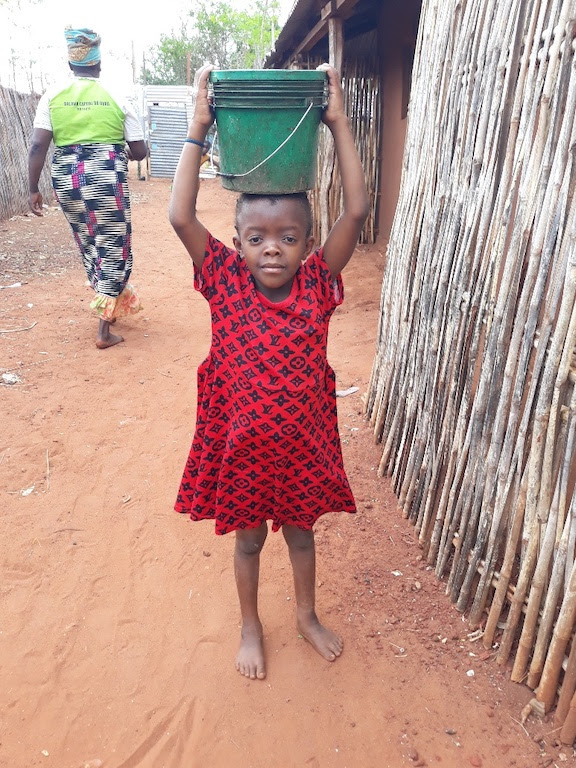 Mon­i­ca shows off her strength with her 2 liter water buck­et.​

This pho­to shows her car­ry­ing a small, 2 litre buck­et of water to help out with clothes wash­ing. She was not able to do this before her last res­pi­ra­to­ry infec­tion.



THANKSGIVING

IS

A 365

DAY

GIFT

THAT

JESUS

GAVE

US

TO

BRIGHTEN

ANOTHER

PERSON'S

LIFE

.

GIVE

FREELY

OF

YOUR

TIME

AND

RESOURCES

EVERYDAY

,

FOR

THE

HARVEST

IS

RIPE

AND

THE

TIME

IS

SHORT

.



BLESSINGS




BUSH

BUNNY

BRENDA

LANGE




AND

THE

BALAMA

STAFF