FROM

"

BUSH

BUNNY

BRENDA

"


DATE

:

SEPTEMBER

19, 2020



EVA

SHOWING

OFF

HER

HOME

SKILLS



Eva, the first child we took into our fam­i­ly in 2000, is now 22 years old. (Yeap, I just com­plet­ed 20 years in Bala­ma!) Two year old Eva and her Grand­moth­er came to us because Eva was suf­fer­ing from 6 major seizures

DAILY

due to Cere­bral Pal­sy. Long sto­ry, short, the doc­tors that saw her at age 2 told us she would most like­ly be unable to walk, speak, or take care of her­self.

SURPRISE

!



Eva pound­ing whole corn into corn flour.

She is

NOW

DOING

ALL

3

AND

car­ing for her grand­moth­er, as well! Pass­ing by her home this week, I found Eva "pil­lar­ing" (hand pound­ing corn into flour). Don't be fooled, that "pound­ing pole" weighs about 15 lbs (7 kg).

Eva shows how it's done in this video!
https://youtu.be/g‑7hsszrYWk

Yes, Eva is men­tal­ly slow and walks with a fun­ny gait, but with her Grandmother's patient teach­ing, Eva has proven that she can be a use­ful helper around the house. She runs, sings, and speaks part of 3 lan­guages!

NEVER

SAY

NEVER

WHERE

GOD

IS

CONCERNED

!




REMOTE

VILLAGE

ORPHANS

RECEIVING

YOUR

GIFTS



This week, we com­plet­ed all 5 remote vil­lage food give-outs using strict guide­lines to pre­vent any viral con­t­a­m­i­na­tion. Bala­ma is

CV-19

free, and we hope to keep it that way.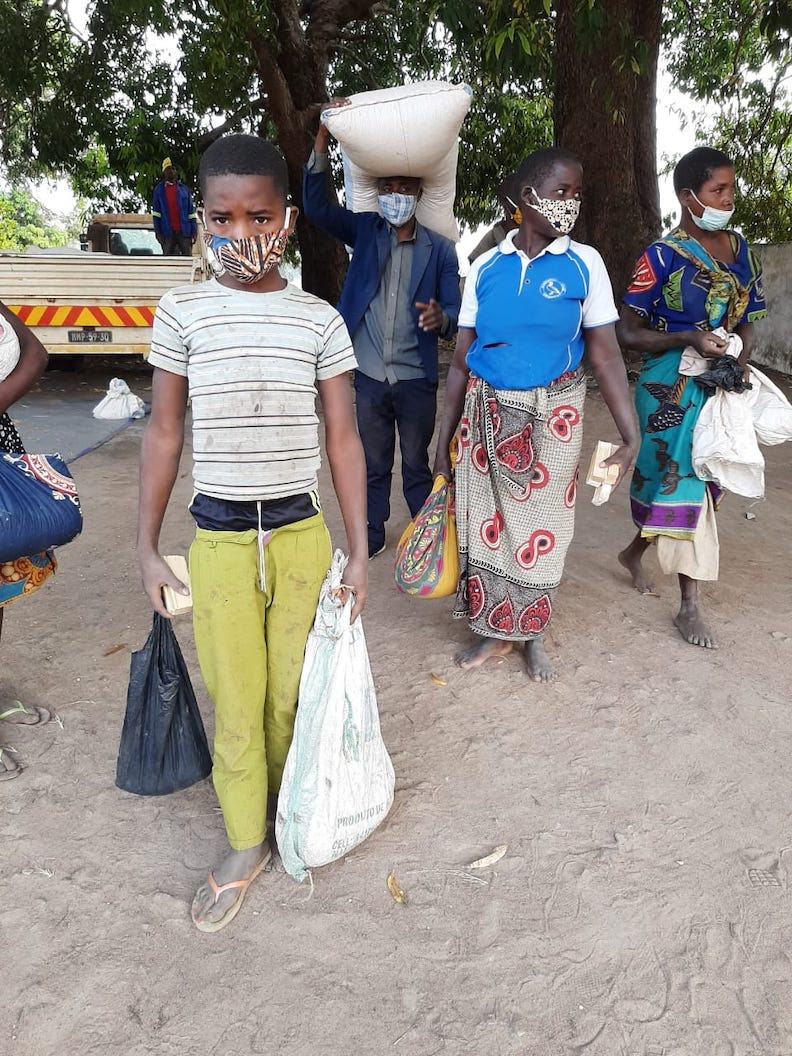 Vil­lages orphans and their fos­ter moth­ers fetch­ing food.

Each orphan fam­i­ly received 1 sack of corn, plus salt, 1 piece of soap, and 3 kg (6.6 lbs) of dried beans/person.



THANK

YOU

FOR

MAKING

IT

POSSIBLE

TO

CONTINUE

HELPING

THESE

CHILDREN

STAY

STRONG

AND

HEALTHY

.




BUILDING

A

LOCAL

TOILET

AND

BATHING

AREA



The 4 high school stu­dents par­tic­i­pat­ing in our Life Skills train­ing, are hard at work today, build­ing a bath­room for 5 young teenage orphans who will enter our pro­gram in about 10 days. I'll tell you more about this "child head­ed house­hold" in next week's blog.

Our boys, Alferes, Helder, Samuel, and Ize­bio start­ed their day by mark­ing out, and then dig­ging post holes for the bath­room. The boys then walked to a near­by neigh­bor and bought 5 bun­dles of grass for the bath­room walls. Car­ry­ing the grass bun­dles on their heads makes them look like a "grass train" as they walk one behind the oth­er.



Grass train head­ed to our newest mud brick home.

Once the fence posts were in, the 12 foot/4 meter long bam­boo rods must be split as they will sup­port the grass walls. Ize­bio knew how to split bam­boo, so we had him show the oth­er 3 how to do it. Life Skills is all about "teach­ing one to teach one".



Stu­dents mount­ing the grass walls on bathing area.​

These split bam­boos are then tied onto the fence posts with strong "cords" cut from old tires. The grass walls are secured in place by a 2nd piece of split bam­boo on the out­side of the grass to "sand­wich" it into place. Every house needs a bath­room, mak­ing this a vital part of House Build­ing 101.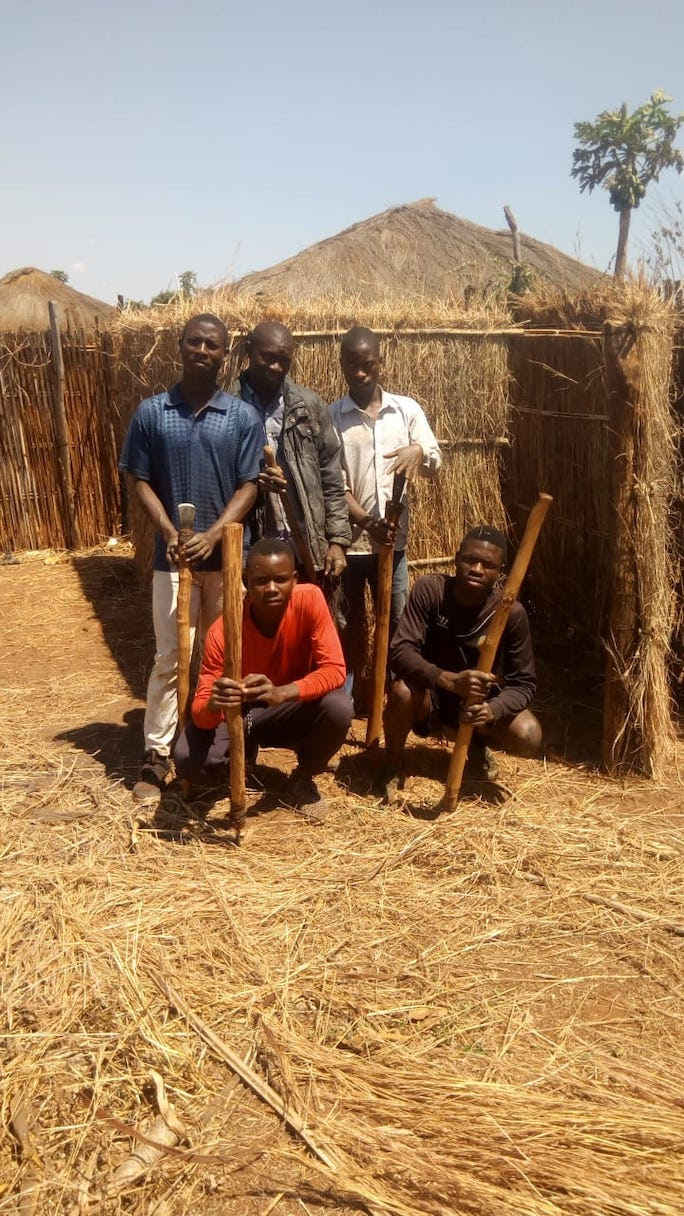 Teen team with com­plet­ed grass bath­room with

BBC

mem­ber, Cabral as instruc­tor. (mid­dle, back row)

Our young teens are grow­ing into men, all because

YOU

GAVE

so that they could have a bet­ter future. It takes more than aca­d­e­mics to make a well-round­ed cit­i­zen in this coun­try. With­out the basics of "mak­ing a home from local mate­ri­als", where will they live?



UNTIL

NEXT

WEEK

,

MY

FRIENDS

.

KEEP

YOUR

PRAYERS

FLOWING

OUR

WAY

.



BLESSINGS




BUSH

BUNNY

BRENDA

LANGE




AND

THE

BALAMA

STAFF