FROM

"

BUSH

BUNNY

BRENDA

"


DATE

:

SEPTEMBER

2, 2023




REPAIRING

WATER

WELLS

KEEPS

VILLAGES

HEALTHY



Yes, we are still repairing/maintaining water wells in the vil­lages of Bala­ma and Melu­co Dis­tricts as need­ed. We have nev­er stopped doing this project, as no clean water means death to many and thus more orphans. Due to lim­it­ed space in my blog, I haven't report­ed each time we repaired a well. I will do a bet­ter job in the future, as Water Well Main­te­nance will always be an inte­gral part of our pro­gram as long as we have the parts need­ed. Manel and his team repaired the water well at the Man­go Tree church on Fri­day after the main pump parts wore out over the last 2 years use.



The chil­dren liv­ing near the Man­go Tree Church are thrilled that they have clean water again
https://youtube.com/shorts/3eT1eKFZrPU




CRECENCIO

FINDS

HIS

BALANCE

!

Cre­cen­cio, 20 months old, is final­ly walk­ing inde­pen­dent­ly after sev­er­al set­backs caused by a heavy infes­ta­tion of intesti­nal worms and hid­den malar­ia. This lit­tle man has strug­gled to catch up with his larg­er twin sis­ter, Cre­cen­cia, who runs and plays effort­less­ly with the oth­er tod­dlers. Thank you for your prayers for Cre­cen­cio.



Cre­cen­cio walk­ing inde­pen­dent­ly after sev­er­al set­backs
https://youtube.com/shorts/SDxmcbirLG0

My respect has deep­ened for the Fos­ter Moth­ers as they spent many an hour doing phys­i­cal ther­a­py exer­cis­es with Cre­cen­cio to help him gain leg strength. His intesti­nal worms blocked him from absorb­ing the high pro­tein meals we pro­vid­ed for him. He had been dewormed when he came to live with us, but it seems the one treat­ment wasn't enough. Our Doc­tor of Nutri­tion at the hos­pi­tal ordered a 2nd dose giv­en, which cleared up his prob­lem. Once he over­came that and the hid­den malar­ia, he began to gain weight and strength. We are all very proud of his progress, and

PTL

that he is final­ly healthy!




ROOFING

50%

COMPLETED

,

WITH

TIN

SHEETS

GOING

ON

NEXT

WEEK



A build­ing that is 22 feet wide x 65 feet (7 meters X 20 meters) long makes for a

BIG

ROOF

! Our 6‑man car­pen­try group teamed up with our brick lay­ers this week to put in the 5 con­crete pil­lars that anchor the 6‑foot veran­da roof against high winds. The tin sheets will be nailed on this com­ing Mon­day and Tues­day, leav­ing only the final brick work to be done.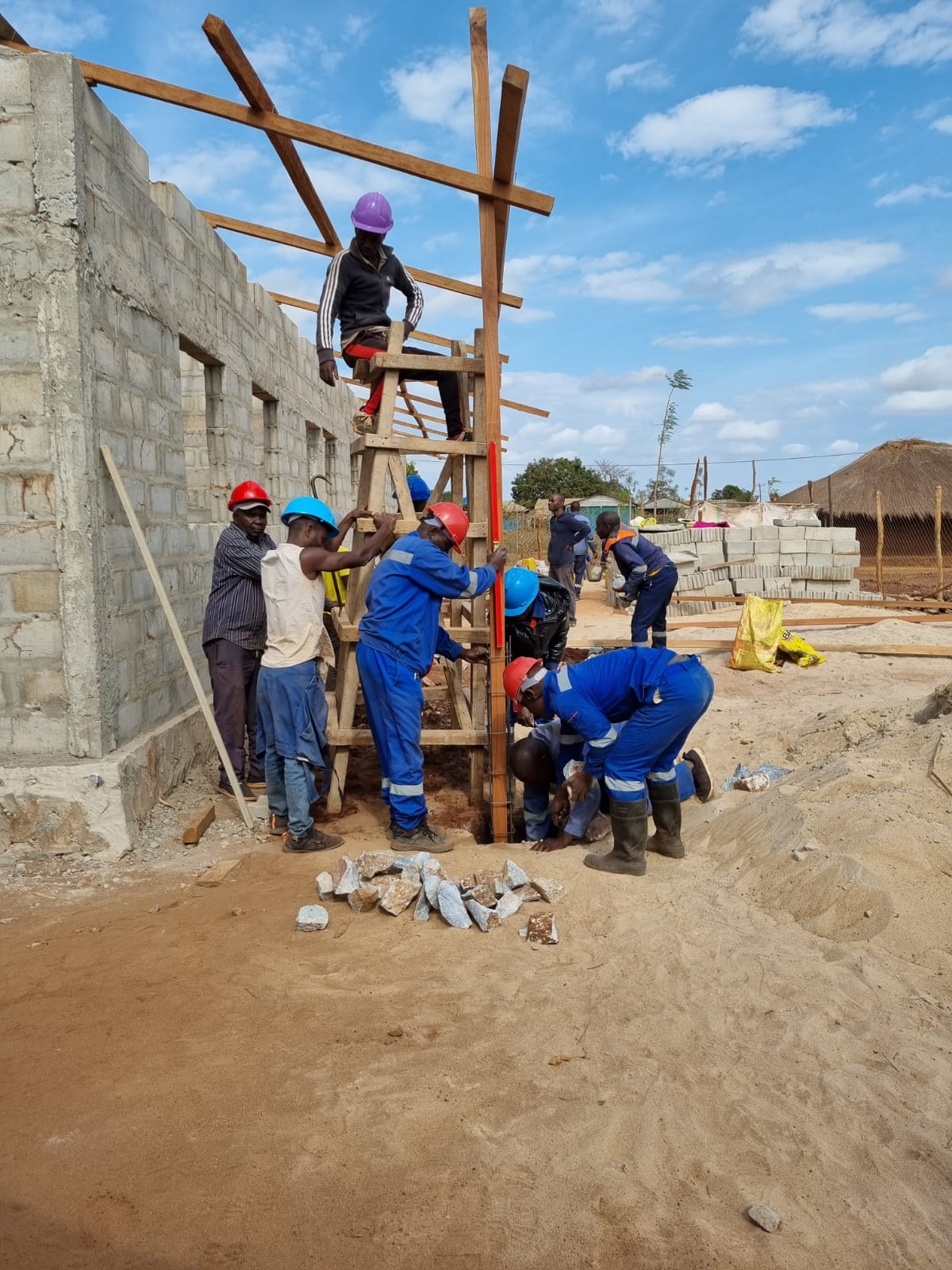 Car­pen­ters and Brick Lay­ers team up to put in 5 con­crete pil­lars to anchor the roof

I am very pleased at how fast our team have been able to con­struct this 3‑bedroom home for our tod­dlers. Our goal of mov­ing in by Novem­ber, looks more and more like a real­i­ty for sure! All 25 of our infants and tod­dlers are grow­ing fast, mak­ing this new home a very wel­comed exten­sion to our 2‑bedroom Ostrich House.




THE

SEPTEMBER

HEAT

IS

HERE



That is the only time our weath­er match­es that of the north­ern Hemi­sphere. So this month we will "sweat it out" with our

USA

friends who have been suf­fer­ing super-hot weath­er for the last 3 months.



BLESSINGS

,


BUSH

BUNNY

BRENDA

LANGE




AND

THE

BALAMA

STAFF