FROM

"

BUSH

BUNNY

BRENDA

"

DATE

:

SEPT

. 20, 2014
BUSH

BUNNY

"

WINGED

OUT

OF

THE

WAY

"

BY

GUARDIAN

ANGELS

The 2nd sto­ry of the Super Play­house reach­es into the tree branch­es of the huge Man­go Tree that shades it. We need­ed to cut off a few branch­es in order to make room for the small roof that will pro­tect the chil­dren and the super slide from falling man­go fruit from Octo­ber to Decem­ber each year. Green man­go fruit is as hard as a base­ball before it ripens. A "goose egg" size knot on your head is the nor­mal, if you get hit by one that drops off due to a big gust of wind.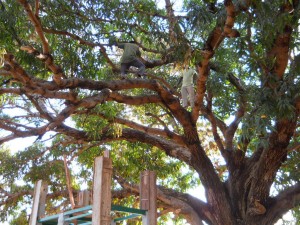 I was busy tak­ing pho­tos of the men cut­ting the limbs as it was quite a feat for them to chop away at the same branch they were sit­ting on.
When it came to the last and largest branch that had to be removed, the 5 men on the ground ask me for a rope so they would have bet­ter con­trol as the branch fell. We'd already had a small­er branch dam­age one of the 4X4's on the play­house, and want­ed to avoid any fur­ther damage.
I was well out of the way, or so I thought.
This huge branch snapped off pre­ma­ture­ly with a loud CRACK! My heart jumped for it was not falling as expect­ed, and was head­ed straight for ME!

Argenti­no is cut­ting one of two limbs. His right foot is on the limb that tried to take out The Bunny.
All I remem­ber is piv­ot­ing to jump out of the way, and 2 sec­onds lat­er found myself lay­ing in the dirt with 5 guys grab­bing my arms and drag­ging me to my feet.
THE HUGE TREE BRANCH was lay­ing just inch­es beyond my feet!
THIS

IS

THE

REASON

I

KNOW

IT

WAS

ANGELS

WHO

INTERVENED

:

I land­ed so soft­ly in the dirt that I was with­out pain, scratch­es, or bruis­es, which is not pos­si­ble with­out super­nat­ur­al inter­ven­tion. I have no rec­ol­lec­tion of how I got where I did, because it was over 12 feet from where I'd been stand­ing. There were NO foot­prints in the dirt between the spot I piv­ot­ed and the spot I landed.

The men said I just flew through the air with this huge branch actu­al­ly piv­ot­ing on it's point so that it FOLLOWED ME!

My crew were total­ly ter­ri­fied, as it looked like I would sure­ly be crushed by the limb. After I was on my feet, one of the men had to sit down before he faint­ed! He said he couldn't believe I was OK.

After a few laughs, they cut that huge limb into pieces, and removed it from the playground.

It was too heavy for even 5 men to lift it.

I'm very, very grate­ful to be alive, and I thank Jesus, the Holy Spir­it, and God's Angels for "lift­ing me" out of harm's way.
2
MAN

TEAM

OFF

TO

REPAIR

15

WATER

WELLS

IN

MELUCO

In mid-August, I was noti­fied by the offi­cials in Melu­co Coun­ty that 15 of their wells need­ed repairs.

The list of parts need­ed to repair them was staggering!

Thanks to a gen­er­ous gift by Wayne K. of But­ler, PA, lit­er­al­ly 1000's of peo­ple will have access to clean water by next week.

Manuel and Mario, our 2 man "water well fix-it team" will leave ear­ly Mon­day morn­ing, spend­ing 3 days repair­ing water wells in the super dry Melu­co Dis­trict where 515 of our orphans live. A few of these wells are ones we drilled, but most have been around for years, and their main parts are total­ly worn out.

Each year, over $3,000 is need­ed in repair parts to main­tain these hand pump Afridec wells. Thanks to the drilling com­pa­ny who sells us the parts, we can stretch this gift even fur­ther this year, as they gave us a dis­count because we bought in bulk.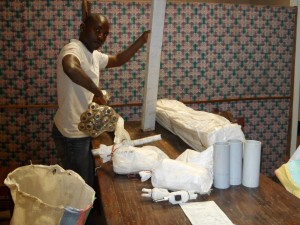 Manuel and I orga­nized and repacked this table full of water well parts last Thursday.
Life can­not exist with­out clean water. Repair­ing exist­ing wells is the fastest way to bring LIFE and HEALTH back to a vil­lage in need.
ASHLYNN GOT HER RESIDENCY! PTL!
Paper­work was filed and REJECTED on Thurs­day, "bum­mer", because unknown to us, the word­ing had been changed for the request let­ter since we filed Katie's paper­work last month. Thanks to coop­er­a­tion in Bala­ma, the cor­rect doc­u­ment was orga­nized late that same after­noon, so they could return to Pem­ba on Fri­day to file the new­ly word­ed paperwork.
CLOTHNG
GIVE
OUT
BEGINS
THIS
WEEK

Katie and Ash­lynn are hav­ing fun prepar­ing new clothes for the orphans in our care.
As I write this, Katie and Ash­lynn are hard at work fill­ing plas­tic sacks with the right size cloth­ing for the orphans in each vil­lage. While Manuel goes to Melu­co ear­ly Mon­day, Capena's team will hand out food in 3 loca­tions between Mon­day and Tues­day. Each of those 340 orphans will receive a new set of clothes made at our sewing cen­ter here at our mis­sion station.
On Mon­day, BBB will keep the "home fire" burn­ing. Mon­day is corn milling and rice hulling day. Some­body has to stay behind and get it done. Beats bounc­ing on rough roads for sure! So even before the sun comes up, our teams will hit the road!
Keep your prayers cov­er­ing us, for we have lots of food to move in the next few months.
Bless­ings, Bush Bun­ny Bren­da (now hop­ping high­er than ever!) Bala­ma Blaz­ers: Katie Pol­cyn Ash­lynn Grabill