There was no doubt that the Lord's hand was in this 4 day adventure.
My Mon­day flight on LAM to Maputo went smooth­ly, with only a minor delay at landing.
LAM (Moz. air­lines) has the nick name of "Late And Maybe", mean­ing it usu­al­ly runs late and it "might" get you there. We got to with­in 30 min­utes of land­ing at Maputo when sud­den­ly the engines did a great decel­er­a­tion, feel­ing like we "stopped" in midair. Cap­tain announces that the Maputo tow­er had asked us to slow down because 2 oth­er planes were already in the land­ing pat­tern and they could not han­dle us at this time! We all got a hoot out of that one! (Seems 2 is a crowd, and 3 impos­si­ble). Then we get to the airstrip 20 min­utes lat­er, and were told to "cir­cle over the ocean" because there were still 2 planes in the hold­ing pat­tern. So we cir­cle and are final­ly able to land safe­ly, a bit late, but we were there! All land­ings are great land­ings if you can walk away from them. FYI: LAM has great pilots who do a very good job with the lim­it­ed run­ways avail­able to them. The new air­port at Maputo is all glass front and very beau­ti­ful and clean. Far cry from the last time I was there.
Grab­bing my lug­gage, Manuel and Car­l­i­tos were there to fetch me with our Land Cruis­er pulling Eric' Dry's trail­er. So off we "crawled" to the bor­der, only 40 miles (80 km) away. Traf­fic in Maputo is thick all day long for there are more cars than there is road space, and only 1 road to get you where you need to go. First 5.4 miles (9km) took us 40 min­utes. Once we cleared the city traf­fic, we were able to move on, get­ting to the bor­der at 7pm (this bor­der clos­es at 10pm).
We breezed through, meet­ing Eric on the oth­er side, where he led us to the B&B where we would sleep, reor­ga­nize sup­plies, and repack at 5a.m. the next morn­ing. Because I had pre-orga­nized most of the lug­gage when I was in RSA in Feb., the re-pack­ing was com­plet­ed by 10a.m. A quick sand­wich for lunch and off we head­ed to the bor­der with Manuel dri­ving the Land Cruis­er, and Eric and I fol­low­ing in Eric's SUV pulling the trail­er. THAT is where we knew the fun would begin, as cus­toms can be challenging.
I apol­o­gize to my RSA friends, as there was no time for phone calls. We were only in RSA for 16 HOURS!
When I arrived on Mon­day night, I had dri­ven 4 hours by car, leav­ing 4 a.m. from Bala­ma to Pem­ba, did some minor min­istry work, then trav­eled 3 hours by plane, fol­lowed by the gru­el­ing 3 hour truck ride with 2 bor­der cross­ings (lots of paper­work!). Eric took us to a restau­rant for sup­per, mak­ing it 9:30 p.m. by the time we got back to the B&B. Bun­ny was sleep walk­ing by that time as I am total­ly a MORNING BUNNY! (Can't remem­ber the last time I saw 10pm!)
THE BORDER:
God threw open the doors, and we breezed through with­out a prob­lem!!!! As Eric said, "That was the eas­i­est I've ever crossed that bor­der!" We were on the Moz. side, dri­ving to Maputo by 11:15a.m.! A SUPER MIRACLE THE LORD CAN REPEAT ANY DAY!
Once in Maputo that Tues­day after­noon, we got to our hotel, again unpacked, and orga­nized some of the lug­gage to trav­el by air with me (heat sen­si­tive items), and the rest was insu­lat­ed in suit­cas­es for the 4 day dri­ve back to Bala­ma. These sup­plies are VITAL to our mas­sive food dis­tri­b­u­tion pro­grams, as well as the health of the chil­dren. No sup­plies would have lit­er­al­ly shut down our exten­sive food assis­tance pro­gram to over 2,500 orphans and widows.

Manuel and Car­l­i­tos arrived

TODAY

, March 21st, after 10 days on the road!
They picked up a load of water well sup­plies on their way back from South Africa, and brought them in along with the

VITAL

sup­plies need­ed to keep our pro­gram run­ning smooth­ly.
Won­der­ful to have our whole team back at the base!
The truck arrived at NOON today, with all of us super hap­py to have made the trip with­out any hassles!
GOD IS GREAT! ALL THE TIME!
Is the job tough? YOU BET.
Is it worth it? One look at our huge fam­i­ly of chil­dren, and there is NO DOUBT in my mind! YES, I would do it all again anytime.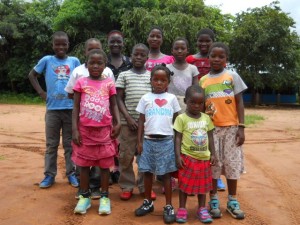 One look at our huge fam­i­ly of chil­dren, and there is NO DOUBT in my mind! YES, I would do it all again anytime.
BALAMA MISSION RAN SMOOTHLY, THANKS TO CAPENA AND STEPHEN
Cape­na, my office man­ag­er, and Stephen Miller, mis­sion­ary trainee, han­dled the basic mis­sion pro­grams this week with­out prob­lems. Our newest fam­i­ly mem­ber, Baby Edna, is now healthy (she came to us with a mild res­pi­ra­to­ry infec­tion). The 80+ orphans liv­ing in our fos­ter homes are all doing well in school, and enjoy­ing the won­der­ful play­ground fur­nished by ICM, Inc. of Wichi­ta, Kansas.
I opened the slide yes­ter­day, and it was like bees flow­ing into their hive, as the chil­dren swarmed up the 2 sto­ry ladder.
More next week, as we pre­pare for our first MAJOR AWANA COMPETITION on April 11th! We have invit­ed the AWANA vil­lage teams from 4 areas to par­tic­i­pate. The Inter­na­tion­al AWANA leader, Lar­ry Friend, as well as orphan spon­sors Dave and his daugh­ter Jill will be vis­it­ing us from April 10th to 17th.
Bless­ings,
Bush Bun­ny Brenda
Stephen Miller