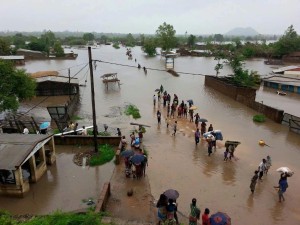 Thou­sands are dis­placed by the flooding.
On Tues­day, I went to Pem­ba on busi­ness, and real­ized as we drove into town, there was no elec­tric­i­ty. Nev­er a good sign!
I knew south­ern Mozam­bique was being hit by heavy rains (as we had received heavy storms for the last 4 days), with some cen­tral and south­ern areas of the coun­try flood­ing with major hous­ing losses.
What I didn't know, thanks to an almost none exis­tent news ser­vice up here, I had no idea that a CYCLONE (hur­ri­cane) had hit the Beira area, leav­ing over 9 mil­lion peo­ple in north­ern Mozam­bique with­out elec­tric pow­er! (We hadn't even noticed the lack of pow­er, since elec­tric is more "off" than "on" in the Bala­ma area.)
The flood­ing in the cen­tral part of the coun­try top­pled 10 ELECTRIC PILONS, destroy­ing all pow­er to the entire north­ern part of Mozambique.
It has been 5 days now, and a 2nd cyclone is about to hit that same area in the next few days.
Repairs will be impos­si­ble until flood waters recede.
Note: Rainy season's heavy rains do not end till end of Feb., mean­ing repairs could be seri­ous­ly delayed, crip­pling this entire part of Moz.Two bridges are out of ser­vice in the Mocu­ba area (cen­tral Zam­beze Riv­er area) on the

ONLY

road down the Moz. coast (road that leads to South Africa, which is our sup­ply route.)

High water has caused major wash outs at the entrance to one bridge and dam­age to anoth­er bridge.

No elec­tric­i­ty in gov­ern­ment offices, means no ser­vice to the pub­lic. Did get the bank­ing done, PTL, cause they have a gen­er­a­tor back up!

But that was all we got done. Cold food in the gro­cery stores was defrost­ing fast. I grabbed 2 frozen chick­ens, a block of but­ter, and some cheese, know­ing there would be no more "safe cold foods" to eat until pow­er was restored.

BUSH BUNNY IS PREPARED!

Since we are remote, and have NEVER depend­ed on local util­i­ties, we are set up for sur­vival with­out electricity.

Solar fridges, pow­ered by 6 solar pan­els and 4 large trac­tor bat­ter­ies, keep food fresh for sev­er­al days to a month, depend­ing on what it is. We cook on a gas stove from bot­tled gas, and I keep a 4 month sup­ply of gas bot­tles for just such emer­gen­cies as this. Our water comes from a hand pumped water well, sim­i­lar to the ones you see on old west­erns. Noth­ing but mus­cle pow­er need­ed there!

BEING PREPARED AND HAVING ADEQUATE FOOD AND FUEL SUPPLIES ON HAND are essen­tial to sur­vival in remote Africa.

I was once cut off for 7 weeks from civ­i­liza­tion by 12 miles of washed out road and 5 fall­en bridges.

Didn't suf­fer a bit, since I had 3 months of food sup­plies tucked away.

God expects all of us to BE PREPARED for the unexpected.

Whether it comes in the form of a spir­i­tu­al bat­tle and/or a phys­i­cal disaster.

KNOWING GOD'S WORD, and USING IT in the prop­er way, will always be the #1 TOOL I have in my heart.

Are you pre­pared for what might be about to hap­pen in this YEAR OF MANY CHANGES?

GET READY, FOR GOD'S SON IS COMING SOON!

GOAT WARS OF BALAMA

Might seem like a minor thing after what you just read about the cyclones.

How­ev­er, our children's meat source is very impor­tant, as it is the only fresh meat avail­able in this area.

With out­siders com­ing into Bala­ma, and offer­ing high prices for any edi­ble ani­mal on 4 feet, it puts our goats at high risk to thieves.

Goat sup­plies are almost non-exis­tent as most of the local grow­ers have been forced to sell off their herds or have them stolen in the night.

We keep 3 strong men with machetes and pow­er­ful flash­lights at our goat pens each night, and have 3 men watch­ing the herds graze dur­ing the day.

Oth­er­wise, your goats will dis­ap­pear. The thieves have even been so bold as to approach my herds­men and try to BUY the goats direct from them in our own pastures!

Bless­ings,

Bush Bun­ny Bren­da Lange

Bala­ma Blazers:

Katie Pol­cyn

Ash­lynn Grabill