From: Brenda Lange," Bush Bunny Brenda" Date:
DECEMBER

16, 2013
ORPHANS

UNLIMITED

,

OPERATION

RESCUE

, 2014

DVD

NOW

ON

LINE

!

Our Christ­mas present from our chil­dren to all of you!

Eric worked very hard yes­ter­day after church to com­plete this 4 minute DVD, so he could send it to the USA for every­one to see what our chil­dren accom­plished this year.

Our chil­dren are grow­ing up and lead­ing the way in the evan­ge­lism depart­ment. Each week they bring new friends, and in turn those friends bring oth­ers so that they too can know Jesus! All 19 of our Bala­ma Sun­day Schools are grow­ing at a fast rate, with num­bers rang­ing from 50 to 140/church/week.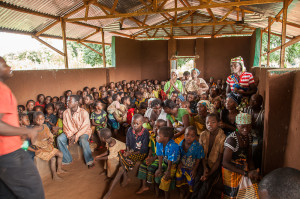 Yes­ter­day it was heart-warm­ing to see over 100 chil­dren in the Bala­ma Sun­day School, ages 4 years to teenagers, GO DOWN ON THEIR KNEES TO PRAY the "Prayer of Sal­va­tion" with their friends. ALL THE CHILDREN repeat­ed the Prayer of Sal­va­tion togeth­er, so that those who were doing it for the first time wouldn't feel so ner­vous! It brought tears to my eyes as this is the first time they have done this! It was so beau­ti­ful to see "the fruit of love" flow­ing from their hearts.
The
DVD

is now on our website marked

OPERATION

RESCUE

, 2014.
(on right hand side of the home page)
The chil­dren asked me to send you a MERRY CHRISTMAS! They shout­ed it in Sun­day School yes­ter­day, and it was so loud, I was cer­tain some of you must have heard them.
TOGETHER, WE ARE TRULY CHANGING THE WORLD, ONE CHILD AT A TIME. THANK YOU FOR MAKING THIS PROGRAM POSSIBLE. WITHOUT JESUS, WE HAVE NO HOPE, AND WITHOUT HOPE, THERE IS NO PURPOSE TO LIFE. JESUS IS THE LIGHT OF OUR LIVES, AND THE REASON FOR THIS SEASON!
Please share HIS LOVE and HIS MESSAGE OF SALVATION with all those who cross your path. It's the best gift you can give those who touch your life.
MERRY CHRISTMAS TO ALL OF YOU! BUSH BUNNY BRENDA ERIC DRY BALAMA STAFF AND "THE MANY CHILDREN" God has entrust­ed us with.