From: Brenda Lange," Bush Bunny Brenda" Date:
DECEMBER

14, 2013

First, let me say that I've just returned from an overnight Christ­mas sea­son "break" thanks to a Texas friend who gave me a per­son­al gift of a mas­sage and a spe­cial meal (to be redeemed in Pem­ba). My spe­cial meal was a HUGE Cheese Burg­er with fries and sal­ad. You may think that isn't spe­cial, but in a coun­try where BEEF is not an easy to get meat, believe me, it is spe­cial! Next time you buy a burg­er, remem­ber that here it costs $14 for a real beef burg­er with cheese. I enjoyed it immensely!

Eric is leav­ing on Mon­day for his hol­i­day break with his grand­kids, so this last Friday/Saturday was my only chance to "get away" before we gear up for the Orphan's Christ­mas Par­ty on Wed. Thurs­day we dis­trib­ute food that will last over 300 orphans and wid­ows for 2 weeks. (so all staff can take a Christ­mas break). Fri­day, we will pay Decem­ber salaries so that all our work­ers can orga­nize Christ­mas with their families.

I had a relax­ing 36 hours and am now back in Bala­ma, ready to par­ty with my children!
OUR
KIDS
TRAIN
THE
BUSH
PASTORS
IN
AWANA
GAMES
Tues­day this week found my staff, 12 of our pri­ma­ry school orphans, and 5 of our Bush Pas­tors at our AWANA court and classroom.
I thought it total­ly appro­pri­ate that our chil­dren teach the 7 basic AWANA games to the Bush Pas­tors, for who knows them bet­ter than they do? In 2014, we plan to help all 19 of our pas­tors learn how to use the AWANA cur­ricu­lum so their vil­lage chil­dren can learn the Bible from Gen­e­sis to Rev­e­la­tions. These games are a fan­tas­tic mag­net that draws chil­dren of all ages to Jesus.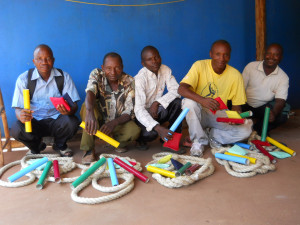 These 5 church­es were the first to com­ply with the need for a dirt "games court". None of them can afford a fan­cy con­crete court on which to play the AWANA games, but they "made a plan". They cleared a lev­el piece of land and will use ASH from their fire pits to mark the court on AWANA club days. After the games train­ing was com­plet­ed, we met in our class­room, giv­ing the Pas­tors their first month's lessons in Por­tuguese and teach­ing them how to run a club. They will begin in Jan­u­ary. After­wards, they were giv­en their AWANA game mate­ri­als ( a tug-o-war rope, 4 col­ored bean bags, and 4 col­ored batons). It will be inter­est­ing to see how they han­dle the 100's of chil­dren who will show up once they hear about the games.
We look for­ward to the awe­some reports, for each of these church­es have 80–140 chil­dren each week in Sun­day school. To han­dle the large num­bers, I rec­om­mend­ed they break it up into prop­er age groups and hold club meet­ings 3 days a week.
Until next week, my friends. Keep those prayers com­ing! All is "qui­et" in our area at the moment, and we pray it stays that way. There is still some fight­ing going on south of us. Rains are rolling in as I am hear­ing a con­stant grum­bling of rolling thun­der com­ing my way. Need to get off the com­put­er, as light­en­ing likes solar pan­els. More next week!
Bless­ings, Bush Bun­ny Bren­da Eric Dry Bala­ma Staff