FROM

"

BUSH

BUNNY

BRENDA

"

DATE

:

DECEMBER

27, 2014
SUPER

SLIDE

OPENS

FOR

CHILDREN

'S

CHRISTMAS

PARTY

!


The photos tell it all, as you can see the slide, and the monkey bars (attached to the right side of the slide), are all a bit hit with the children.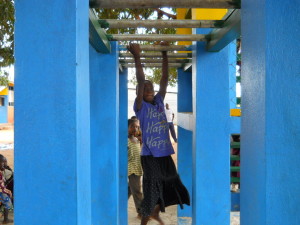 Just like any great play­ground, it was stand in line to take your turn. But with the slide accom­mo­dat­ing 2 kids at a time, it only takes a few min­utes of wait­ing before you start climb­ing the 2 sto­ry lad­der to have anoth­er thrilling ride on the slide!
JESUS

'

BIRTHDAY

PARTY

GREAT

FUN

FOR

ALL

!

170 orphans and street chil­dren attend­ed our Christ­mas par­ty and 2 of our fat goats along with 220 lbs (110kg) of rice pro­vid­ed the noon feast for the chil­dren and their fos­ter mothers.
Pho­to shows the chil­dren all feast­ing on our great food.
Katie and Ash­lynn com­ment­ed on how qui­et it got once the chil­dren were served. The kids were so busy eat­ing, they didn't utter a peep. For the street kids, it is the ONLY time they get meat and rice all year, so they were total­ly "focused" on eating.
To explain: the street chil­dren have par­ents, but most are left alone to fend for them­selves dur­ing the day, and few get any lunch.
These chil­dren are reg­u­lars at our Sun­day School pro­gram, as the love they feel there is like a mag­net to those who are love starved.
Every­one who attend­ed Jesus' Birth­day Par­ty received 2 kinds of lol­ly pops and a pack­et of cook­ies as they left. It was smiles all around, as every­one left with a heart full of love and joy!
CHRISTMAS DAY ORPHAN TOY GIVE OUT
Can't show all the pho­tos of our orphans receiv­ing their small trucks, cars, dolls and jump ropes, so I chose BABY DANIEL's pho­to as he had the most unusu­al look on his face when he saw his toy (it lights up).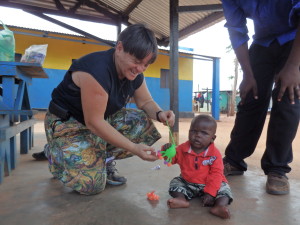 His "light up" octo­pus was an instant hit with all the orphans in Ernestina's house. It was a joy­ful week and super fun for all of us.
We prayed for all of you and your fam­i­lies to have a won­der­ful Christmas.
Now we ask the Lord to keep you safe and pro­vide you with a GOD BLESSED 2015, for it will be a year of many changes.
A full solar eclipse as well as the 3rd blood moon all appear in ear­ly March, which marks the 6th month of this Shemi­tah year.
All these signs are Bib­li­cal, mark­ing the skies with sig­nals that Jesus' return is very near.
ARE

YOU

READY

?

GOD

ANSWERS

MY

PRAYERS

WITH

MORE

HELP

ON

THE

WAY

Stephen Miller, expe­ri­enced mis­sion­ary who taught Bible to both Adults and chil­dren in Bali, Indone­sia for 18 months, will be join­ing our team on Feb 4, 2015.

His pre-mis­sion­ary work skills include truck dri­ving, ware­house man­age­ment, and inven­to­ry work. All of which will be very use­ful, since most of what I do is man­ag­ing ware­hous­es, tak­ing inven­to­ry, and buy­ing sup­plies as needed.

I am very grate­ful to God for pro­vid­ing a helper before the Bala­ma Blaz­ers com­plete their 1 year com­mit­ment dur­ing food buy­ing time in 2015.

HAPPY NEW YEAR!

Bush Bun­ny Bren­da Lange Bala­ma Blaz­ers: Katie Pol­cyn Ash­lynn Grabill