FROM

"

BUSH

BUNNY

BRENDA

"

DATE

:

MAY

3, 2014
7
KID
FAMILY
STRUGGLING
The 7 remain­ing chil­dren in the "Child Head­ed House­hold" of Nacala Vil­lage came to church last Sun­day with the 15 year old in tears. She told us it was too much to han­dle, as she could not man­age the 6 younger chil­dren on her own. Her old­er sis­ter, Marceli­na, who died last week from com­pli­cat­ed malar­ia, was always the one who held the fam­i­ly togeth­er. An imme­di­ate appeal was put out to find a woman will­ing to live in and help them out. I prayed for a woman with a true heart for chil­dren and God had some­one wait­ing to answer our prayers. The vil­lage "jun­gle vine" sent out a mes­sage Sun­day after­noon, and expe­ri­enced fos­ter moth­er Ali­ah (A‑lee-ah), came to meet Evan­ge­list Salazar on Mon­day. Ali­ah is a very respect­ed wid­ow in the vil­lage and is very hap­py to moth­er these chil­dren in need . For $60, we were able to pur­chase a house right next door to the chil­dren, where Ali­ah will live. Ali­ah hap­pi­ly agreed to help out for food, full liv­ing needs, and $48/month in spend­ing mon­ey. (This is the "nor­mal" rate for any one car­ing for chil­dren in the Bala­ma area.) Thanks to a gen­er­ous donor, Aliah's salary has been spon­sored through Decem­ber, 2014. The "yard" will be extend­ed so that both hous­es will be in the same fence, and a 2nd latrine was added this week to pro­vide for the 8 peo­ple now liv­ing in this com­plex. A kitchen is being added on to the main house, as the kids have been cook­ing out­side on the porch, which is dan­ger­ous in high winds when you have a grass roof!
DOING

WHATEVER

IT

TAKES

TO

GET

THE

JOB

DONE

.

Jesus did it and we know He expects us to fol­low His lead. But we couldn't do it with­out all of you lend­ing a help­ing hand. THANKS for help­ing us res­cue this family.
ONE

LITTLE

BEANY

,

TWO

LITTLE

BEANIES

…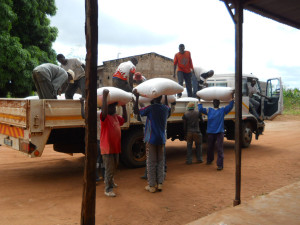 We are all count­ing beans in our sleep this week! Our bean buy­ing per­mit was grant­ed last Fri­day, so Mon­day morn­ing, the 2 trucks rolled out to fetch 410 bags of beans! The flow has been con­stant this week and we now have 87 tons in the barn.
Get­ting them into our barn before the ille­gal buy­ers could grab and run with them is our goal this week. Our goal is 97 tons by next Tuesday.
Andy Gonzalez has been a big help this week working as driver, bean bag hauler, and all around "gopher". Good help is a blessing for sure!

These beans will feed over 2,500 orphans this year who would suf­fer severe mal­nu­tri­tion with­out the pro­tein they pro­vide. THANK YOU to our donors who have make the JOSEPH PROJECT pos­si­ble. (Fill­ing God's barns in the time of plen­ty, and dis­trib­ut­ing it to those in need in the time of hunger.) Bless­ings to all! Bush Bun­ny Bren­da Lange Eric Dry Andy Gonzalez