FROM

"

BUSH

BUNNY

BRENDA

"

DATE

:

APRIL

18, 2014
A
WEEK
OF
RESCUES
Eric's evac­u­a­tion on Tues­day morn­ing was just the first of 2 major hos­pi­tal runs made that day by me and Manuel, my top dri­ver. While I was rush­ing Eric to the airstrip at Mon­tepuez, 30 miles (60km) away to catch the MAF flight (Blog, April 16, 2014), Manuel was on a major bush res­cue fetch­ing the 16 year old "Head of House­hold" orphan, who is car­ing for the 8 orphans liv­ing in Nacala Vil­lage. (Blog, April 5, 2014). Marceli­na was also suf­fer­ing from Resis­tant Malar­ia, and need­ed hos­pi­tal­iza­tion as she was too weak to walk. This was no easy "fetch" as we had to pro­vide gaso­line to one of our Rovu­ma church mem­bers, who fetched her on his motor­bike due to NO BRIDGE over the riv­er that sep­a­rates Nacala from civ­i­liza­tion. (They walk bikes over a log from what I under­stand.) Once on the Rovu­ma side, she was trans­ferred to our Land Cruis­er and whisked away to the Bala­ma hos­pi­tal. Unknown to us, Marceli­na, had mar­ried her best friend, Sai­di, 5 months ago, but was afraid to tell us for fear we would not help them with food for the 7 orphans in her care. (No idea how that idea got into her head as we are cur­rent­ly help­ing oth­ers in this same sit­u­a­tion). Upon admis­sion to the hos­pi­tal, they told the whole sto­ry to the nurse because Marceli­na was 4 months preg­nant. Malar­ia treat­ment dur­ing preg­nan­cy can cause defor­mi­ties and at times be a death sen­tence for the baby. We assured Marceli­na and Sai­di that we were very hap­py for them, and GLAD that she had a man to help care for her 7 broth­ers and sis­ters. We pro­vid­ed a fos­ter moth­er to stay with her (hus­bands are not allowed in the woman's ward) as well as food, plates, cups, blan­kets, etc. for this cou­ple to use dur­ing her hos­pi­tal stay, as the fam­i­ly has to pro­vide EVERYTHING when a mem­ber is admit­ted, INCLUDING all beside nurs­ing care. On Wednes­day, they trans­ferred her from the gen­er­al ward to mater­ni­ty, as she was show­ing com­pli­ca­tions with her preg­nan­cy. On Thurs­day, we got an ear­ly morn­ing call say­ing she need­ed blood URGENTLY. She had abort­ed the baby at dawn and was bleed­ing. Cape­na, my office man­ag­er, raced down there to orga­nized a donor, but she expired as he arrived. Every­one was SHOCKED as it all hap­pened so quick­ly and was so unex­pect­ed. Jani­ta, in the yel­low striped shirt, Marceli­na, and the chil­dren, only two weeks ago. Now Jani­ta, the 15 year old, will care for these chil­dren with the help of her neigh­bours, Salazar and his wife. This is not an easy task, but at 15, most girls are very mature, mar­ried, and expect­ing a baby. Life expectan­cy is only 40 years in Moz., so an ear­ly start is need­ed if you plan to live to see your chil­dren grow up.
MARCELINA

'S

FUNERAL

IMPACTED

THE

VILLAGERS

OF

NACALA

as it is the first Chris­t­ian bur­ial ever per­formed there. Most of the vil­lage turned out to watch, and to lis­ten to what Chris­tians say when they bury their dead. Most nev­er heard about JESUS, and they now know who He is and why He came to earth. Pas­tor Joaquim and Evan­ge­list Salazar, gave a pow­er­ful gospel mes­sage. The seeds have been plant­ed. Salazar and Joaquim will con­tin­ue to water them. In a short time, we will see what grows out of this. AWANA pro­gram was a great suc­cess with the chil­dren last Sat­ur­day, as 83 attend­ed the first les­son. If the adults won't lis­ten, the chil­dren will lead them to the truth.
ZITO

'S

MOTHER

HAS

MINOR

STROK

Most remem­ber Zito, the lit­tle 11 year old boy who suf­fered a deformed leg after he broke it play­ing soc­cer in his vil­lage of Nama­ra. Pas­tor Ramadan called me at dawn ask­ing us to send a truck, as Zito's Mom was hav­ing severe headaches, along with right eye, hand and leg numbness/tingling. Her right hand is unable to grasp any­thing but she can walk. I actu­al­ly had to inter­rupt the writ­ing of the above sto­ry, to assist the doc­tor in eval­u­at­ing her after they got her to the hos­pi­tal. After lab tests, a liter of IV flu­ids, and a pre­scrip­tion to take home, she was released from the emer­gency room. We will watch her close­ly and encour­age her to exer­cise her hand which seems the most affect­ed part of her body. PTL this "clot" only had minor consequences.
NEW
PLAYGROUND
SEES
PLENTY
OF
ACTION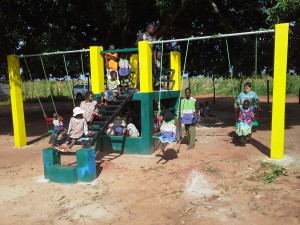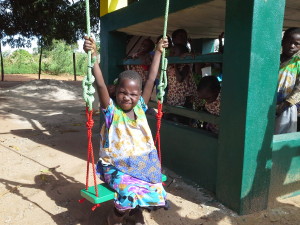 The swings don't stop from dawn till dusk. Our orphans are skip­ping break­fast to be the first to get to the play­ground. Thanks to ICM employ­ees, the play­ground they donat­ed is now full of hap­py chil­dren! Total­ly a cus­tom built frame from cement to keep ter­mites from mak­ing it their home, this durable play­ground is the most pop­u­lar spot in Bala­ma!
Kids on the new slide. It's under our huge man­go tree at our mis­sion sta­tion, so that the slide nev­er gets hot. I designed it so we could add on, and it looks like we will def­i­nite­ly need more swings very soon. So far no fights over who gets to swing next, but I con­tribute that to Diamantino's fine job of super­vis­ing the day shift at the children's cen­ter. Eric is regain­ing his strength, and showed a neg­a­tive malar­ia smear yes­ter­day. PTL! Hope­ful­ly, he will be released to return some­time next week. Andy Gon­za­lez, cur­rent­ly of Ten­nessee, will be join­ing us Mon­day night for a 3 week stay. Andy was here 4 years ago, speaks a Spanish/Portuguese mix, and is well loved by all the kids for his Youth Pro­grams. It's great to have him back. Bless­ings in Christ, Bush Bun­ny Bren­da Bala­ma staff