From: Brenda Lange," Bush Bunny Brenda" Date:
DECEMBER

7, 2013
BBB

DELIVERY

SERVICE

!

When I drove up to the goat barns Thurs­day, I heard one of the Mom­my goats bleat­ing loud­ly. Pas­tor Joaguim told me I was just in time as this goat was about to deliv­er. Observ­ing from a dis­tance for about 5 min­utes told me some­thing was wrong, as I could see the baby's front hoofs and nose, but noth­ing moved with the fol­low­ing 2 con­trac­tions. The female began throw­ing her­self against the bam­boo cor­ral fence, obvi­ous­ly in great pain.

I had the men catch her while I put on gloves. This wasn't my first birthing assis­tance, as over the years, I've deliv­ered 5 human babies with some being in mud huts and unster­ile con­di­tions, as well as helped hors­es, cat­tle, cats, dogs, and even baby ducks who were in dis­tress. With some gen­tle assis­tance, and down­ward ten­sion on the legs, this baby began to slide out into my hands. It kept com­ing, and com­ing, till the men began to yell in amaze­ment. I thought WHOA, what have I got here?

This sol­id black "Goliath" of a goat is 1 inch (2.2cm) TALLER and 1 lb. (0.5kg) heav­ier than our oth­er baby goats at birth. I call him JUNIOR, but my men just call him BIG!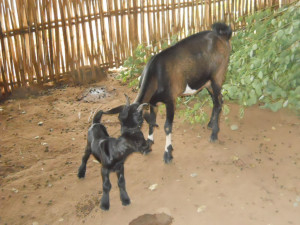 The photo shows Junior at 24 hours of age, standing with his mother. He's cute and cuddle now, but his heavy bone structure tells me he will be a heavy weight for sure when he grows up.
BUSH
BUNNY
TIDBITS
1. Our brick lay­ers put the fin­ish­ing touch­es on our 3rd Orphan Com­plex on Fri­day. The car­pen­ters and painters are hard at work, as our goal is to get the chil­dren into their new home before Christmas.
2. Eric is putting togeth­er our 2014 DVD, as he leaves for South Africa mid­dle of this month. Eric now has 4 grand­chil­dren, who eager­ly await his arrival.
No wor­ries here, as Bush Bun­ny is total­ly com­fort­able being alone for Christ­mas. I'm putting on extra night guards at my house, and my best dri­ver is close by if any­thing hap­pens. Many mis­sion­ar­ies will be stay­ing in Moz. for Christ­mas, so I have friends close by.
FAITH NOT FEAR rules my life.
3. We plan a great Christ­mas for our chil­dren, so every­one is busy plan­ning the feast and fun of cel­e­brat­ing Jesus' birthday.
I hope that all of you are hav­ing a won­der­ful time plan­ning how you will cel­e­brate our Saviour's birth.
With­out JESUS, there would be no eter­nal life wait­ing for us at the end of our race.
Bless­ings, Bush Bun­ny Bren­da Lange Eric Dry