From: Brenda Lange," Bush Bunny Brenda" Date: November 30, 2013
FOOD
PACKETS
FOR
HANDICAPPED

Our staff helping to feed the Handicaped.
The state lev­el Social Ser­vices asked every min­istry who pro­vide human­i­tar­i­an pro­grams to orga­nize 100 pack­ets of food for Nation­al Hand­i­cap Day on Dec. 3rd. This morn­ing, our staff assem­bled at 6a.m. to orga­nized 100 feed sacks with 5 kg (11 lbs.) of corn flour from our mill, 3 kg (6.6 lbs.) of dried beans, 1 kg (2.2 lbs.) salt, and 1 foot long bar of clothes wash­ing soap (yep—it's the good ole lye soap just like your great grand­ma made in those "good ole days". The pack­ets are intend­ed to ease the strain to those who strug­gle just to survive.
RAINY SEASON UPON US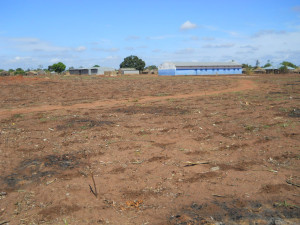 OUR FIELDS WAITING FOR PLANTING
Each year, the major­i­ty of our 40 acres (16 hectares) is divid­ed up among the 23 wid­ows who live in our church hous­ing, and the orphans liv­ing with them. Seed is dis­trib­uted to the grand­mas so they can teach the chil­dren how to orga­nize a "macham­ba" (mah-sham-ba). Every Mozam­bi­can must know how to plant and care for a field, as their lives LITERALLY depend on it for sur­vival. No gov­ern­ment agency will feed you in this coun­try, so every­one is total­ly depen­dent on a good har­vest. We've taught our church mem­bers to ask the Lord to pro­tect their fields from bugs, floods, and droughts, as well as bless their seeds as they plant, ask­ing for a 100 fold har­vest. They also are taught about tithing, and most bring the actu­al crop as their tithe into the church's store­house at har­vest time (just like in Bib­li­cal days).
CONSTRUCTION WRAPPING UP!

Nelson helps finish the painting
This com­ing week we will put the final touch­es on kitchen and bath­rooms, leav­ing only the paint­ing to be completed.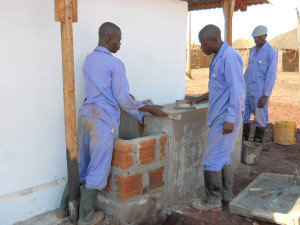 Brick layers busy at work.
Brick lay­ers are busy putting in the clothes wash­ing area while Nel­son, cur­rent­ly our old­est orphan (now in 10th grade) , puts a coat of paint on the wall of the 2 bathing areas. Because this com­pound hosts both young girls and boys orphans, we have a bathing room and toi­let for each group. Need­less to say, the Bush Bun­ny hopes to retire from con­struc­tion once this com­plex is fin­ished! FORTEEN YEARS of non-stop con­struc­tion, first build­ing this mis­sion sta­tion, and then all these orphan homes, has me sort of burned out on construction.
I hope all of you had a won­der­ful Thanks­giv­ing Day. Eric and I were too busy on Thurs­day to do any­thing spe­cial, but we did man­age to have a feast on Fri­day night with 2 "minia­ture turkeys", as the guests of hon­or. What's a minia­ture turkey? A fat, import­ed chick­en, of course! Turkeys are not sold in this coun­try, so we impro­vised, enjoy­ing every mouthful!
Bless­ings to all of you from Eric and I in Bala­ma. Bush Bun­ny Bren­da Eric Dry