FROM

"

BUSH

BUNNY

BRENDA

"

DATE

:

JULY

5, 2014
BLIND

WIDOW

MEETS

JESUS

BUT

HER

4

ORPHANS

ARE

TAKEN

IN

BY

SISTER

WITH

7

OF

HER

OWN

!

God made some women to thrive on car­ing for chil­dren. Juliana is one such woman and I take my hat off to her.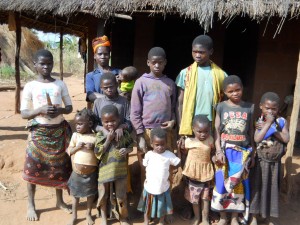 Ali is the tall boy to the far right in the pic­ture above. The three lit­tle girls in front of him are his orphaned sisters.
When her sis­ter died July 1st, leav­ing Ali 15, and his 3 sis­ters (Romin­da 10, Nulu­mile 8, and Toma­sia 5) orphaned, Juliana did "what Jesus would do", and took them into her fold. Hav­ing lit­tle her­self didn't' mat­ter. But JESUS KNEW and we were noti­fied, as they are mem­bers of the Rovu­ma church. Pas­tor Joaguim called me ear­ly last Sun­day a.m., set­ting Katie and Han­na into motion help­ing me gath­er food, blan­kets, grass mats, and larg­er cook­ing pans, which we deliv­ered to her Sun­day Noon. Her mud hut is lit­tle more than a store room with a bed in it, and I was told that her 7 chil­dren sleep hud­dled togeth­er on the dirt floor as they had no grass mats, beds, or blan­kets. At the moment, there is no place for beds in her small mud hut, so a 2nd mud hut is des­per­ate­ly need­ed. Cost $500. That will give them enough room to have beds, and get them off the cold, hard packed dirt floors. I've stepped out in faith and have 2 men mak­ing the 1000 mud bricks which are need­ed to build a house. They will be ready in 3 weeks. If God leads you to spon­sor a house or one of these orphans, please drop me a line, as these chil­dren tru­ly need a bet­ter place to sleep. At the moment, they are all crammed into 2 small rooms, sleep­ing on the floor like sar­dines in a can.
WICHITA

COMPANY

PROVIDES

NEW

BLANKETS

FOR

88

ORPHANS

LIVING

AT

OUR

MISSION

STATION

THANKS to a VERY gen­er­ous gift, we were able to pur­chase the best blan­kets avail­able in our area.
BALAMA is suf­fer­ing the cold­est "win­ter" in the his­to­ry of it's being, accord­ing to the "old timers" in this area. Since we have no heat in our homes, my house is a brisk 51 degrees F. (13 C.) INSIDE EACH MORNING with a 10 mph wind blow­ing through the screened win­dows! The peo­ple of this area have only thin cot­ton cloth­ing, and are used to 90 degree F. (31 C.) or high­er temps. Res­pi­ra­to­ry ill­ness­es and burns (from being too close to a fire try­ing to get warm) are the most com­mon med­ical prob­lems we see in June and July. The blan­kets allow our chil­dren to sleep warm, which helps to keep them healthy.
GOATS
ON
GRAIN
KEEPS
OUR
KIDS
WELL
FED

Goats rel­ish sup­pli­men­tal feed­ing of grain from "split tire" troughs.
Goats are at a pre­mi­um since we now have 1 of only 2 herds in this dis­trict. Since our graz­ing land is hav­ing to sup­port more goats (since last year's babies now eat), I researched how to SAFELY give then ground corn in the dry months when for­age is lim­it­ed. Our men did a great job of cut­ting up some old nylon tires (with an 8 inch hand held knife and water to help the knife slide bet­ter). The goats each get only a small amount of grain sprin­kled with salt. Ben­e­fits, are health­i­er goats that gain weight quick­ly, and pro­duce a more ten­der meat.
ROCKS IN BUNNY'S FOOD, BREAKS A FILING I'll be head­ing to South Africa for a quick den­tist appoint­ment on Mon­day, July 7th. Will return with a suit­case full of essen­tial good­ies and YES, I will do my best to eat all the ice cream I can man­age. Tee Hee. It is peak win­ter in the mile high city of Johan­nes­burg where I will be, so this bun­ny is scram­bling to bor­row warm clothes since Bush Bun­nies don't come with thick fur coats!
God's Many Bless­ings to all of you, and MUCH THANKS for your FAITHFUL LOVE GIFTS that are so essen­tial to the con­tin­u­a­tion of our child res­cue and evan­ge­lism work.
Bush Bun­ny Bren­da Lange Katie Pol­cyn Han­nah Gilman