FROM

"

BUSH

BUNNY

BRENDA

"

DATE

:

JULY

26, 2014
BUNNY

NOTES

:

Run­ning to the USA and return­ing after only 8 days made it a wild trip and exhaust­ing trip for sure. But it was good to be able to max out my time with my parent's, and help them as much as I could while there. My Mom was admit­ted to the Eagle Lake Hos­pi­tal in the mid­dle of the night last Wed. with a 790 blood sug­ar (120 is nor­mal) caused by 2 dif­fer­ent infec­tions in her lungs and blad­der. She is bet­ter after 2 days of intense treat­ments. I want to thank all of you for your prayers, emails, and phone calls for emo­tion­al support.
BALAMA
BLAZERS
(my 3 woman mis­sions team) HARD AT WORK BRINGING IN THE FINAL 100 TONS OF CORN My team of Bala­ma Blaz­ers includes : Katie Pol­cyn of Seguin, TX Han­nah Gilman of Vaughn, WA Ash­lynn Gra­bill of Pueblo, CO It is excit­ing to get to know these 3 young ladies, and to watch them work. Noth­ing but the bugs and snakes seems to slow them down. Tee Hee.
This pho­to from our files shows the corn being processed.
Katie and Han­nah are old hands at corn pro­cess­ing after help­ing with the June corn. Ash­lynn was AMAZED to say the least at how mas­sive an oper­a­tion it is to orga­nize a 72 man crew. By the 2nd day, she was flow­ing well with the group, and enjoy­ing our spe­cial break­fast of FRIED BEAN PATTIES made by our cook. These bean pat­ties are a treat we only get dur­ing food buy­ing, and they are delicious.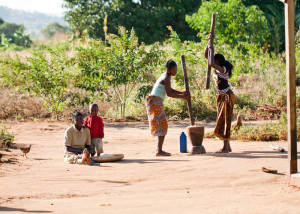 These young girls share the cron grind­ing chore.
Last week our 2 trucks hauled in 50 tons of corn and the oth­er 50 will roll by July 30th for the grand finale! Then the fun begins as one of our trucks will leave for Melu­co on Wednes­day with sup­plies to dis­trib­ute to our orphans in Melu­co. Busy is our mid­dle name around here.
Hap­py chil­dren enjoy a din­ner of fresh­ly ground cornmeal.
FRIDAY WAS BALAMA DAY A Coun­ty wide hol­i­day only, so the girls and I had a girl's day out by dri­ving to the town of Mon­tepuez, 30 miles away, to fetch sup­plies for the kids and have lunch at the local café in the park. No ham­burg­ers were pos­si­ble, (we were all great­ly dis­ap­point­ed), so we all set­tled for omelettes with french fries and sal­ad. The local hon­ey bee pop­u­la­tion kept us all enter­tained, as 6 bees con­stant­ly buzzed our heads, and final­ly 1 fell into Katie's glass of Fan­ta orange. Those bees love any­thing sug­ary for sure! Besides the shop­ping, we had hoped to find HIGH SPEED INTERNET in Mon­tepuez, but were great­ly dis­ap­point­ed since even the cap­i­tal city, Pem­ba, is hav­ing mas­sive inter­net prob­lems. So know that none of us can open FACE BOOK or send/receive pho­tos at this time. I'm using the old slow inter­net from the local Moz. serv­er but it can only send/receive text mes­sages. So feel free to write me a note, as I love get­ting mail from all of you. No one knows how long it will be before the high speed is back. Such is life in the bush.
Bless­ings, Bush Bun­ny Bren­da And the Bala­ma Blazers