FROM

"

BUSH

BUNNY

BRENDA

"


DATE

:

AUGUST

29, 2020



LAST

OF

THE

HARVEST

LEAVES

THE

FIELDS



Our 18 Grannies who are part of our mis­sion base, have kept their orphaned grand­chil­dren very busy in the last 2 weeks as they bring in the last of their har­vest. Each of our Grannies and the Fos­ter Moth­ers of our 6 orphan homes receives about 1 acre of land to use as a "teach­ing ground" for the chil­dren in our pro­gram.



Grannies with grand­chil­dren bring in Man­dio­ca Cut­tings that will be plant­ed in Octo­ber.​



KNOWING

HOW

TO

PLANT

/

HARVEST

is an essen­tial skill every Mozam­bi­can must know if they desire to eat. Thus our "train­ing fields" are now being cleared of the last of the Ervelia Beans and Man­dio­ca Root (cas­sa­va), so that these fields can be pre­pared for next year's crop. Our plant­i­ng sea­sons are the oppo­site of the north­ern Hemi­sphere, which means we plant in Novem­ber to Decem­ber, and har­vest in April to July.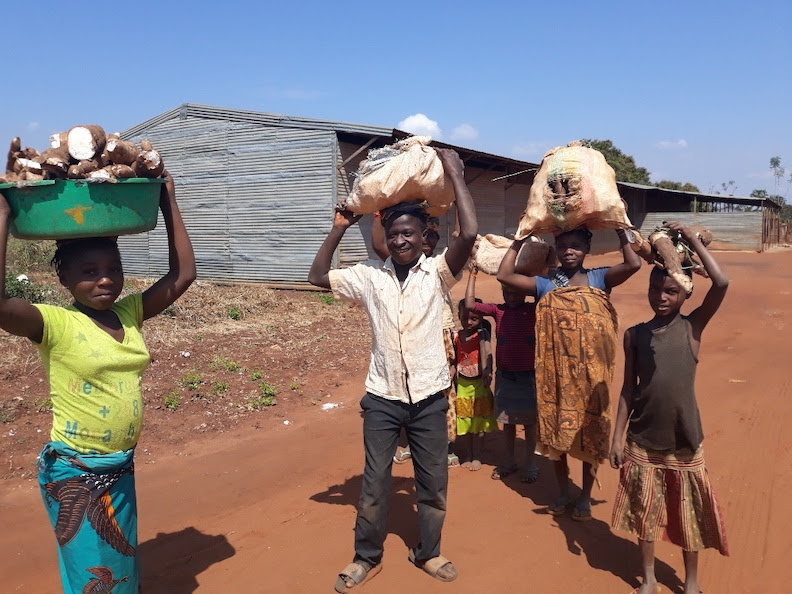 NITO

, a spe­cial needs orphan (cen­ter) help­ing his Granny with the har­vest.

The objec­tive of our pro­gram is to pro­vide each child with a ful­ly round­ed edu­ca­tion. Not just class­room skills, but farm­ing "sur­vival" skills must be taught as well. Nor­mal­ly, the children's par­ents would teach these skills to their chil­dren. Since our Fos­ter Moth­ers have tak­en over that role with all that it entails, it is our respon­si­bil­i­ty to make sure they learn every­thing need­ed to be a self-suf­fi­cient cit­i­zen.





GRANNY

MASACA

may be over 70, but still helps her grand­child bring in the har­vest.



BUSH

BUNNY

TIDBITS

:

1.

PTL

the Mon­goos­es are back! That means less snakes in the area.

THANK

YOU

JESUS

!


2. Church­es are now allowed to open but with stiff mea­sures. Since those reg­u­la­tions include only 50 peo­ple and no chil­dren, we will not be open­ing our church at this time. Our Sun­day ser­vices are held in small "house church­es" out­doors so that all our chil­dren may par­tic­i­pate.

3. Schools will remain closed until Octo­ber 1st, when the gov­ern­ment will decide if they open at all for this school year which ends in Novem­ber.

4.

PRAYERS

are need­ed for all of us, (please don't for­get the 515 Melu­co orphans), as we con­tin­ue to take it one day at a time.


PTL

that

ALL

OF

US

are healthy and strong. Liv­ing out­side in this spa­cious area with lots of fresh air has many advan­tages.

5. Our study and activ­i­ty peri­ods con­tin­ue with the chil­dren each morn­ing, keep­ing body and minds strong and absorbent.



THANK

YOU

SO

MUCH

FOR

YOUR

CONTINUED

PRAYERS

AND

LOVE

GIFTS

DURING

THESE

TRIALS

AND

TRIBULATIONS

.



BLESSINGS

,


BUSH

BUNNY

BRENDA

LANGE




AND

THE

BALAMA

TEAM