FROM

"

BUSH

BUNNY

BRENDA

"


DATE

:

JANUARY

29, 2022



RUN

FAST

,

PLAY

HARD

!

The rainy sea­son leaves us few dry days, but our chil­dren are tak­ing advan­tage of every minute. Hard rains hit on Mon­day, but by Tues­day, the play­ground was dry. It is amaz­ing watch­ing our youngest sharp­en­ing new­ly learned play skills each week.



First graders hav­ing a "co-ed" soc­cer game to release all that pent up "rainy day" ener­gy.

From the tod­dlers to the preschool­ers, all are stay­ing hap­py and health as they "chase the balls" dur­ing play time.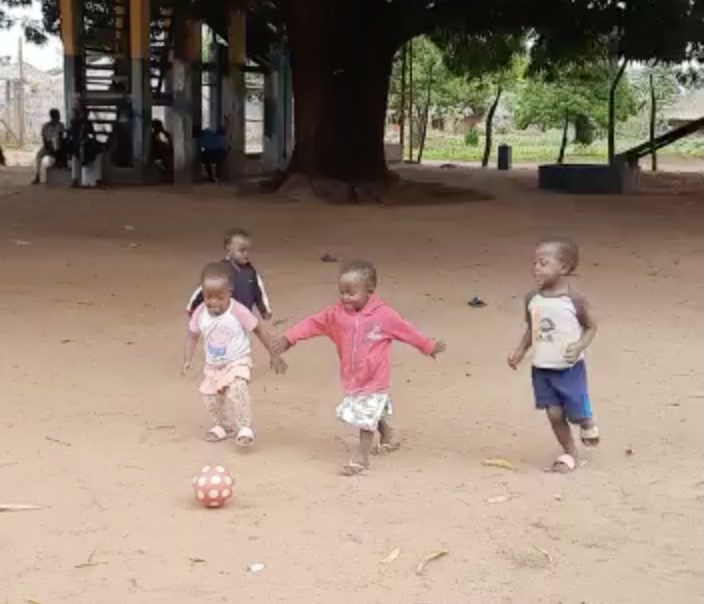 Watch this video of our 3‑year-olds hav­ing a "ball"! —>
https://youtu.be/4CN-3rFWjxU

We only have 7 chil­dren in the 3- to 5‑year-old age group right now, but look out, because the 11 tod­dlers turn­ing 2 years old this year will soon be in the mix!


Watch as Baby Juma shows off his "danc­ing" skills learned from watch­ing oth­ers.​ —>
https://youtu.be/8iy5IagnFb8
Ade­laide and Chebany hav­ing a sand­box chat!​

Cape­na hav­ing some fun time with our tod­dlers at house #6, the Zebra house.​



HOUSE

BURNS

,

LEAVING

2

ORPHANS

WITH

THE

CLOTHES

ON

THEIR

BACKS

.

These 2 young­sters, ages 11, and 9, were part of a Child Head­ed House­hold run inde­pen­dent­ly of our help by their 18-year-old broth­er. Over the Christ­mas hol­i­days, their mud hut caught fire, leav­ing them home­less. Social Ser­vices request­ed our assis­tance as the chil­dren were left with noth­ing.



Two orphans from Child Head­ed House­hold now able to live with their aunt after their hut burned to the ground.

The 18-year-old teen found a place to live, but the 11-year-old boy, and his 9‑year-old sis­ter were not so for­tu­nate.

THANKFULLY

, a "fam­i­ly search" locat­ed an Aunt who agreed to share her mud hut with them, but she had lit­tle food to spare.



THANKS

TO

YOUR

LOVE

GIFTS

, our staff was able to assist them with emer­gency food and cloth­ing, and placed the 3 of them in our Thurs­day food give-out.



THE

HANDS

OF

JESUS

REACH

THE

"

LOST

AND

DESTITUTE

"

BECAUSE

YOU

CARE

.



THANK

YOU

FROM

ALL

OF

US

AT

ORPHANS

UNLIMITED

.



BLESSINGS

,


BUSH

BUNNY

BRENDA

LANGE




AND

THE

BALAMA

STAFF