FROM

"

BUSH

BUNNY

BRENDA

"
DATE

: July 1, 2023
REGGIE

IS

STANDING

!!!

Reg­gie stand­ing with chair sup­port and almost tak­ing a step towards Cape­na

After a very long 2 years of treat­ments, Reg­gie final­ly won the fight against the very rare dis­ease of Bone Tuber­cu­lo­sis and a bro­ken femur due to frag­ile bones. Her tiny 7.7kg/19lb. body has strug­gled to gain weight and strength.
On Thurs­day, June 29th, Reg­gie showed all of us that things are chang­ing in her life!

PRAISE

THE

LORD

! She can now stand if she can hold onto a sta­ble object. Cape­na, our office man­ag­er, even got her to reach out and take a step towards him, for she loves hav­ing him hold her. God is sure­ly doing a great mir­a­cle in this lit­tle girl's life, and for that we are tru­ly grate­ful. Keep your prayers com­ing for her, as she has a long way to go and is very, very far behind on her age/weight gain chart. This girl needs to

GROW

and get

STRONG

!

ALFERES

IS

HIRED

TO

TEACH

SCHOOL

IN

HIS

HOME

VILLAGE

!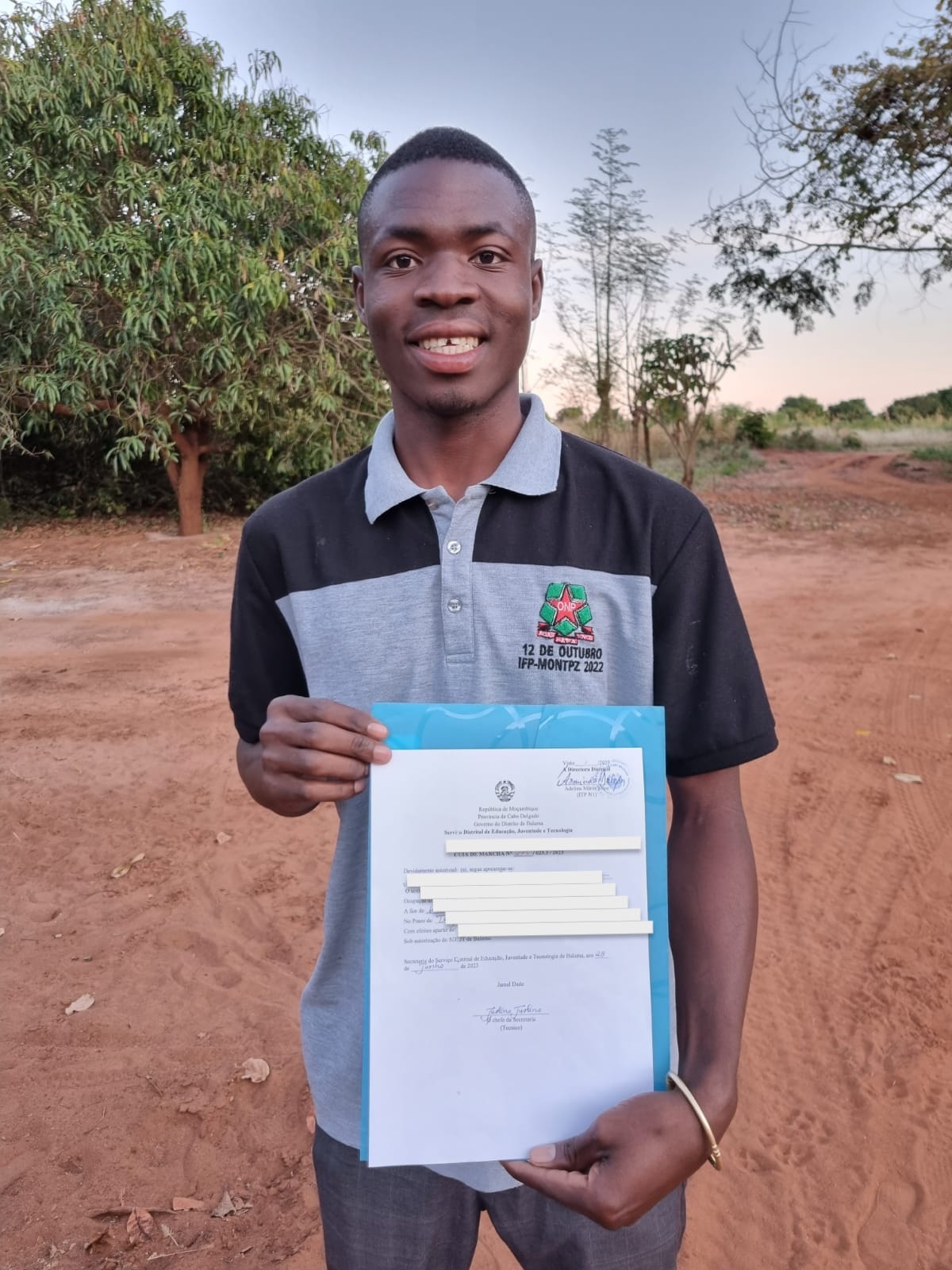 Alferes proud­ly shows off his work doc­u­ment for teach­ing school

Proud­ly dis­play­ing his work cer­tifi­cate, Alferes pre­sent­ed him­self at our office ear­ly Thurs­day to tell us he had been hired to teach!
The fact that it is in his home vil­lage where his extend­ed fam­i­ly lives, gives him great emo­tion­al and prac­ti­cal food and hous­ing sup­port until he gets on his feet.
We wish him well in his new life, and are very proud of his great achieve­ments. Alferes is the 2nd young adult from our pro­gram to achieve his teach­ers degree and be hired by the Bala­ma School Dis­trict.

FRUIT

FROM

YOUR

LOVE

GIFTS

!

BLANKETS

FOR

OUR

CHILDREN
Blan­kets for all the kids. Most are in school in the morn­ings
Jesuino, 3, was super hap­py with his new blan­ket
Tod­dlers weren't sure what all the fuss was about. House 6, The Zebras!

House 7, more tod­dlers unsure of what is going on

The 54 chil­dren liv­ing with us were tru­ly sur­prised this week to receive the new very warm blan­kets we were able to obtain for them. With ear­ly morn­ing tem­per­a­tures now drop­ping to

13C

/

51F

, the blan­kets were a beau­ti­ful bless­ing to all. Keep­ing our kids healthy and warm is a high pri­or­i­ty. We thank all of you, as it was

YOUR

LOVE

GIFTS

that made this pos­si­ble!



CORN

AND

RICE

BUYING

BEGINS

NEXT

WEEK

!



Load­ing first 70 sacks that are now inside the Melu­co ware­house for dis­tri­b­u­tion to the Orphans in that area

Our 7‑

TON-TRUCK

TEAM

just returned from Melu­co, as they took the first load of life-sav­ing

BEANS

to the 400+ orphans and wid­ows we serve in that area. This area strug­gles to grow high pro­tein foods, so these beans are essen­tial.



MUCH

LOVE

AND

MANY

BLESSINGS

TO

ALL

OF

YOU

FOR

HELPING

US

TO

HELP

THESE

CHILDREN

.



BLESSINGS

,


BUSH

BUNNY

BRENDA

LANGE




AND

THE

BALAMA

STAFF