FROM

"

BUSH

BUNNY

BRENDA

"


DATE

:

MARCH

20, 2021



BACK

TO

SCHOOL

,

HOORAY

!

On Tues­day this week, the announce­ment was made that all schools would open on Mon­day, March 22nd. Chil­dren 12 and up are required to wear a mask in the class­room.

Our chil­dren's school uni­forms were ready, as we had pre­pared for this in Feb­ru­ary.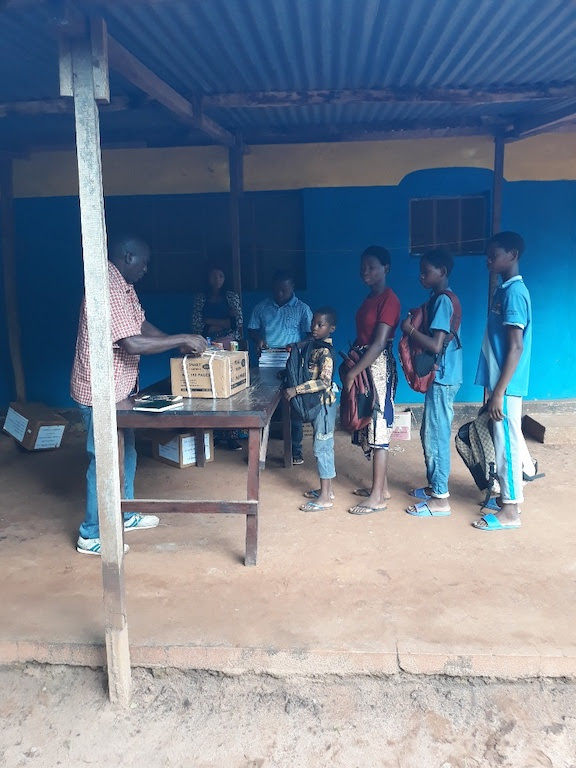 Giv­ing out school sup­plies on Wednes­day.​

On Wednes­day, excite­ment was in the air as school sup­plies were hand­ed out to 92 of our res­i­dent chil­dren. The chil­dren are

THRILLED

to go back to school, see their friends, and once again have reg­u­lar activ­i­ties.



HAPPY

FEET

HEADED

TO

SCHOOL

ON

MONDAY

,

THANKS

TO

YOUR

LOVE

GIFTS

!




ORPHANS

RAISING

ORPHANS



Aunt Jone­ta, an orphan her­self, lived in our first fos­ter home when we opened our Bala­ma pro­gram in 2002. Fif­teen years lat­er, she her­self is a fos­ter moth­er to 4 orphaned chil­dren whose par­ents were dis­tant rel­a­tives.



Aunt Jone­ta and the 4 orphans she fos­ters in her home.​

These chil­dren are sup­port­ed with food, clothes, school uni­forms, shoes, and school sup­plies through your Love Gifts.



PAYING

IT

FORWARD

takes on a whole new mean­ing when some­one sac­ri­fices by giv­ing their full time love and devo­tion to oth­ers because some­one cared when they them­self need­ed a help­ing hand.




VISITORS

FROM

AFAR



Thurs­day, a group of 4 lead­ers from Social Ser­vices toured our 6 chil­dren's homes. Their pur­pose was to inform us of new liv­ing stan­dards due to the

CV

19 prob­lems.



Social Ser­vices vis­i­tors from Nation­al and State offices.​

We were already in com­pli­ance with all except the dis­tance of 1.5 meters (5 feet) between the chil­dren's beds. By chang­ing our sin­gle beds to all met­al bunk beds in sev­er­al of our old­er bed­rooms, we will be in total com­pli­ance in the next sev­er­al weeks.




BUSH

BUNNY

TIDBITS



1. Alferes, Helder, and Ali took the 4 hour col­lege entrance exam on Wednes­day. They felt con­fi­dent they did well on the Por­tuguese test, but said the math was much more dif­fi­cult. With 1,050+ appli­cants tak­ing the exam, we hope they will announce the results next week.

2. Chris­tiano remains in the hos­pi­tal, as lab work showed he has an infec­tion that his meds had­n't defeat­ed. His doc­tor told us he may not be able to fight it off in his mal­nour­ished state. Dai­ly fer­vent prayer has result­ed in steady improve­ment that no one can explain.


PLZ

KEEP

PRAYING

FOR

CHRISTIANO'S

FULL

RECOVERY

.


AS

I

TOLD

THE

STAFF

WHEN

GIVEN

THIS

GRIM

PROGNOSIS

, "It's not over until God says it's time to go home".

PRAYING

FOR

A

MIRACLE

.

Bless­ings to you all!


BUSH

BUNNY

BRENDA

LANGE




AND

THE

BALAMA

STAFF