FROM

"

BUSH

BUNNY

BRENDA

"

DATE

:

MAY

16, 2020


3RD

SET

OF

TRIPLETS

GRACE

OUR

DOOR

!



PRAYERS

NEEDED

, for these three tiny tots (1.5kg / 3.3lbs each) are show­ing just how tough they can be. The three (1 boy and 2 girls) were born May 9th and we received them on the 12th, for the mother's milk was not suf­fi­cient for all of them.



Triplets, 1 boy and 2 girls, 3.3 lbs/1.5kg each.​

When admit­ted, they had no names yet, but we encour­aged the par­ents to take that step, for we declared they would live in Jesus' name. Many here refuse to name their new­borns if they think they are not going to make it.



Quick­ly weigh­ing one of the new triplets at mid­day. Warmth is a high priority​.



AMAZED

that they had the strength to suck­le, we imme­di­ate­ly got them wrapped in warm, infant-sized blan­kets that I cut from a large blan­ket. It was 55ºF (15ºC) in my house this a.m. as our win­ter is upon us. Keep­ing all infants, espe­cial­ly pre­emies, warm is a high pri­or­i­ty, for they lose body heat very fast. We also con­tributed two adult blan­kets for the moth­er and granny to use at night to keep all of them warm.



TWO

DAYS

LATER

, at our week­ly "weigh in" for babies, all 3 were doing fine and showed an amaz­ing increase in weight of 250 gms each. We encour­aged the fam­i­ly for they are doing a great job.Keep them in your prayers, for they are far from "out of the woods" at this time, espe­cial­ly with win­ter upon us. Will keep you updat­ed on how they are doing.



OUR

KIDS

DOING

FANTASTIC

!
Art class, Rum­mikub,

BAWANA

games, play­ground, and now school home­work are keep­ing all our chil­dren exer­cised both in mind and body. The pho­tos say it all. Even the teach­ers are hav­ing a ball in art class and learn­ing Rum­mikub as well.


3 yr. Old Arman­do work­ing hard at art "like the big boys".​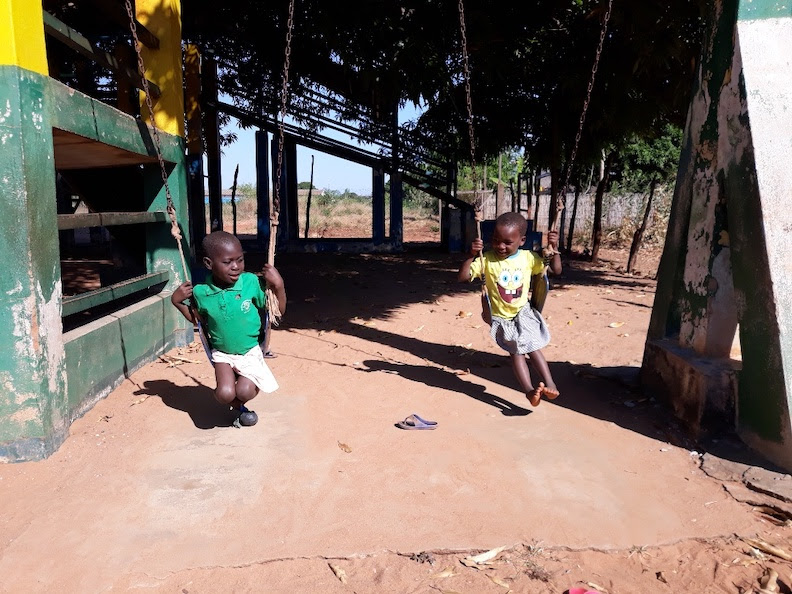 Edna and San­dra enjoy the swings at our play­ground.

Art class helpers join in the fun​.

Video Links below: Bawana games help keep our kids healthy and fit.https://vimeo.com/419346097orhttps://youtu.be/AGyLDlwZMR4



TERMITES

IN

THE

KITCHEN

DRAIN

SYSTEM

?
For the first time since build­ing the dorm's kitchen drain in 2007, we had to open it as

TERMITES

had tak­en it over—

COMPLETELY

!
They built a sol­id mud house inside the sep­tic box, and com­plete­ly blocked the drainage and air­vent pipes with mud.



Dig­ging ter­mite "house" out of kitchen drainage tank.​

Ter­mites are called the "under­ground mafia" around here, for they def­i­nite­ly try to con­trol the under­ground. We sur­mise that they did most of their con­struc­tion while the boys were on the first 30 day break dur­ing the lock­down, for they went home.
Seems they man­aged to com­plete the pipe con­struc­tion even with small amounts of water being poured down it dur­ing dish wash­ing.
Nev­er a dull moment around here. We hope­ful­ly deterred them from return­ing by lay­er­ing the bot­tom of the box with rock salt. It burns their bod­ies, so they try to avoid salty areas.



THANK

YOU

SO

MUCH

FOR

YOUR

FAITHFUL

SUPPORT

IN

PRAYER

AND

LOVE

GIFTS

DURING

THESE

DIFFICULT

DAYS

.


OUR

STAFF

IS

PRAYING

FOR

ALL

OF

YOU

.



BLESSINGS

IN

JESUS

'

NAME

AS

THE

WORLD

REOPENS

.


BUSH

BUNNY

BRENDA

LANGE




AND

THE

BALAMA

STAFF