FROM

"

BUSH

BUNNY

BRENDA

"

DATE

:

MAY

9, 2020


MIMI

JOINS

OUR

FAMILY



Mimi Alber­to, a 7‑year-old 1st grad­er, just lost her moth­er to

AIDS

. Mimi and her moth­er, Lur­des, were liv­ing in a bor­rowed house near our mis­sion sta­tion. Our Staff vis­it­ed her dai­ly, talk­ing to her about Jesus, and tak­ing them food as well as oth­er need­ed items. When Lur­des passed away last week, our Pas­tors laid her to rest in the vil­lage ceme­tery.



7‑year-old Mimi with Chil­dren's Direc­tors Jose and Anna.

Mimi is still with­drawn and a bit in shock after all this, but we hope that the lov­ing care she receives as a new fam­i­ly mem­ber of House #6 will help her recov­er rapid­ly. Our staff spent yes­ter­day morn­ing mov­ing her in, and buy­ing her new clothes at the mar­ket.
The bun­dle you see in Pas­tor Jose's hand (in the pho­to­graph above) con­tains all her world­ly belong­ings.

MIMI

NEEDS

A $30/

MONTH

SPONSOR

. Please con­tact me if you would like to spon­sor this pre­cious lit­tle girl.


ART

CLASS

A

BIG

HIT

THIS

WEEK

!

Hand trac­ing art is now the #1 fun thing for our chil­dren to do. A bit shy at first to make a mark on their papers, the kids were soon help­ing each oth­er shape their hands into the need­ed form to draw ducks and giraffe faces. I used my smart­phone to pull up inter­net pho­tos of the ani­mals they were to draw, as ducks they know, but a giraffe is just an ani­mal in a book. Their inter­est and enthu­si­asm was eye-open­ing. We take so much for grant­ed hav­ing zoos and wildlife parks to show us these mag­nif­i­cent wild ani­mals.
We now plan 2 art class­es per week until school restarts, and I am not sure when that will be.



1st and 2nd graders mak­ing hand-traced ducks in our art class.
​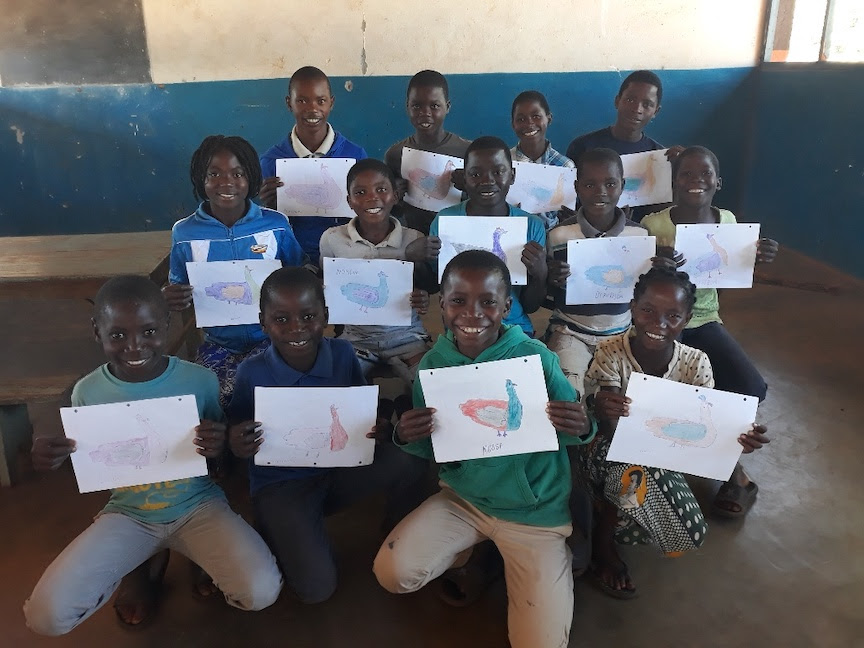 Pri­ma­ry school­ers show­ing off the hand-traced ducks made on Wednesday.
​
4th to 6th graders advance to hand-traced giraffes.​
High school boys and girls con­cen­trate on their art work.​

High school­ers trac­ing giraffe heads from their hand posi­tions.



RUMMIKUB

,

THE

FUN

WAY

TO

INCREASE

ABSTRACT

THINKING


Amazed doesn't described my expe­ri­ence as I showed the dorm boys how to play Rum­mikub. They picked up on it quick­ly after under­stand­ing the objec­tives, but it was the

YOUNGER

BOYS

(5th and 6th graders), who end­ed up help­ing the high school boys see the moves they could make. Our younger chil­dren grew up in our pre-school which has puz­zles for them to play with. The abstract think­ing they devel­oped while doing this is now begin­ning to show.



Dorm stu­dents learn­ing Rum­mikub.

I also began teach­ing them more Eng­lish words as they played. They hap­pi­ly left telling me good­bye in Eng­lish. Noth­ing like "play ther­a­py" to increase knowl­edge. Mak­ing math fun is my objec­tive, as most of the boys are a bit weak in that sub­ject. I am very grate­ful to all the vis­i­tors who came in past years, leav­ing sev­er­al box­es of this game behind.



THANK

YOU

ALL

FOR

CONTINUING

TO

SUPPORT

OUR

CHILDREN

DURING

THESE

DIFFICULT

TIMES

.

TOGETHER

,

WE

ARE

FORMING

THE

FUTURE

LEADERS

OF

THIS

COUNTRY

.



BLESSINGS

,


BUSH

BUNNY

BRENDA

LANGE




AND

THE

BALAMA

STAFF