FROM

"

BUSH

BUNNY

BRENDA

"

DATE

:

MAY

23, 2020


ANOTHER

TRIPLET

IN

TROUBLE



Triplet Filom­e­na from Rovu­ma Vil­lage devel­oped a res­pi­ra­to­ry infec­tion on Wednes­day mak­ing it hard for her to drink from a bot­tle. When her fam­i­ly brought her to our Thurs­day weigh-in the next day, she had lost 125 gms. This shows just how seri­ous any sick­ness can be for an infant that only weighed 1.75 kg (3.85 lbs) in her 2nd week of life. Her third-week-weight dropped to 1.6kg (3.52 kg).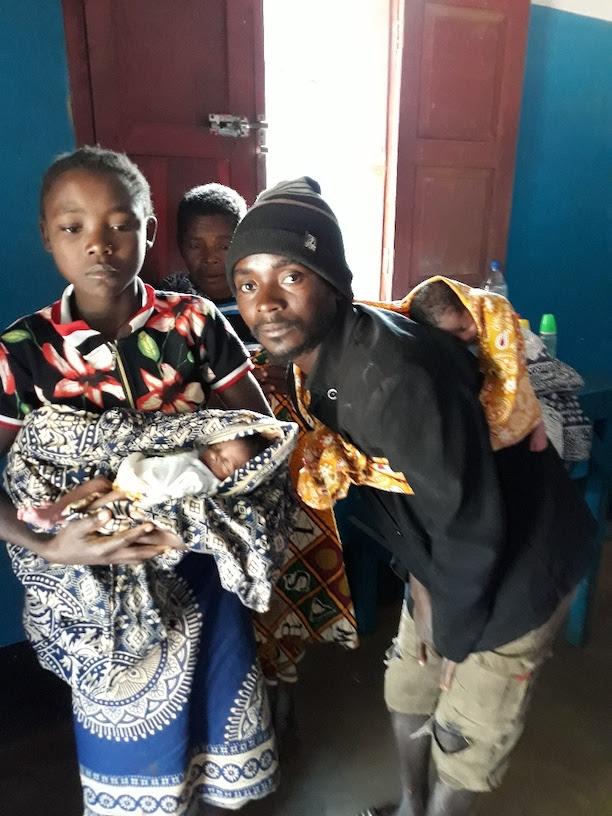 Triplet Filom­e­na on back of father. She is so frag­ile it made my heart ache as they left for home.

Please keep her in prayer, as she received med­i­cine for her infec­tion, but with­out the help of Jesus, we know her chances to recov­er are low.
Her sis­ter and broth­er are both doing well at this time. The cold tem­per­a­tures (15ºC/55ºF) in the ear­ly a.m. is not help­ing the sit­u­a­tion. This is

UNUSUALLY

COLD

for May.

THANK

YOU

FOR

PRAYING

FOR

ALL

OF

THESE

BABIES

.



MEET

THE

"

7TH

OF

ABRIL

"

ORPHANS


Car­l­i­tos Jorge, leader of the

BBC

Motor­bike Teams, uncov­ered these 9 orphans and their grannies 18 months ago in a very remote vil­lage named "7th of

ABRIL

" dur­ing his evan­ge­lis­tic out­reach. The 3 grannies and all 9 orphans were suf­fer­ing from severe mal­nu­tri­tion, with some of them too weak to walk more than a few steps. Since it takes about 2 hours in a 4‑wheel-dri­ve vehi­cle to get there on a very bad road, Car­l­i­tos sug­gest­ed his

BBC

Team of 3 motor­bikes take week­ly food and oth­er need­ed items to them on their nor­mal

BAWANA

GAMES

trip to that vil­lage. Six months lat­er, the chil­dren were stronger and ready to attend school, so school mate­ri­als were giv­en out and off they went to learn their

ABC

'S.



9 orphans with grannies, now healthy and proud to show off their new sweat shirts your love gifts provided​.

This pho­to shows them 18 months after join­ing our pro­gram (2 weeks ago), and as you can see, all of them are look­ing healthy, includ­ing the grannies car­ing for them. Car­l­i­tos took them their win­ter sweat shirts which they proud­ly show off in the pho­to. With the schools closed these last 90 days, Car­l­i­tos and assis­tant Daniel vis­it­ed them once every 2 weeks to take their food to them.



YOUR

LOVE

GIFTS

ARE

AT

WORK

,

MAKING

A

BIG

DIFFERENCE

IN

THE

LIVES

OF

THE

INNOCENT

.



THANK

YOU

FROM

ALL

OF

US

WHO

EAGERLY

SERVE

SO

THAT

THESE

CHILDREN

CAN

HAVE

A

FUTURE

.



BLESSINGS

,


BUSH

BUNNY

BRENDA

LANGE




AND

THE

BALAMA

TEAM