FROM

"

BUSH

BUNNY

BRENDA

"

DATE

:

MAY

2, 2020


BEING

AN

OVERCOMER



Many of our chil­dren came to live with us when orphaned as babies. Eva, our old­est orphan, has over­come Cere­bral Pal­sy to become a pro­duc­tive young adult. She helps her Granny with every­day chores such as food prepa­ra­tion, car­ry­ing fire­wood, pump­ing water from our local well, and singing/dancing with the Church choir. I admire her spir­it and spunk for Eva nev­er let her dis­abil­i­ty get her down. She speaks Por­tuguese and Makua, and even knows a word or two in Eng­lish!


Eva and friend help­ing Granny with food prepa­ra­tion.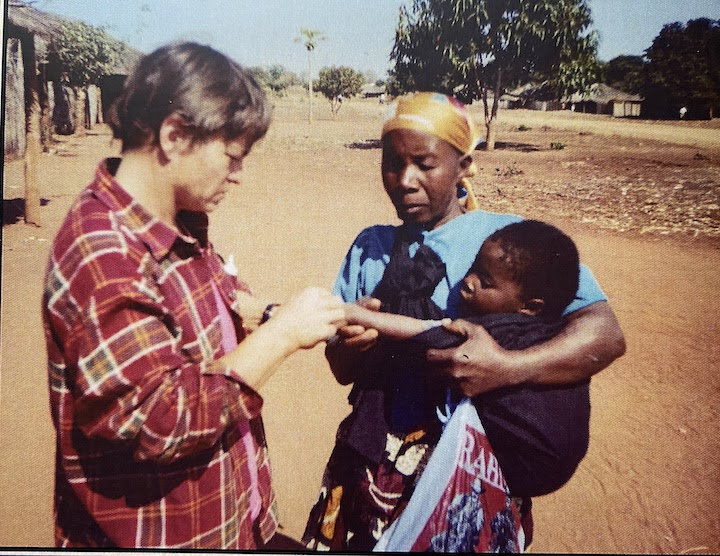 Eva held by Granny Eliza as I doc­tored a wound on her hands when she was just 2 years old.



THINKING

OUT

OF

THE

BOX

—

MAKING

LEARNING

FUN

!
Like many stu­dents around the world, math can be a chal­lenge. Since school is out till end of May, we have increased our dai­ly "study hall". But the kids are get­ting bored, so I hope to increase their math skills by teach­ing them to play

RUMMIKUB

this com­ing week (abstract think­ing). Geog­ra­phy games will use our huge blow up globe with teams com­pet­ing to spot what coun­try we are talk­ing about.
I hope to awak­en more of their artis­tic skills by hav­ing them draw dif­fer­ent ani­mals by trac­ing the shape of their hand in dif­fer­ent posi­tions. My goal is to get them to think "out­side the box". Pho­tos of our laughs as we try these new endeav­ors will be in next week's blog.



SUPER

SLIDE

GETS

A

NEW

ROOF


Our 20-foot-high dou­ble super slide is still a favorite with all the chil­dren in our neigh­bor­hood. With this tem­po­rary lull in con­struc­tion, it has giv­en our car­pen­ters and brick lay­ers a chance to catch up on main­te­nance of our play­ground equip­ment.
The many rainy sea­sons since the build­ing of the slide have tak­en their toll on the tin roof. Wet leaves caused the tin sheets to rust through.



Dou­ble super slide gets new roof.​

It is a dan­ger­ous job climb­ing the 50-foot-tall Man­go Tree that over­shad­ows the slide, but our brave car­pen­ters did a great job of rip­ping off the old and nail­ing on the new tin sheets. It's ready for new action this week dur­ing our children's play­time.



YOUR

LOVE

GIFTS

ALLOW

OUR

CHILDREN

TO

EAT

HEALTHY

FOODS

,

AND

WEAR

WARM

CLOTHING


The cool sea­son has begun, as it is over­cast, windy and cool as I write this. It came 2 weeks ear­ly, catch­ing every­one by sur­prise, but we are going with the flow.
Our team swept through the local mar­ket this week, buy­ing sweat­shirts for the chil­dren. Sweat­pants do not exist this year, so our team is look­ing for soft, warm long pants for the chil­dren to sleep in. Flex­i­bil­i­ty is the name of the game.


THANK

YOU

FOR

REMEMBERING

OUR

CHILDREN

WITH

YOUR

LOVE

GIFTS

IN

THESE

DIFFICULT

DAYS

.



BLESSINGS

,


BUSH

BUNNY

BRENDA

LANGE




AND

THE

BALAMA

STAFF