FROM

"

BUSH

BUNNY

BRENDA

"


DATE

:

OCTOBER

17, 2020



ORPHAN

HOUSE

#7—

ROOFING

IN

PROGRESS

!

It's a big job putting a roof on a house that is 71 feet/22 meters long. On Mon­day, Oct. 12th, I took video footage of the brick-lay­er team help­ing the 6 car­pen­ters lift up the 6 (

SIX

!!) 200 lb./90 kg truss­es onto the walls for prop­er posi­tion­ing. The car­pen­ters spent the next 4 days secur­ing the cross beams into place which will sup­port the tin roof­ing sheets. Mon­day, Oct. 19th, the car­pen­ters begin nail­ing the 140 tin sheets into place. After that is done, we are secure to com­plete this house even if the rains begin ear­ly.


Roof truss going up on House #7
https://youtu.be/uegU4YHyiJw


Putting the roof truss into its prop­er place​.
https://youtu.be/65h2wMGiMe4




NOVEMBER

FOOD

GIVE

OUTS

75%

DONE



It's been a super busy week with our days start­ing at 3 a.m. so that the loaded food trucks could roll out before sun­rise to the remote vil­lages where the orphans live. Four major food give outs were com­plet­ed this week as well as the 2 Bala­ma dis­tri­b­u­tions on Wednes­day and Thurs­day. Our days were full of load­ing and unload­ing trucks so that orphans would not go hun­gry, and have the seeds they need to plant their fields. Nine more vil­lages to go next week, and our 2020 food pro­gram for the vil­lages will be com­plete.


Grannies with orphans, social­ly dis­tanced, lis­ten­ing to God's Word.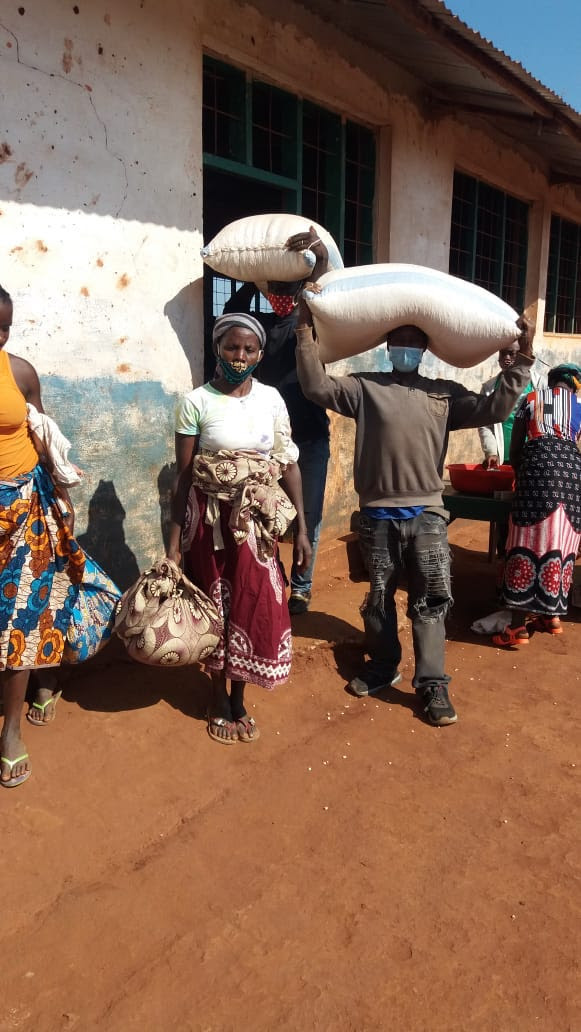 Our helpers car­ry­ing food/seeds for the wid­ows.​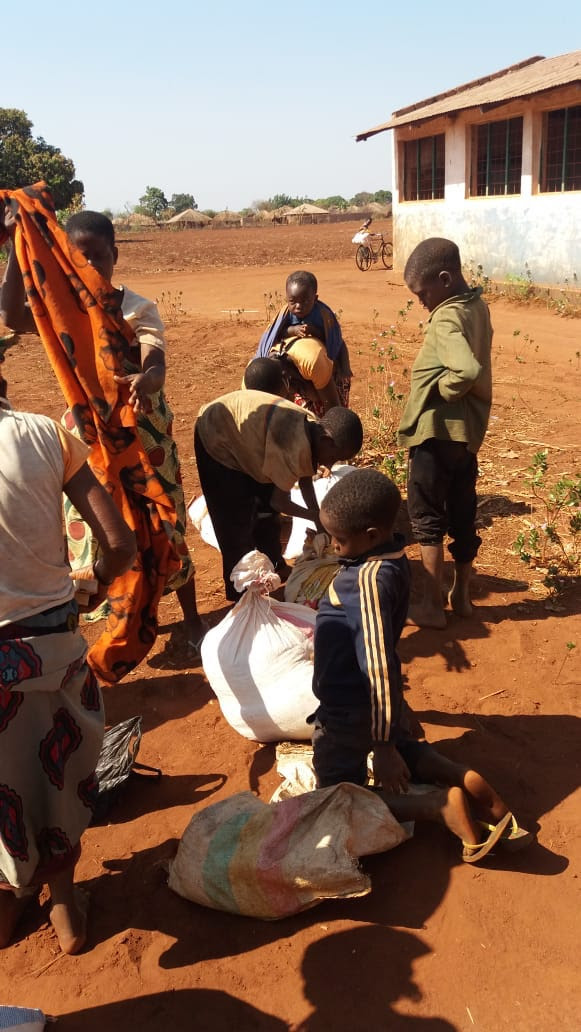 Orphans help­ing Grannies get food divid­ed into small­er pack­ages for easy trans­port.​



BUSH

BUNNY

TIDBITS

:

1.

THE

FABULOUS

FIVE

wast­ed no time get­ting their field cleaned and ready for plant­i­ng this week. They were well trained by their Grand­moth­er before she passed. The pho­to shows them in the far dis­tance with Din­ha, the old­est, push­ing the group to get the job done. I took the pho­to of them work­ing with­out them know­ing it, as I want­ed to show you how much area 5 teenagers can clean by hand with 5 hoes in a few hours. They have almost 1.5 acres for food rais­ing. Goes to prove that Teenagers are a mighty force when they put their mind to accom­plish­ing a goal.





THE

FABULOUS

FIVE

hard at work, prepar­ing their farm­ing field for plant­i­ng.​

2.

ANGELINA

(Angel), our youngest orphan, will be 1 year old on Oct. 19th. She is just begin­ning to walk inde­pen­dent­ly, but wasn't inter­est­ed in walk­ing for our pho­to, as she was "busy" with her toy. How time flies, for it seems like just yes­ter­day when we had 9 babies in dia­pers run­ning around here. Now all 9 are

WALKING

!



Baby Angeli­na (Angel) cel­e­brates 1 year on Mon­day, Oct. 19!


3.

MONICA

NEEDS

PRAYER

.

HEALTH

DIMINISHING

.
Mon­i­ca has a birth defect (non-oper­a­ble hole in her heart). She is now 8 and weighs only 11kgs/24 lbs. Last week she became sick with a cough/respiratory infec­tion which the hos­pi­tal treat­ed. But her strength is dimin­ish­ing. Please keep her in prayer.



Mon­i­ca today. Pray for increased strength.​




YOUR

LOVE

GIFTS

ARE

MAKING

A

DIFFERENCE

,

FOR

NONE

OF

THESE

CHILDREN

HAD

A

CHANCE

TO

GROW

UP

HEALTHY

WITHOUT

THE

HELP

THAT

YOU

PROVIDE

.

THANK

YOU

FOR

MAKING

A

DIFFERENCE

!



BLESSINGS

,


BUSH

BUNNY

BRENDA

LANGE




AND

THE

BALAMA

STAFF