FROM

"

BUSH

BUNNY

BRENDA

"


DATE

:

OCTOBER

24, 2020



JOSEPH

PROGRAM

2020

NOW

COMPLETED

!

The Joseph Pro­gram is the name the Lord gave me for our Vil­lage Food Dis­tri­b­u­tion Pro­gram: Fill the barns in time of plen­ty and give out in the time of hunger.

Our staff has been busy doing just that since August 1, 2020. Orphans and wid­ows assist­ed

TOTALED

1,864 in Bala­ma and Melu­co Dis­tricts. The pho­tos in today's blog show us giv­ing out the final sacks of food this last week to some of the wid­ows and orphans, as the rainy sea­son is upon us. Our team dis­trib­uted

TWICE

to each child in Octo­ber so that all could have food and seed for plant­i­ng before the rains begin in Novem­ber.



YOUR

LOVE

GIFTS

MAKE

THIS

PROGRAM

POSSIBLE

!

THANKS

TO

YOU

, these 1,864 orphans and wid­ows have full tum­mies

AND

the ener­gy need­ed to plant their fields in Novem­ber.
Our aim is to

GIVE

THEM

A

HAND

UP

,

NOT

A

HAND

OUT

! Thus, food to help them gain strength, and seeds to plant so they are more self-suf­fi­cient.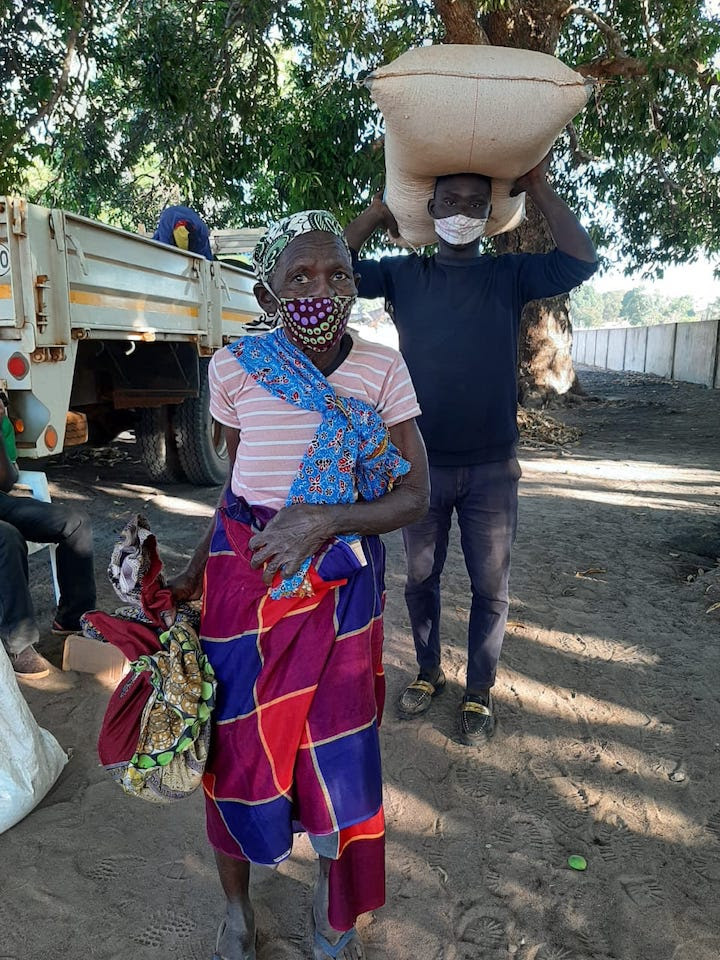 Each wid­ow car­ing for more than 3 orphans receives 60kg/132 lbs of corn.

These grannies are doing a great job of train­ing up their grand­chil­dren in the food-grow­ing tech­niques they must learn in order to become suc­cess­ful farm­ers. Vil­lage pop­u­la­tions depend on the par­ents pass­ing on to their chil­dren these life-sus­tain­ing farm­ing tech­niques. That "life­line of infor­ma­tion" is bro­ken when the par­ents pass away, so who will teach them?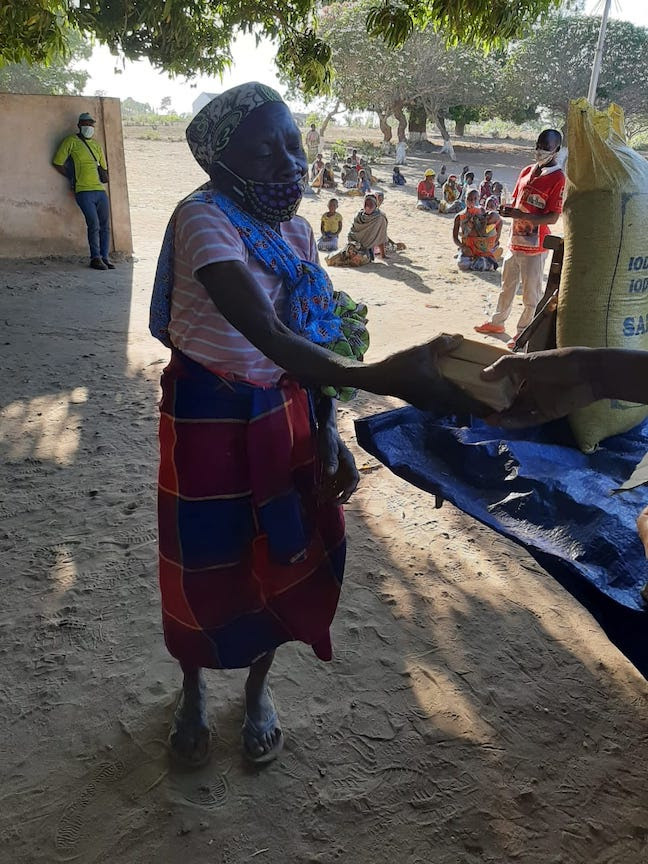 Grate­ful Granny receives food and soap for the 4 orphans in her care.

If you don't grow it your­self around here, then you have noth­ing to eat. My hat goes off to these faith­ful, lov­ing Grand­moth­ers and Aunts who accept the respon­si­bil­i­ty to care for and train up their orphaned fam­i­ly mem­bers. It is

NOT

an easy process.



NOTE

: The chil­dren who live with us are all giv­en train­ing in these same tech­niques by the Fos­ter Moth­ers who care for them.



Wid­ow receives life sav­ing beans for her 3 orphaned grand­chil­dren.




RESCUES

CONTINUE

WEEKLY



This week, Granny Aluina (Ah-loo-ee-nah) asked Social Ser­vices for food help as both par­ents of her 3 grand­chil­dren are now deceased. The mal­nour­ished 6‑month-old baby boy, Maez­in­ho (Ma-eh-zeen-you), was in dire need of milk for­mu­la, as the moth­er had nev­er intro­duced him to baby food.



Alci­na, 8, broth­er Alci­no, 6, with Granny and baby Maez­in­ha.

The 6‑year-old boy, Alci­no, and his 8‑year-old sis­ter, Alci­na, are both thin, but noth­ing that 2 to 3 weeks of good meals wouldn't fix. The father passed away last year before Maez­in­ho was born. The moth­er passed away at home on Oct. 10th from an unknown ill­ness as she didn't seek med­ical help. Granny Aluina tried to man­age the baby with the help of sev­er­al vil­lage women who nursed him, but it clear­ly wasn't enough. He refused to eat the local baby por­ridge, but is now eat­ing the tasti­er Hypo Baby Por­ridge that we pro­vide to infants.

I am very proud of Granny Aluina for seek­ing help

BEFORE

the sit­u­a­tion for the infant became crit­i­cal.

THANKS

TO

YOUR

LOVE

GIFTS

, Granny Aluina and her 3 grand­chil­dren are all being cared for through our Bala­ma Food and Infant For­mu­la Pro­gram.

EACH

LOVE

GIFT

YOU

SEND

TRULY

DOES

MAKE

A

DIFFERENCE

. Know that all of us are most grate­ful for each of you, and that our staff prays for you each week.




ROOF

ON

ORPHAN

HOUSE

#7

IS

COMPLETE

!

This huge job took 9 days total with 6 car­pen­ters, mak­ing it pos­si­ble to

COMPLETE

THIS

4

BEDROOM

HOUSE

dur­ing the fast approach­ing rainy sea­son. The fin­ish­ing work will begin next week, so my "hope" is to open this orphan home by Jan­u­ary, 2021.



Orphan Home #7. Roof com­plet­ed.

Around here, we have learned that dur­ing the "rainy sea­son", you must be patient and take it one day at a time. But we will forge ahead as is pos­si­ble, for our mot­to is to "nev­er leave for tomor­row, what can be done today". Our team

WILL

make it hap­pen with God's help.



THANK

YOU

TO

THE

SPONSORS

OF

THIS

HOME

WHOSE

LOVING

KINDNESS

IS

MAKING

IT

POSSIBLE

FOR

US

TO

HELP

MORE

CHILDREN

IN

NEED

.



BLESSINGS

,


BUSH

BUNNY

BRENDA

LANGE




AND

THE

BALAMA

STAFF