From: Brenda Lange," Bush Bunny Brenda" Date: November 23, 2013
SIMON

—

PERSISTENCE

IN

ACTION

Tues­day after­noon, I got a call from Bala­ma Social Ser­vices say­ing a blind man had walked 27 miles (45 km) to come ask us for food.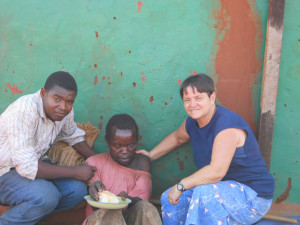 SIMON

,

THE

BLIND

MAN

,

AND

DAUDE

,

WHO

IS

HOSTING

HIM

POSE

WITH

MAMA

BRENDA

.

My staff and I went to hear his sto­ry and end­ed up bring­ing him home with us as it was now late after­noon, and the man had been with­out food all day. Nilza opened our children's store house and found him some clothes, as he was wear­ing filthy rags. We imme­di­ate­ly fed him and then every­one gath­ered around to hear his sto­ry. Simon said: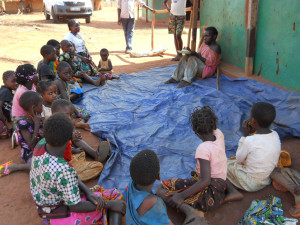 His moth­er was his care­tak­er. She died last year, so he's been beg­ging for food since in his town of Namuno. Some­one told him about us help­ing peo­ple, so he packed his rice sack with his few belong­ings, found the only road that come to Bala­ma from Namuno, and start­ed walk­ing with only his walk­ing stick to direct him. Seems peo­ple all along the road walked with him, giv­ing him guid­ance dur­ing his trav­els. We are giv­ing him refuge for a week as there were elec­tions on Wed. and much unrest in the area. It was not safe to trav­el any­where and the track to Namuno is TOTAL BUSH. Simon will have to return to Namuno, but we will make sure that he has food when he leaves us, and Social Ser­vices in Namuno has been noti­fied and will help get him "set­tled" some­where in that area.
Des­per­a­tion dri­ves peo­ple to do what seems impos­si­ble. Simon did not cross our path by mis­take. We are mak­ing sure he doesn't leave here with­out know­ing who Jesus is. That is the great­est gift we can give any­one who cross­es our threshold.
GOAT

EXPLOSION

!

This slideshow requires JavaScript.
THIS

NEW

KID

IS

NAMED

"

SPOTTY

".….

WITH

50

NEW

BABIES

COMING

HOW

WILL

WE

NAME

THEM

ALL

?

ANY

IDEAS

?

Our 50 females are hard at work mak­ing 50 NEW babies with some look­ing big enough to have twins!!!! We've had 3 sin­gle births this week with only 47 to go. ALL the Mom­ma Goats are due by end of Decem­ber, so real­ize that Bush Bun­ny is going to be hop­ping down the bush trail to Rovu­ma quite often these next 5 weeks. I'm sin­cere­ly hop­ing that the "girls" will get it togeth­er and have birthing par­ties! I'm all for con­ser­va­tion of fuel and time, so that I don't have to go out so often.

I man­aged a pho­to of "Spot­ty" a lit­tle female, who looks like she was splat­tered with black paint. Her Mom is total­ly white, but our male goat is black and white. She got the mix and is as cute and cud­dly as can be.

AFRICAN STYLE "SHOPPER'S SPECIAL" This pho­to tells it all as these hap­py shop­pers head home after a day at the local market.
We've shown you pho­tos of up to 8 PEOPLE on a motor­bike, so here's the "shopper's special".
That's all for this week. Keep us in your prayers, as we are tak­ing 1 day at a time, not know­ing what will cross our path next.
Bless­ings, Bush Bun­ny Bren­da Eric Dry