FROM

"

BUSH

BUNNY

BRENDA

"

DATE

:

NOVEMBER

29, 2014
GOING
THE
EXTRA
MILE
Church mem­bers, Julian­na, her hus­band, and 6 day old baby girl, were dri­ven the 8 miles by motor­bike to the Bala­ma hos­pi­tal by Pas­tor Ramadane from our Nama­ra Church.
After the birth of their baby, Julian­na devel­oped a severe infec­tion (abcess) that caused her left breast to swell as large as a #4 soc­cer ball. She had no breast milk so her lit­tle new born girl was starv­ing to death.
They arrived just before clos­ing time, receiv­ing a con­sult and pre­scrip­tion, but the phar­ma­cy had closed so they couldn't fill it till the next day.
They were told to come to me for Baby Formula.
One look at Julian­na, and I made a sling to sup­port her painful breast. The baby's for­mu­la needs were met. A phone call to the Dis­trict Doc­tor got them an imme­di­ate con­sult in the ER, and I was asked to assist in the imme­di­ate surgery she need­ed to drain her abcess. It wasn't pret­ty, and I will spare you the details. She was admit­ted and spent sev­er­al days recovering.
Mis­sions is full of not so nice tasks. But Jesus did the "not so nice" thing of dying on the cross to save us from an eter­ni­ty in a place beyond our worst imagination.
So when I face a tough job, I just think of what He did for me.
Many reject Jesus, but I guar­an­tee you that they would not hes­i­tate to love and accept Him, if they had to go expe­ri­ence what He did for us.
Our Bala­ma Team con­sid­ers it a great priv­i­lege to be able to help those in life threat­en­ing sit­u­a­tions. Going the "extra mile" is our gift to Him.
STARFISH
ON
THE
BEACH
There is a sto­ry of 1000's of starfish wash­ing up on the beach after a great storm. A lit­tle boy walked the beach and began throw­ing them back into the ocean, one by one.
A man comes along and tells him he is wast­ing his time, because there was no way he could throw them all back before they died. The boy answered: "Yeah, I know, but it makes a dif­fer­ence to this one," as he threw anoth­er starfish into the ocean.
We also know we can't save them all, but we CAN SAVE those who desire our help.
TRUE HAPPINESS COMES FROM SERVING OTHERS FOR JESUS.
The Lord does not expects mis­sion­ar­ies to be "Lone Rangers", as it takes a TEAM with every­one doing their part, so that those who can phys­i­cal­ly be on the scene, can do what is needed.
WE ARE THANKFUL FOR ALL OF YOU WHO ARE PART OF OUR TEAM, for you are the "bricks" that build the Orphans Unlim­it­ed foundation.
With­out your help, res­cu­ing orphans would not be possible.
This Thanks­giv­ing, I spent time in prayer for all of you. Our "thanks" goes beyond what words can say.
THEN

YOU

HAVE

THE

LIONS

,

ALWAYS

LURKING

ABOUT

, Ready to devour whoever they can.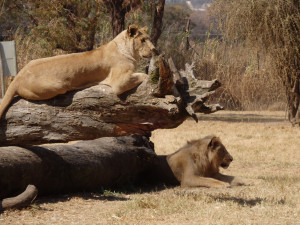 "Look at all those peo­ple lined up out­side the fence! Do we get to choose one for our Thanks­giv­ing meal?"
These big cats always GIVE THANKS when "the lost" join them as guests of hon­or for a "late lunch".
Hap­py to say that the Melu­co and Bala­ma areas have been free of these pret­ty kit­ties this year.
AWANA
TEAMS
BLESSED
WITH
SOCCER
BALLS
AND
MORE
AWANA
LESSONS
IN
PORTUGUESE
Each week, these 10 Pas­tors are cov­er­ing 18 vil­lages while the BBC cov­ers anther 15.
Amaz­ing to find out that the newest clubs in the Man­go Tree Church Area are reach­ing up to 340 in their meetings.
So that more chil­dren can play at the same time, we are now mak­ing more sand bags, and batons from local materials.
The one thing we can't make from local mate­ri­als is the Tug-O-War ropes.
For Christ­mas, our Pas­tors are ask­ing for THIRTY more large tug-o-war ropes, which will cost $20 a piece. ($600 total)
We make the "ring ropes" our­selves, but the super thick rope is expensive.
FAMILY
FROM
NAMUNO
WILL
NOT
BE
JOINING
US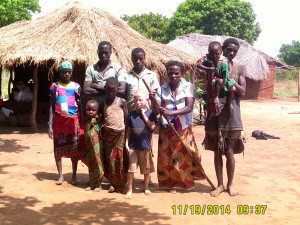 Sad to say, but the men­tal­ly incom­pe­tent hus­band is forc­ing the fam­i­ly to stay in their home vil­lage, as he is afraid to move to the city.
After agree­ing to come, the hus­band changed his mind 2 days lat­er, decid­ing to stay where he is.
The wife begged to come with the 5 younger chil­dren. Broke my heart to know this, and the local gov­ern­ment has worked these last 2 weeks to con­vince him it was safe to come, but he refuses.
We will give them anoth­er food drop which we hope the moth­er will use wise­ly dur­ing the rainy sea­son. This family's vil­lage is total­ly out of reach from Dec. to March, as the mud­dy roads are too much for 4 wheel drive.
Our prayers are with this faith­ful moth­er and her 5 young ones that are strug­gling to survive.
Bless­ings to all of you!
Bush Bun­ny Bren­da Lange
Bala­ma Blaz­ers: Katie Pol­cyn (back from RSA with her tooth fixed and a bag full of good­ies for the holidays.)
Ash­lynn Gra­bill (now a res­i­dent, as her offi­cial res­i­den­cy card came through this week)