FROM

"

BUSH

BUNNY

BRENDA

"

DATE

:

DECEMBER

6, 2014
SUNDAY

MINISTRY

ON

A

DIFFERENT

LEVEL

Last Sun­day, I was leav­ing for the Rovu­ma Church ser­vice, when Pas­tor Joaquim called to tell me that one of the chil­dren in the church had just died. It was Meheto (Mee hey too), the lit­tle 4 year old boy that always danced to the Lord with me at the front of the church. This hit me like a bomb, as he was one of those boys who was always wear­ing super dirty torn cloth­ing, but would show up for church with a big smile and a warm hug.

He suf­fered from a tes­tic­u­lar her­nia, but his par­ents didn't believe in hos­pi­tals, so they refused to have any­thing done about it.

His par­ents said he began hav­ing intense abdom­i­nal pain in the mid­dle of the night, and passed away just after dawn. Church was can­celled, as all the mem­bers went to help the fam­i­ly orga­nize the funeral.

As I walked the dirt path to the family's mud hut with Youth Lead­ers, Car­l­i­tos and Nel­son (our grad­u­at­ing orphan, 17 years old), I told them I knew the Lord could res­ur­rect Meheto, and we would ask the Lord to do just that. They read­i­ly agreed. I've per­son­al­ly seen 2 peo­ple (1 adult and 1 child) res­ur­rect­ed from the dead while work­ing in Mozam­bique, so my faith in this area is very strong.

When we got to the mud hut, there was already a 100 peo­ple sit­ting around, most­ly muslims.

The women were wail­ing, as they do in this cul­ture, with the men sit­ting under the grass roof of anoth­er mud hut in total silence.

We asked the women to be silent, and for all to leave the mud hut where Meheto was wrapped in a bur­ial cloth and lay­ing on a woven rope bed made from dried tree limbs.

DOING WHAT JESUS DID IN THE BIBLE, I want­ed no unbe­liev­ers in the room.

We knelt next to the bed, laid our hands on his body, and began to pray. But as we prayed, the Lord sent a clear mes­sage to sev­er­al of us, that this lit­tle one would stay with Him in heaven.

I total­ly under­stood and accept­ed this since his earth­ly life had been one of neglect and much suffering.

I was upset, but had to admit it wasn't fair to bring him back, as he was hav­ing such a great time danc­ing before the Lord.

That lit­tle boy tru­ly loved to dance. We explained to the fam­i­ly that Meheto was hap­py to be with Jesus, and would con­tin­ue to dance in heaven.

I've spo­ken to many who are ter­ri­fied of death, and for the unbe­liev­er, this is very true sit­u­a­tion, as HELL is more hor­ri­ble than we can even imagine.

But not so for a per­son who has giv­en their life to Jesus as lit­tle Meheto had done even at the ten­der age of 4. There is no fear of death when one knows the type of "life after death" that Jesus had pre­pared for us in heaven.

MEHETO'S GRADUATION TO HEAVEN PROVIDED 300+ LOST PEOPLE WITH THE GOOD NEWS ABOUT JESUS.

MEHETO SAVED HIS LITTLE BROTHER'S LIFE, as he became very ill 2 days later.

Our truck was in Rovu­ma drop­ping off brick lay­ers to repair the church, when the fam­i­ly came run­ning with Meheto's 2 year old broth­er, beg­ging a ride to the hos­pi­tal. We glad­ly took them and I was thrilled to know that their hearts were now open to receiv­ing med­ical help for their children.

We expect that more "fruit" will be com­ing forth very soon from those who heard the gospel for the first time last Sunday.
MANGO

TREE

CHURCH

PASTOR

MEETS

6

FOOT

PYTHON

!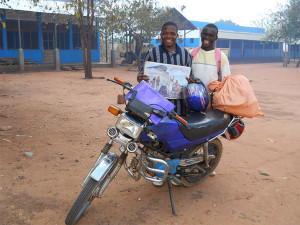 Pas­tor Bilali and Car­l­i­tos Jorge proud­ly show off Car­l­i­tos Jorge's new motor­bike. This pho­to was tak­en on a calmer day last sum­mer. We are using this pho­to because no Pythons were avail­able to pose. PTL.
Pas­tor Bilali, the new Youth Direc­tor at the Man­go Tree Church, was return­ing home last Mon­day on his bicy­cle via a remote, nar­row bike trail after doing an AWANA pro­gram in a dis­tant village.
A large python (esti­mate 6 foot or 1.75 meters,) rose up and struck at this leg (they have vicious teeth), but missed, hit­ting the rear spokes of his bicy­cle. The bike flipped as the snake's body jammed the spokes, but the Pas­tor was thrown clear with only a few scrapes.
Bilali said he jumped up and ran a good dis­tance, wait­ing to see what the snake did, as he had no weapon to kill it with. Sad, but this snake lived to strike anoth­er day, for after clear­ing him­self of the bike wheel, he slith­ered off into the woods, seem­ing­ly unharmed. Need­less to say, the bike's back wheel was demol­ished, but we were thrilled that Bilali was unharmed.
It was a long walk home car­ry­ing his bike on his shoul­der, but he was hap­py to be alive.
Bilali's courage and deter­mi­na­tion to spread the gospel were evi­dent when he walked the 11 miles (18Km) to my house on Tues­day, to tell me the sto­ry and ask for mon­ey to repair his bicycle.
He was in no way "scared to return" to that area, just angry that his brand new bike had been so bad­ly damaged.
We glad­ly gave him the $25 need­ed to fix the bicycle!
SIDE NOTE: Just a few months ago, a 7 year old boy was killed by a python in this very area. Seems him and a friend were walk­ing this same path when one of the boys need­ed to go to the bath­room. The snake got him when he went into the woods. Africa is an unfor­giv­ing envi­ron­ment, and it is only safe to ven­ture into its inte­ri­or when your faith is strong and Jesus' angels are at your side.
SUPER

SLIDE

'S

FINAL

TOUCHES

DELAYED

Manuel, the main fence builder, must still mount the chain link "safe­ty fence" on the 2nd sto­ry this week.

Manuel, who is also my main dri­ver and mechan­ic, returned very sick from our Melu­co orphan­age on Tues­day with resis­tant malar­ia. He was hos­pi­tal­ized in Bala­ma and receive IV treat­ments for 5 days.

He is now home, but still on treat­ment till Sun­day. He told me today that he expects to fin­ish the slide by Wed. this week.

Bless­ings from all of us in Balama!

Bush Bun­ny Bren­da Lange Bala­ma Blaz­ers: Katie Pol­cyn Ash­lynn Grabill