FROM

"

BUSH

BUNNY

BRENDA

"

DATE

:

NOVEMBER

15, 2014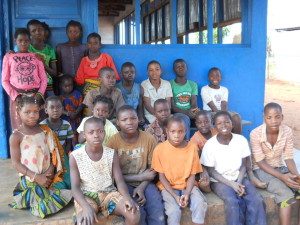 Some of our orphans eager­ly await­ing Awana Games program.
GOING
THE
EXTRA
MILE
Late Thurs­day, Social Ser­vice Rep­re­sen­ta­tives from Pem­ba dropped by for a sur­prise vis­it. They are thrilled with our "help­ing hands" pro­grams to over 2,500 chil­dren in 2 Dis­tricts, and encour­aged us to keep up the great work.
This team of 3 spe­cial­ists were very dis­tressed because they had just come from vis­it­ing a fam­i­ly in a remote vil­lage in Namuno Dis­trict, the area south of us that is so "on fire" for Jesus. The Dis­trict Social Ser­vice Direc­tor had tak­en them to vis­it a fam­i­ly in dire need of help, but the team was at a loss as to what could be done.
They describe the fam­i­ly as a recent­ly dis­abled moth­er (unable to walk, rea­son unknown) with 7 chil­dren (5 of them ages 2 to 7, plus 2 teenage boys), and a hus­band who has devel­oped men­tal ill­ness to the point that he is like a child himself.
They are liv­ing in an open air shack with a poor excuse for a grass roof, no walls, and only 1 grass mat for all of them to sleep on. All of them are severe­ly mal­nour­ished with open sores need­ing med­ical treat­ment (no clin­ic is avail­able in that village).
The moth­er is quite the busi­ness woman, and is try­ing to pro­vide for her fam­i­ly by using the $18 (R60) "dis­abil­i­ty gift" she receives month­ly from Social Ser­vices to buy local­ly killed wild game, and resell it at her "spot" at the vil­lage mar­ket. Neigh­bors have been giv­ing them some food that pro­vides them with a small meal once a day.
I request­ed to move the fam­i­ly to Namuno Town where our church mem­bers could assist them, but our idea was turned down since there is no one that could be "offi­cial­ly respon­si­ble" for meet­ing their needs. (We are reg­is­tered only as a church in Namuno Dis­trict, and not an aid program).
I prayed about it, and then yes­ter­day, Cape­na, our Bala­ma Pro­gram Direc­tor, and I phoned the Dis­trict Social Ser­vice Direc­tor of Namuno County.
Since we are the ONLY assis­tance pro­gram in the entire state that has hous­ing to help whole fam­i­lies in need, I pre­sent­ed a pro­pos­al to the Namuno Social Ser­vices request­ing per­mis­sion to bring this fam­i­ly to Bala­ma to stay in one of our "widow's hous­es" at our mis­sion base. We are not sure what their response will be, so you'll have to wait for the "rest of the story".
What they request­ed us to do is make an "assis­tance drop" of much need­ed items.
On Mon­day our staff will put togeth­er a Life Sav­ing Gift of food, cloth­ing, bed­ding, and kitchen mate­ri­als which will be deliv­ered direct­ly to this fam­i­ly by Cape­na in coor­di­na­tion with the Dis­trict Direc­tor of Social Ser­vices in Namuno District.
JOIN US IN PRAYING FOR FAVOR THAT WE CAN WORK OUT A SOLUTION THAT WILL BRING THIS FAMILY TO BALAMA. Those 5 lit­tle chil­dren are sick and suf­fer­ing great­ly, and need prop­er care and a chance at a future and an education.
SUPER
SLIDE
UPDATE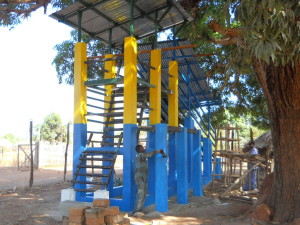 The painting is almost complete and all that is left is to mount the metal slide sheets, build the sand filled "catch pit" at the foot of the slide, and mount the safety fencing that will enclose the walls of the 2 story playhouse.

This "play area" comes com­plete with mon­key bars, and a 30 foot long (10 meter) sand box under the whole slide area. OUR TRACTOR CREW is busy today haul­ing in the sand need­ed to fill the 2 sand boxes.
Open­ing date set for Dec. 1st. A great "ear­ly Christ­mas Present" to our orphans and the local children.
RAINY SEASON GARDENING has always been impos­si­ble in this area due to the "heavy flash flood type" rains we get where the clouds dump up to an inch in an hour.
We couldn't get plas­tic roof­ing sheets to orga­nize a prop­er green house, so my gar­den­er and I are "using what we have" to see if car­rots and Swiss Chard will grow in our raised gar­den with a grass roof. Plant­ed it this week, so I'll let you know if this Bun­ny has "greens" for the rainy sea­son or not.
The key to suc­cess will be if the plants can sprout and take root before the heavy rains begin in Decem­ber. I have 2 small tarps that I can use to enforce the roof­ing as need­ed against the night rains, yet be removed to give sun­light dur­ing the day.
TEXAS AGGIE with an Agri­cul­ture Degree at work here, so there is ALWAYS A PLAN P! PRAYER!
FOR GOD CAN GROW ANYTHING, ANYWHERE!
Until next week! Bless­ings, Bush Bun­ny Bren­da Lange Bala­ma Blaz­ers: Katie Pol­cyn Ash­lynn Grabill