FROM

"

BUSH

BUNNY

BRENDA

"

DATE

:

NOVEMBER

9, 2014
REACH
OUT
IN
FAITH
AND
JESUS
ANSWERS
TUG-O-WAR at Nama­ra church's AWANA GAMES,(prior to church ser­vice) . It attracts up to 190 kids who then join us in church after the AWANA program.
NAMARA
CHURCH
FILLED
TO
OVERFLOWING
TODAY
Armin­do, 20 years old, and his daugh­ter, Alis­han­d­ri­na, 2 years old, had been sick for over 3 months. Armin­do with a swollen leg from an abscess that wouldn't heal, and his daugh­ter with con­stant stom­ach pain. Armindo's mus­lim moth­er, Lau­rin­da, took them both to the witch­doc­tor and the local mosque mul­ti­ple times with­out suc­cess. Then she heard about Jesus' heal­ing pow­er. IN THE MIDDLE OF THE NIGHT, when no one was around, she took her son and grand­daugh­ter to our church build­ing in Nama­ra vil­lage. As they knelt on the floor, she asked this "Jesus" to heal her chil­dren. INSTANTLY, the baby's stom­ach pain stopped, Arminda's leg swelling dis­ap­peared, and the abscess healed over. I saw his leg this morn­ing, and all that was vis­i­ble was some peel­ing skin where the abscess had been. The 2 year old was sleep­ing peace­ful­ly in her mother's arms. Pas­tor Ramadane of Nama­ra, knew noth­ing of this until Lau­rin­da came to his house last Sat­ur­day. She asked per­mis­sion to tell a tes­ti­mo­ny in church the next day. Ramadane said she refused to tell him her sto­ry at that time, but promised to reveal every­thing the next morn­ing.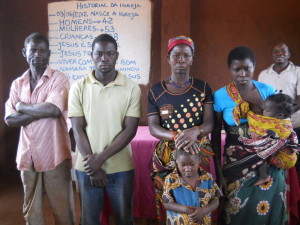 Today, I met the entire fam­i­ly, (Lau­rin­da 's hus­band and her son 'Armin­do, as well as Lau­rin­da and Armin­do's wife and Moth­er of healed baby ). All FOUR of them accept­ed Jesus as Lord and Sav­iour! The Bible has many sto­ries of how 1 person's faith brings many to Christ. That sim­ple action of faith is still sav­ing many souls today! ZITO WALKING MUCH STRONGER AFTER MIRACLE HEALING I didn't catch it on cam­era, but I saw Zito hop out of his 3 wheel bicy­cle, piv­ot on his good leg, and march right up the isle of the church to his place on the front row. His legs have strength­ened great­ly, but they do remain slight­ly bent. Doesn't slow him down, that's for sure! He gets around well when trav­el­ing short dis­tances, and only uses his tri­cy­cle for the long trek to the church and to school. He com­pletes the 2nd grade next week. (Our school year is from Feb. 1st to Mid­dle of Novem­ber.) SUPER SLIDE CONCRETE WORK FINISHED All that remains is let­ting the con­crete hard­en, slap the paint on it, and mount the 3 slide pan­els. I plan to mount the 3 Gal­va­nized Met­al slide plates by next week­end if the rains hold off.
NOVEMBER

IS

"

WRAP

UP

"

MONTH

FOR

FOOD

HAND

OUTS

AND

THE

SCHOOL

YEAR

It also means TRIBAL INITIATION TIME for all chil­dren who are ready for puber­ty. Our boys do not par­tic­i­pate in this trib­al rit­u­al of "cir­cum­ci­sion in the bush" by the witch doc­tor. This is done with­out anes­the­sia and in unster­ile con­di­tions. Some boys die from infec­tion they receive dur­ing the 30 days they are kept hid­den in the bush "to heal". Ten year old girls are tak­en to a sep­a­rate area, and taught how to please a man and han­dle all female issues. If our boys choose to be cir­cum­cised, it is done at the hos­pi­tal in the prop­er way. Our girls are taught all they need to know to by the female lead­ers in our church. This is one part of the African cul­ture that the health depart­ment is try­ing to change, but as every­one knows, old tra­di­tions die hard. I'm proud to say that our local hos­pi­tal has great­ly cut the infec­tion rate of the young boys by send­ing a male nurs­es to the 30+ remote vil­lages to per­form cir­cum­ci­sions with ster­ile tech­nique and anes­the­sia. They fol­low up with week­ly vis­its to make sure the boys are recov­er­ing with­out infec­tion. Many fam­i­ly are now opt­ing for prop­er care vs. send­ing their boys "into the bush" with the local witch doc­tor. We PTL for all those fam­i­lies who are com­ing to Christ and real­iz­ing this is NOT the right way to han­dle this sit­u­a­tion. KATIE RECEIVED OFFICIAL RESIDENCY when Immi­gra­tion gave us her OFFICIAL (D.I.R.E) card that states she can live in Mozam­bique for a year at a time. Ashlynn's is still in the Cap­i­tal city, Maputo, await­ing review. It takes 3–4 months to obtain approval.

Bush Bunny and one of
TEN

new baby goats this week.

Thanks so much for your faith­ful prayers and love gifts. We are mak­ing a dif­fer­ence through teach­ing about Jesus in a very REAL WAY. BLESSINGS FROM BALAMA Bush Bun­ny Bren­da Lange Bala­ma Blaz­ers: Katie Pol­cyn Ash­lynn Grabill